Kidney Complex
Seroyal/Genestra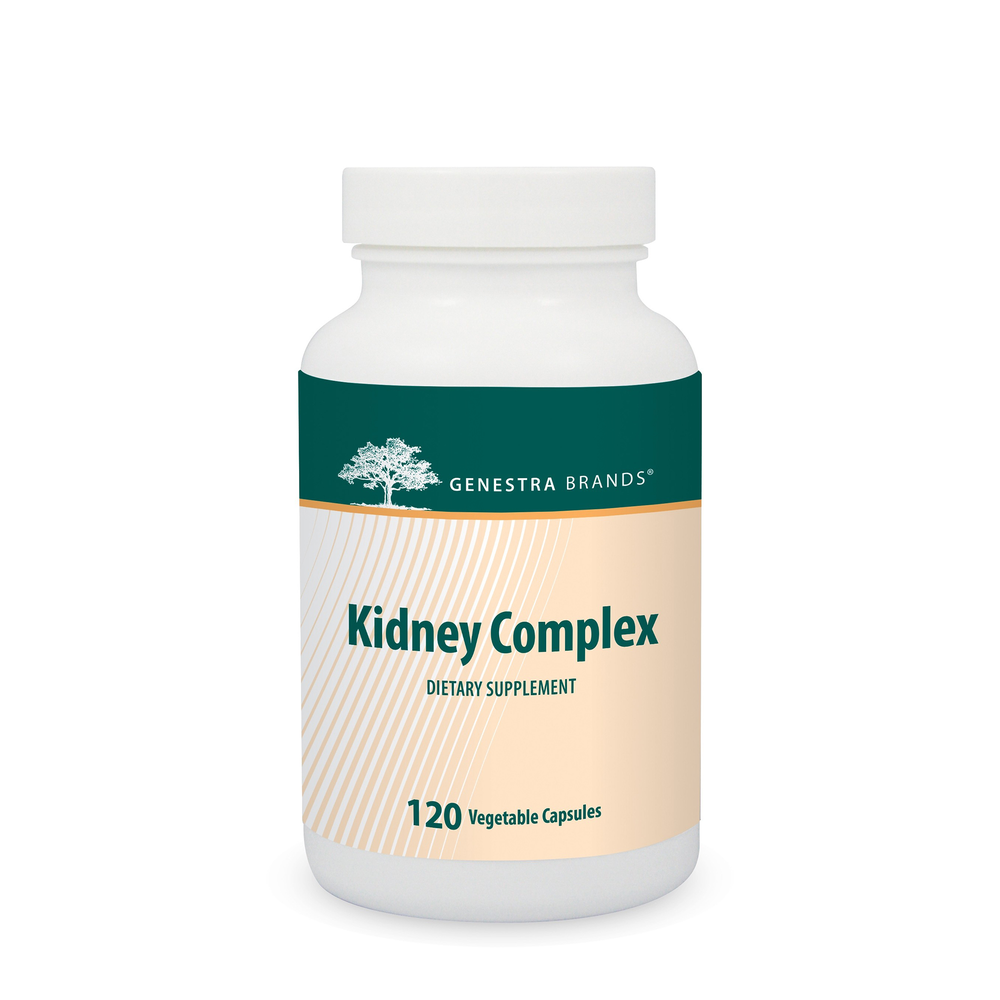 SKU: GN-07682
Herbal formula to support kidney, prostate and urinary tract health*
Helps maintain microbial balance in the urinary tract*
Promotes prostate health and urinary tract function*
Supports cellular health by providing protection against free radicals*
Combines seven herbal extracts: Cranberry, Uva-Ursi, European Barberry, Corn, Three-leaf Caper, Saw Palmetto and Stinging Nettle
Kidney Complex was specifically formulated with herbs that help support the urinary system and prostate. It offers uva-ursi, which is used to support normal urinary tract function. Cranberry has also been used to help maintain urinary tract health for hundreds of years. Cranberry helps to maintain microbial balance in the urinary tract and has been shown in clinical research to support measures of urinary tract function, such as urine flow rate, average flow, total volume and post-void residual urine volume. Saw palmetto and stinging nettle further support prostate and urinary tract health, and have also been found to support urinary comfort and function in clinical trials. In addition, Kidney Complex contains three-leaf caper and barberry for their traditional use in supporting kidney health. These important herbs function as a diuretic and regulate calcium oxalate crystallization in the body. Similarly, corn has a long history of use in traditional medicine to support the kidneys and bladder. Along with other herbs in this formula, such as cranberry, stinging nettle, barberry and caper, corn supports cellular health by providing protection against free radicals.*
Take four capsules two times daily, a few hours before or after taking any medication or supplements, or as recommended by your healthcare practitioner. Take with food to minimize gastric disturbance. Do not take with highly acidic foods or medications which may acidify urine. For occasional use only.
Serving Size:
4 Capsules
Amount Per ServingUva-Ursi Leaf Extract
... 400mg*
(Arctostaphylos uva-ursi)(1600mg Dried Equivalent)
Barberry Root Extract
... 400mg*
(Berberis vulgaris)(4:1)(1600mg Dried Equivalent)
Cranberry Fruit Extract
... 300mg*
(Vaccinium macrocarpon)(36:1)(10.8g Fresh Equivalent)
Corn Style and Stigma Extract
... 150mg*
(Zea mays)(10:1)(1500mg Dried Equivalent)
Three-Leaf Caper Bark Extract
... 70mg*
(Crateva magna)(12:1)(840mg Dried Equivalent)
Saw Palmetto Fruit Std. Extract
... 50mg*
(Serenoa repens)(45% Fatty Acids)
Stinging Nettle Leaf Extract
... 30mg*
(Urtica dioica)(3-5:1)(90 – 150 mg Dried Equivalent)
Other Ingredients:
Hypromellose, ascorbyl palmitate, silica, cellulose.
Does not contain
added wheat, gluten, soy, artificial coloring or flavoring, antimicrobial preservatives, dairy or animal products.
Ideal for vegans.
Safety-sealed for your protection and for product freshness. Do not use if outer seal is missing or broken.
Room temperature storage is recommended.
Keep out of reach of children.