Kids Active Powder
Advanced Nutrition by Zahler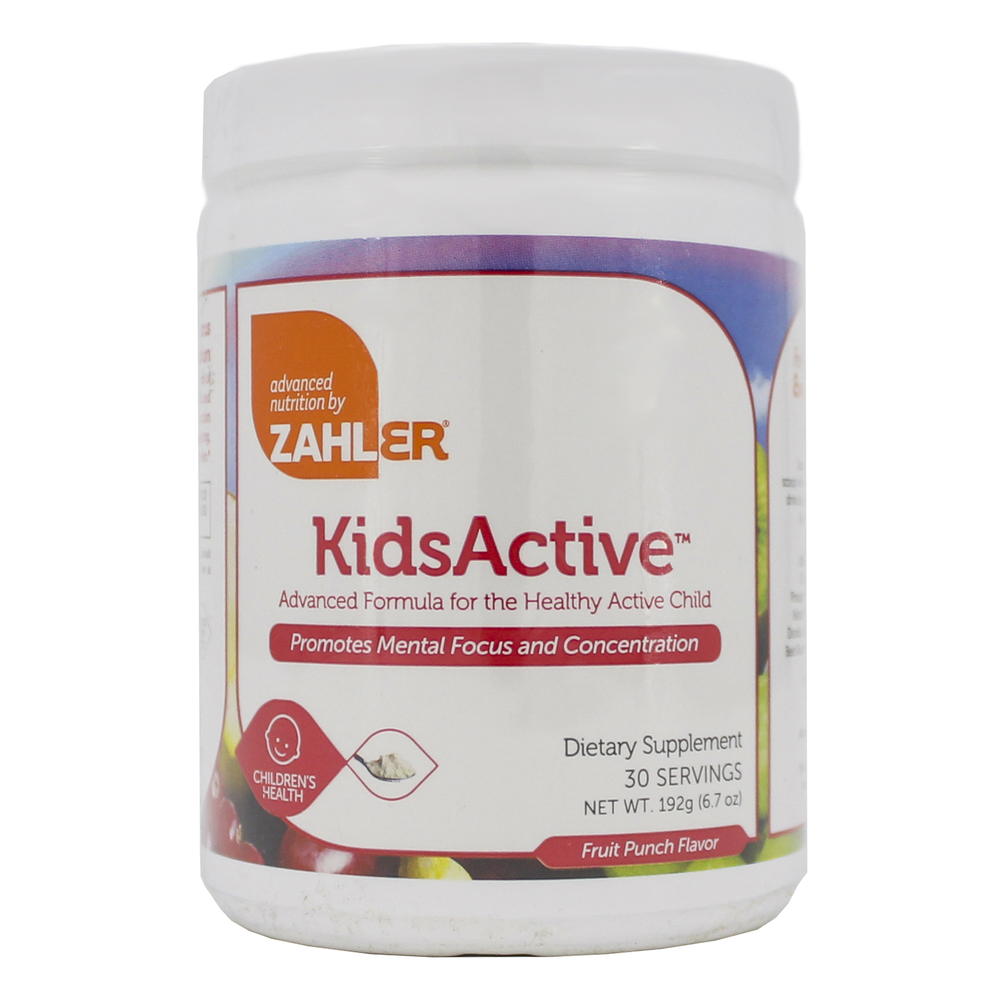 SKU: ANZ212-08166
KidsActive is formulated with a targeted blend of nutrients, such as DimethylGlycine, Phosphatidylserine Complex, Inositol and more, all of which help promote childrens mental focus and concentration. It also helps support normal cognitive function in healthy, happy, naturally active children. KidsActive Powder is a delicious-tasting fruit punch flavored powder that can be mixed with any liquid.
What does KidsActive target?
Mineral and essential fatty acid deficiencies, general malnutrition from too many refined foods, and food intolerance to preservatives and additives often correlate with hyperactivity and attention problems in children. These issues tend to lead to large setbacks for children, both academically and socially.
Mix 6.4 grams (approximately one scoop) with water or other drink daily or as directed by a healthcare practitioner.
Serving Size: 6.4 grams (approx. 1 scoop)
Amount Per Serving
Vitamin B1 ... 6mg
(as thiamin HCl)
Vitamin B2 ... 6mg
(as Riboflavin)
Vitamin B3 ... 18mg
(Niacin)
Vitamin B6 ... 6mg
(as Pyridoxine HCl)
Vitamin B12 ... 50mcg
(as Methylcobalamin)
Pantothenic Acid ... 9mg
(as Calcium D- Pantothenate)
Calcium ... 200mg
(Carbonate & Citrate)
Magnesium ... 300mg
(oxide)
Zinc ... 15mg
(oxide)
Dimethyl Glycine ... 500mg
Phosphatidyl Serine Complex ... 125mg
DMAE Bitartrate ... 100mg
Inositol ... 50mg
Stevia Leaf Extract ... 110mg
Other Ingredients: Citric Acid, Xylitol, Pineapple Fruit Powder, Natural Flavors, Silicon Dioxide, Calcium Silicate, Beet Root Powder (color).
Contains soy.
Keep out of reach of children. Store tightly in a cool dry place.