Active B-Complex
Integrative Therapeutics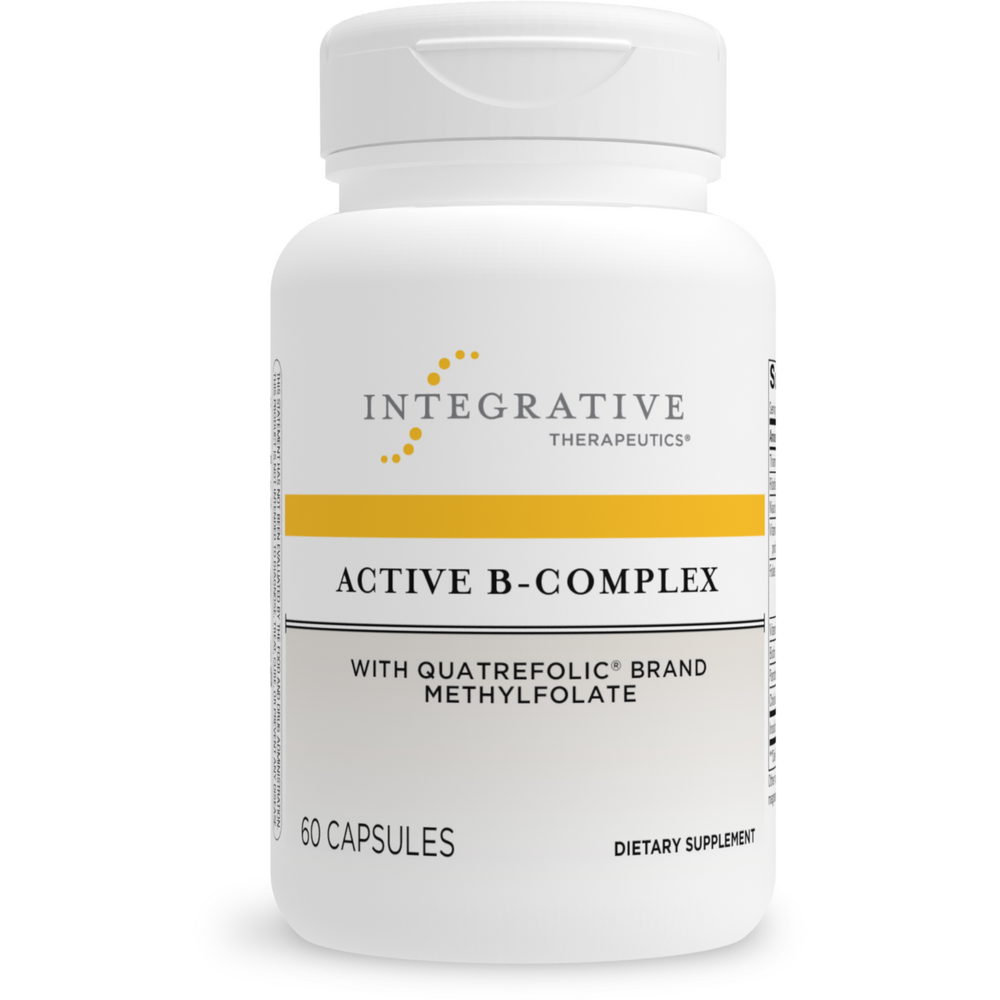 SKU: ITI-10032
B-Vitamins play essential roles in many functions of the body
Optimal folate and B vitamin intakes are associated with healthy neurological function as well as cardiovascular support.*1,2 Each B-vitamin exists in multiple forms, often referred to as vitamers. Active forms of vitamers are those that can be directly utilized by the body immediately. Active B-Complex features a potent blend containing the active forms of Vitamins B2, B6, B12, as well as Quatrefolic®-branded methylfolate (the bioactive form of folate). Free from top 8 allergens.
B-vitamins play essential roles in many functions of the body. Vitamin B1 (as Thiamin) and Vitamin B2 (Riboflavin as riboflavin-5'-phosphate) serve as coenzymes essential for cell function, growth and energy production.*1 Vitamin B6 (as pyridoxal-5-phosphate and pyridoxine HCl) has an essential role in the synthesis of neurotransmitters, including serotonin, dopamine and gamma-aminobutyric acid (GABA).*3 Folate has essential roles in nervous system and immune system function.*1,4 Vitamin B12 (as methylcobalamin) is essential for nervous system function, playing particular roles in myelin synthesis and nerve metabolism.*5
Suggested Use:
Adults take 1 or 2 capsules daily, or as recommended by a healthcare professional.


Serving Size: 2 capsules

Amount Per Serving
Total Carbohydrate ... <1g
Thiamin ... 50mg
(Vitamin B1)
Riboflavin ... 50mg
(as riboflavin-5'-phosphate and Vitamin B2)
Niacin ... 100mg
(as niacinamide)
Vitamin B6 ... 50mg
(as pyridoxal-5'-phosphate and pyridoxine HCl)
Folate ... 800mcg DFE
(837 mcg Quatrefolic® brand (6S)-5- methyltetrahydrofolate glucosamine salt)
Vitamin B12 ... 1,000mcg
(as methylcobalamin)
Biotin ... 300mcg
Pantothenic Acid ... 100mg
(as calcium D-pantothenate)
Choline ... 250mg
(as choline bitartrate)
Inositol ... 250mg

Other Ingredients: plant-derived capsule (hypromellose), cellulose, ascorbyl palmitate, silica

Does Not Contain: Gluten, Soy, Dairy Products, Artificial Colors, Artificial Flavors, Wheat

Quatrefolic® is a registered trademark of Gnosis S.p.A. U.S. Patent No. 7,947,662.


Warning:
If you are pregnant, nursing, or taking prescription drugs, consult a healthcare professional before use.
Keep out of reach of children.
Safety sealed with inner seal. Do not use if seal is broken or missing. Keep tightly closed. Store at room temperature. Avoid excessive heat and direct sunlight.