Kindermune Chewable
Priority One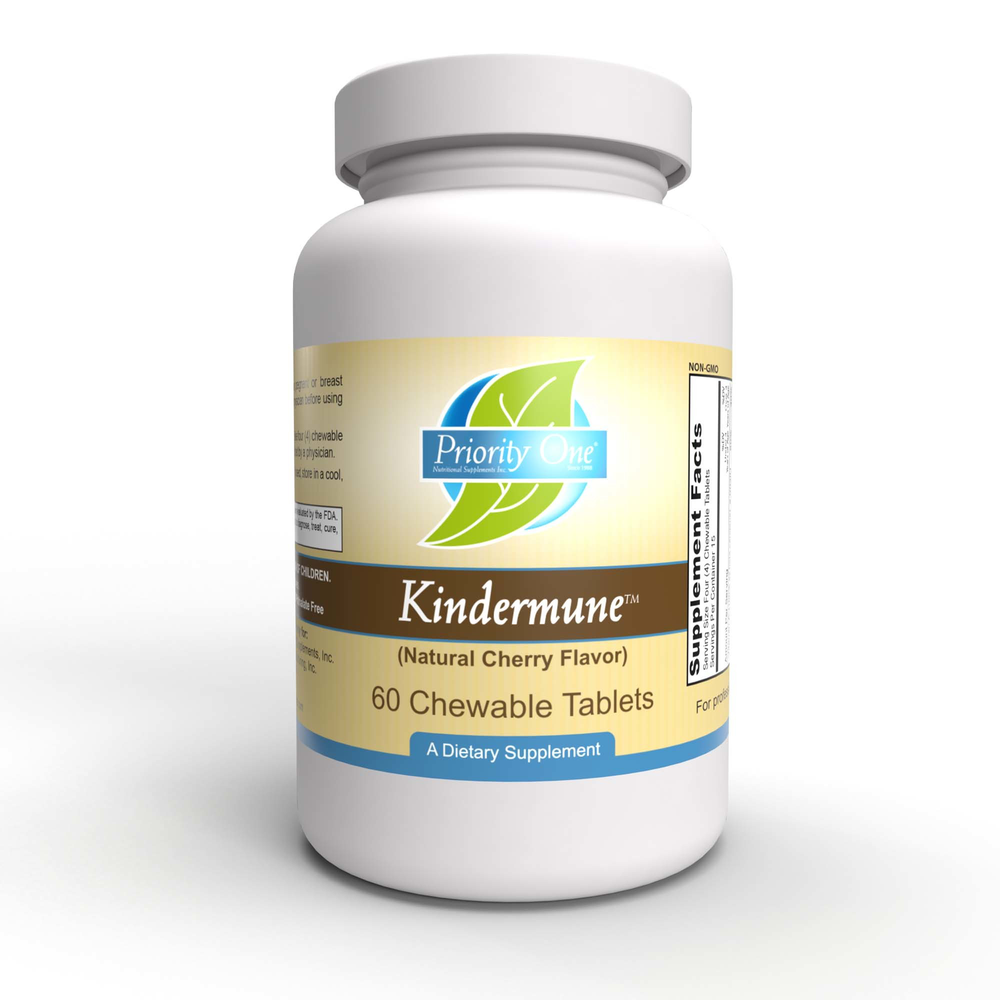 SKU: PR7-1031
A chewable high potency formula designed to support the body's normal immune response, and help maintain an already normal white blood cell activity.

Kindermune supplies therapeutic levels of whole gland thymus along with supportive nutrients.

Glandular therapy is based on the thought that glandular concentrates support like organs to maintain an already healthy state. A theory pioneered by Dr. John Bastyr N.D.
Recommendations: Children under age 3 take half a tablet three (3) times a day. Children 3 years of age or older, take one (1) to four (4) tablets daily, or as directed by a physician.
Serving Size: Four (4) Chewable Tablets
Amount Per Serving

Vitamin A (100% as beta carotene) ... 2,003IU
Vitamin C (as ascorbic acid) ... 252mg
Vitamin E (as d-alpha and mixed tocopherols) (Sunvitol®) (non-GMO) ... 53IU
Thiamine HCI (vitamin b1) ... 32mg
Zinc (as zinc citrate oxide) 1.6mg
Selenium (as selenium glycinate) ... 2.8mcg
L-Lysine HCL ... 252mg
Trypsin 1:75 ... 28mg
Bromelain (3,600MCU/g) ... 28mg
Papain (2,000USP/mg) ... 20mg
Echinacea purpurea (root) ... 300mg
Shiitake (whole mushroom)(Lentinus edodes) ... 76mg
Quercetin 95% (Japanese Sophora (flower bud) ... 76mg
Thymus ... 252mg
Pituitary ... 12mg
Elder (berry)(extract 15:1) (Sambucus spp.) ... 13.3mg
Other Ingredients: Dextrose, vegetable magnesium stearate, xylitol (birch derived), vegetable stearic acid, silicon dioxide, stevia (leaf), xanthan gum, tapioca, rice hull, hypromellose, maltodextrin, natural cherry flavor.
KEEP CONTAINER TIGHTLY CLOSED.STORE IN A COOL, DRY TEMPERATURE.
KEEP OUT OF REACH OF CHILDREN.
If you are pregnant or breast feeding, consult your physician before using this product.