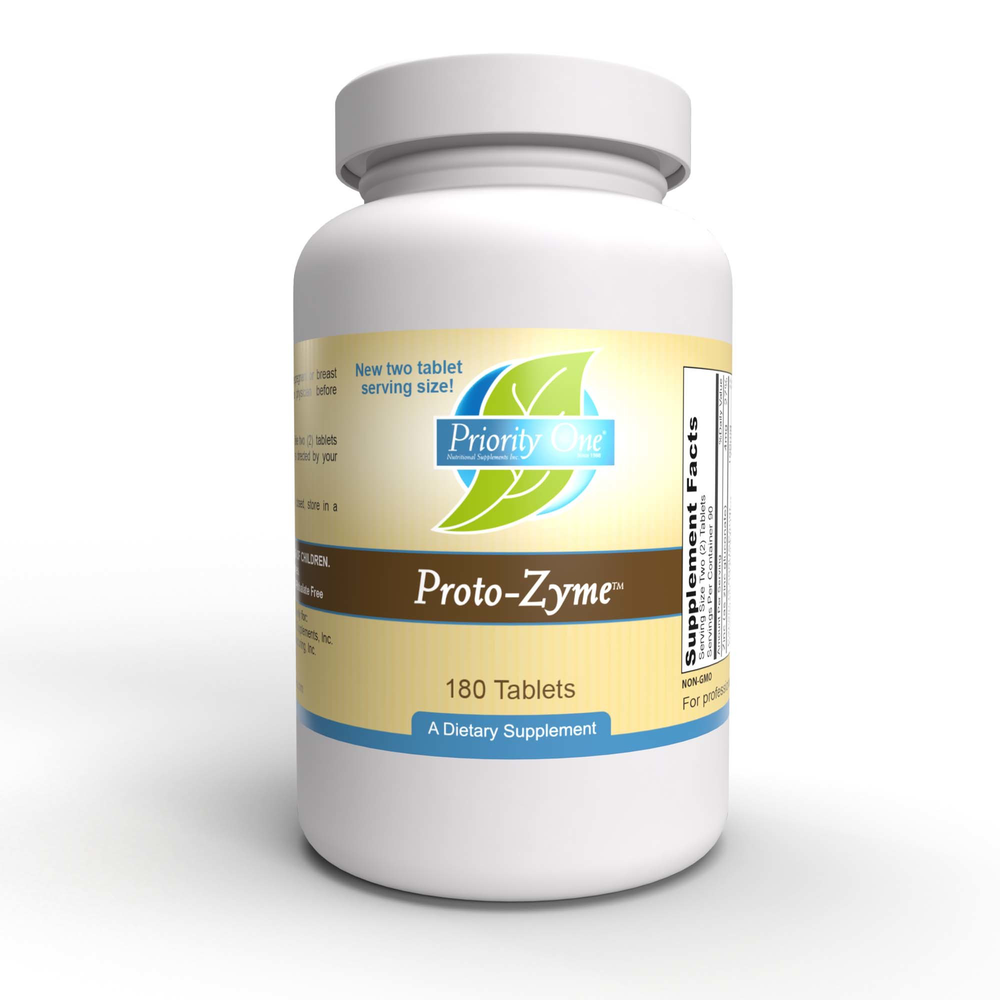 SKU: PR7-1275
One of the original four products introduced by Priority One in 1988, Proto-Zyme provides powerful proteolytic enzymes. Enzyme therapy is beneficial to a healthy immune system, joint, muscle, and tendon health.
Proto-Zyme is designed to support the body's normal connective tissue repair and synthesis processes, while maintaining a normal inflammatory response.*
Over twice the strength of Wobenzyme N®, Proto-Zyme supplies the additional nutrients zinc, lysozyme, cellulose, and thymus.*
Wobenzyme N® is a registered trademark of Mucos Emulsions, Gmbh.
Take two (2) tablets three times daily, or as directed by your physician.
Serving Size
: Two (2) Tablets
Amount Per ServingZinc
... 4mg
(as zinc gluconate)
Papain
... 100mg
(3,000USP/mg)
Bromelain
... 75mg
(3,600MCU/g)
Rutin 95%
... 60mg
(from Japanese Sophora (flower)
Trypsin
... 35mg
Pancreatin
... 200mg
(8X)
Amylase
... 40,000USP
Lipase
... 6,600USP
Protease
... 40,000USP
Lysozyme
... 10mg
Cellulase
... 2mg
Alpha-Chymotrypsin
... 1mg
Thymus
... 35mg

Other Ingredients:
Dicalcium phosphate, vegetable stearic acid, microcrystalline cellulose, croscarmellose sodium, silicon dioxide, saccharose, maltodextrin, calcium carbonate, enteric coating (methyl cellulose, purified water).
Contains
: egg (lysozyme).
Contains no preservatives. Bisphenol-A (BPA) & Phthalate Free
Warning: If you are pregnant or breast feeding, consult your physician before using this product.
Keep container tightly closed, store in a cool, dry place.
Keep out of reach of children.