Klean BCAA + PEAK ATP
Klean Athlete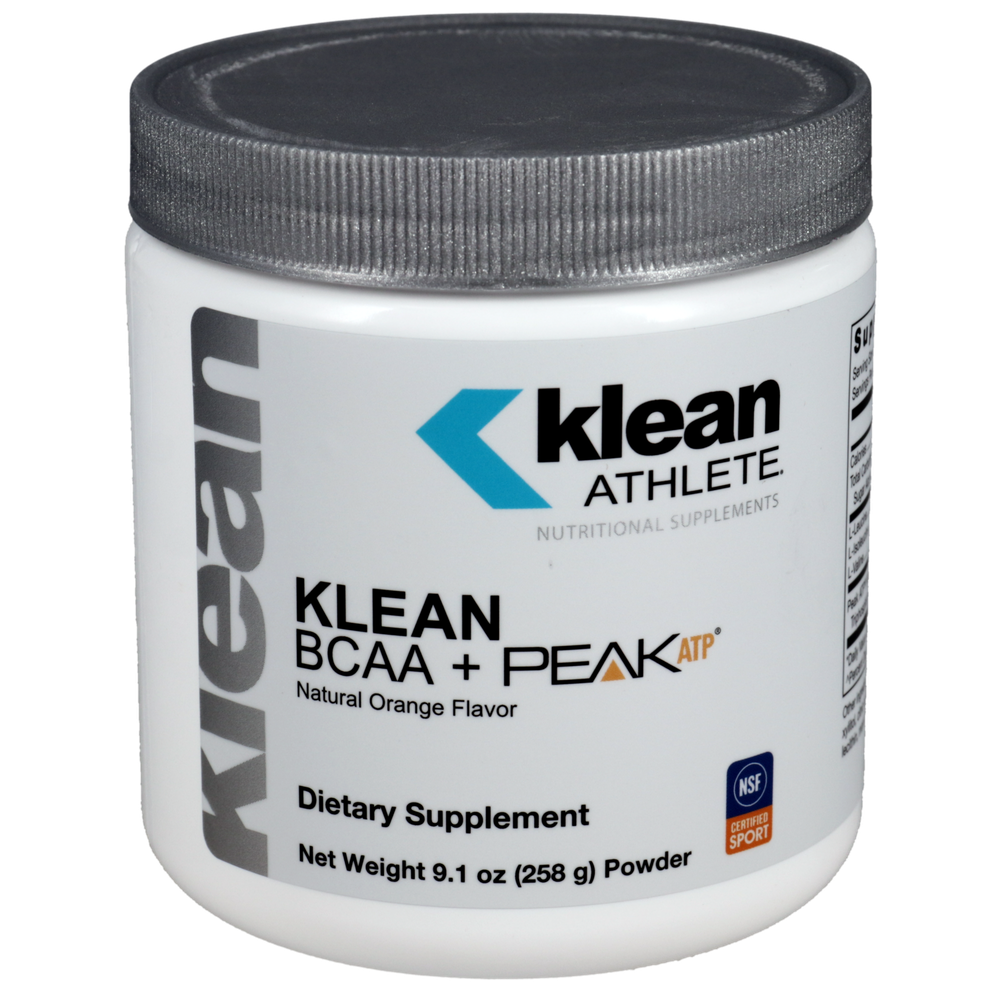 SKU: KLE-KA57678258
To achieve optimal results, athletes require consistent training, the proper fuel and adequate recovery. Amino acids are the building blocks of all body proteins, and branched-chain amino acids are crucial to an athlete's recovery and muscle tissue repair. Klean BCAA + PEAK ATP® supplies a 2:1:1 ratio of the branched-chain amino acids leucine, isoleucine and valine, as well as 400 mg of ATP in each serving. Peak ATP® has been shown to support peak physical performance by increasing strength, power and muscle gain, allowing the body to train longer, harder and stronger.* Together, these nutrients provide a direct source of energy to the muscles for performance and recovery.*
Mix one scoop with 8-10 oz. of water or other beverage and blend well. This product is best taken 30 minutes before exercise. It can also be consumed during and post-workout. Consume one to two servings daily without food, including rest days.
Serving Size: 8.6g (1 scoop)
Amount Per Serving
Calories ... 10
Total Carbohydrate ... 2.5g
Sugar Alcohol ... 1g
L-Leucine ... 2g
L-Isoleucine ... 1g
L-Valine ... 1g
Peak ATP® ... 400mg
(Adenosine 5'-Triphosphate disodium)
Other Ingredients: Natural orange flavor with other natural flavors, xylitol, citric acid, malic acid, stevia leaf extract, monk fruit extract, sunflower lecithin, and annatto (for color).
This product contains NO yeast, wheat, gluten, milk/dairy, soy, artiflcial flavoring, artificial preservatives or genetically modified organisms (GMOs).
Peak ATP® is a registered trademark of TSI USA Inc. and is used under license.
KEEP OUT OF REACH OF CHILDREN. NOT INTENDED FOR ANIMALS.
For optimal storage conditions, store in a cool, dry place. (59Ëš-77ËšF/15Ëš-25ËšC) (35-65% relative humidity) Tamper resistant package, do not use if outer seal is missing.