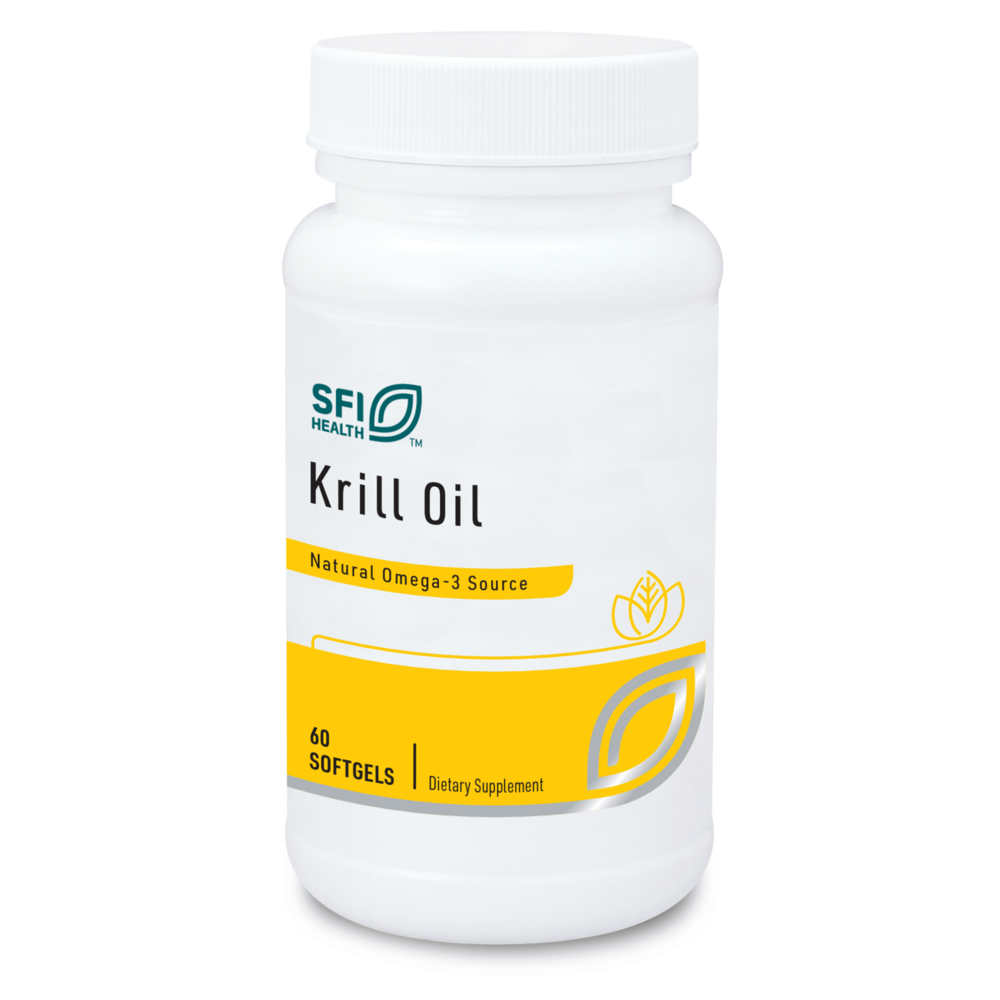 SKU: COM-CP3323
Krill Oil is a unique, natural source of omega-3 fatty acids and phospholipids, vitamin A, vitamin E, and astaxanthin. Krill oil comes from krill, tiny shrimp-like crustaceans.
Research indicates krill oil may:
Calm and support balanced inflammatory pathways*
Promote healthy blood lipid levels*
Improve heart health*
Support vital brain function*
Provide premenstrual support*
Nourish skin and body*
What makes Krill Oil unique?
Similar to fish oil, Krill oil contains marine-source omega-3 fats, and it also provides phospholipids and astaxanthin.
Omega-3 fatty acids (e.g. EPA and DHA) are dietary essential fats because they are not made efficiently in the human body but are necessary for biological processes; they must be consumed from diet or supplements.*
EPA and DHA reside in blood and cell membranes. They are precursors for hundreds of metabolic processes, involved in managing and directing beneficial metabolism.*
Phospholipids (e.g. phosphatidylcholine) are also a type of healthy fat.*
Phospholipids are part of the structural constituents of all cell membranes, supporting proper functionality and communication inside and between cells throughout the body.*
Astaxanthin is a carotenoid pigment in krill; a natural antioxidant. Evidence indicates astaxanthin supports healthy liver function and skin.*
The phospholipids and omega-3 fats in krill oil promote superior absorption. The naturally occurring vitamins and antioxidants further support stability and utilization*.
Our Krill oil is guaranteed for freshness and purity.
Take two softgels daily.
Serving Size: 2 softgels

Amount Per Serving
Calories ... 5
Calories from Fat ... 5
Total Fat ... 0.5g
Krill Oil Blend ... 1g
(K-Real®)
(Krill-derived phospholipids, fish oil, soy-derived mixed tocopherols, ascorbyl palmitate, and astaxanthin)
Total Omega-3 Fatty Acids ... 400mg
Eicosapentaenoic Acid ... 210mg
(EPA)
Docosahexaenoic Acid ... 160mg
(DHA)
Astaxanthin ... 100mcg