Krill-Plex
Pure Encapsulations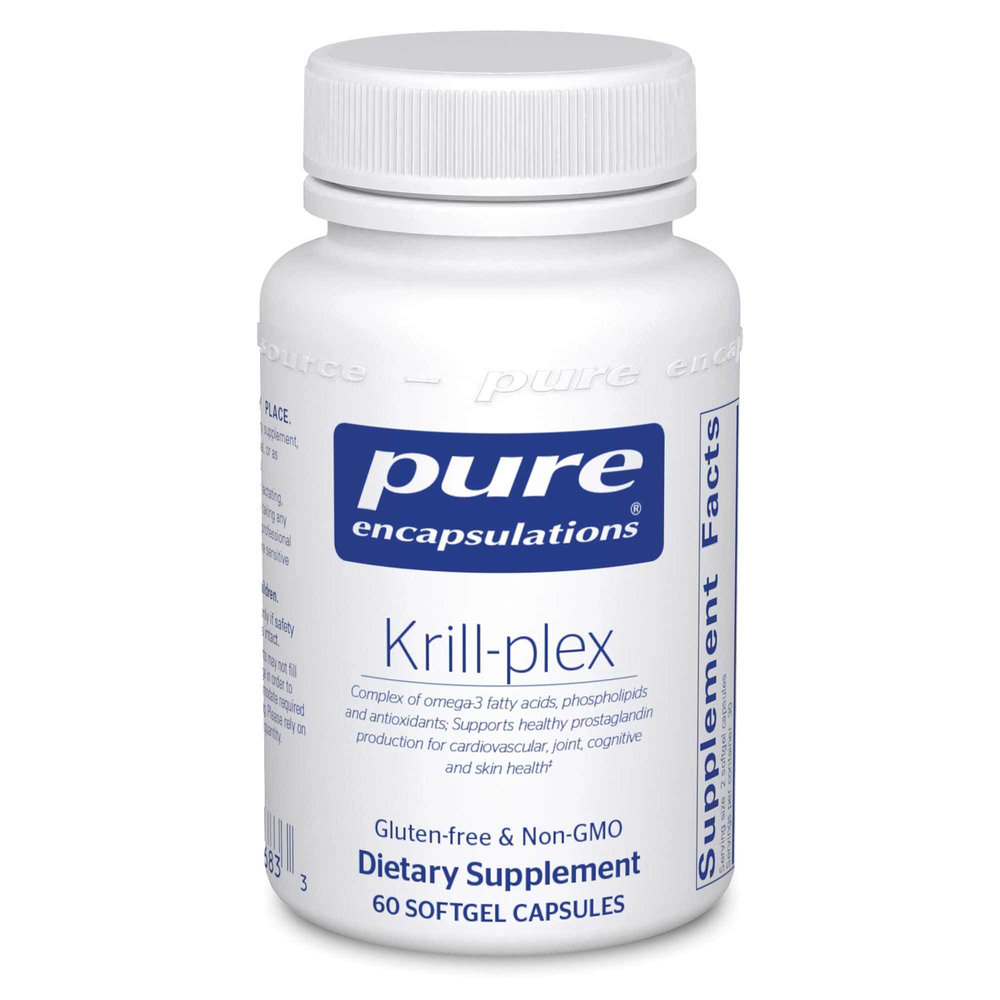 SKU: PUR-KP6
Unique source of omega-3 fatty acids, phospholipids and antioxidants to support healthy prostaglandin production for cardiovascular, joint, cognitive and skin health‡
Support for cognitive and cardiovascular function‡
May support physical and emotional well-being during menstrual cycles‡
Krill-plex is a unique blend of omega-3 fatty acids, phospholipids and antioxidants that provides an array of benefits such as menstrual comfort, cardiovascular function, cognitive function, joint and skin health.‡
Suggested Use:
Take two (2) softgel capsules daily, with a meal, or as directed by a health professional.
Serving Size: 2 Softgel Capsules
Amount Per Serving
Calories … 5
Total Fat … 0.5g
Cholesterol … 10mg
Krill oil ... 1000mg
Providing:
EPA ... 148mg
(eicosapentaenoic acid)
DHA ... 66mg
(docosahexaenoic acid)
Other omega-3 fatty acids ... 62mg
Phospholipids ... 496mg
Astaxanthin ... 396mcg
Other ingredients: Gelatin capsule (gelatin, glycerin, water, sorbitol, ethyl vanillin).
Contains: Shellfish (krill).
This product is Non-GMO, Certified Gluten Free, Wheat Free, Egg Free, Tree Nut Free, Peanut Free. No Artificial Colors, Flavors & Sweeteners.
The krill oil in Krill-plex is NKO®, which is a registered trademark of Aker BioMarine Antarctic AS.
Note: Theoretically, krill oil may have side effects similar to fish oils, including burping, gastrointestinal upset or indigestion, nausea, diarrhea or abdominal bloating. If pregnant or lactating, consult your physician before taking this product.
Krill oil may be contra-indicated with blood thinning medications. Consult your physician for more information.