Lady Bugs: Women's Probiotic Capsules
Ora Organic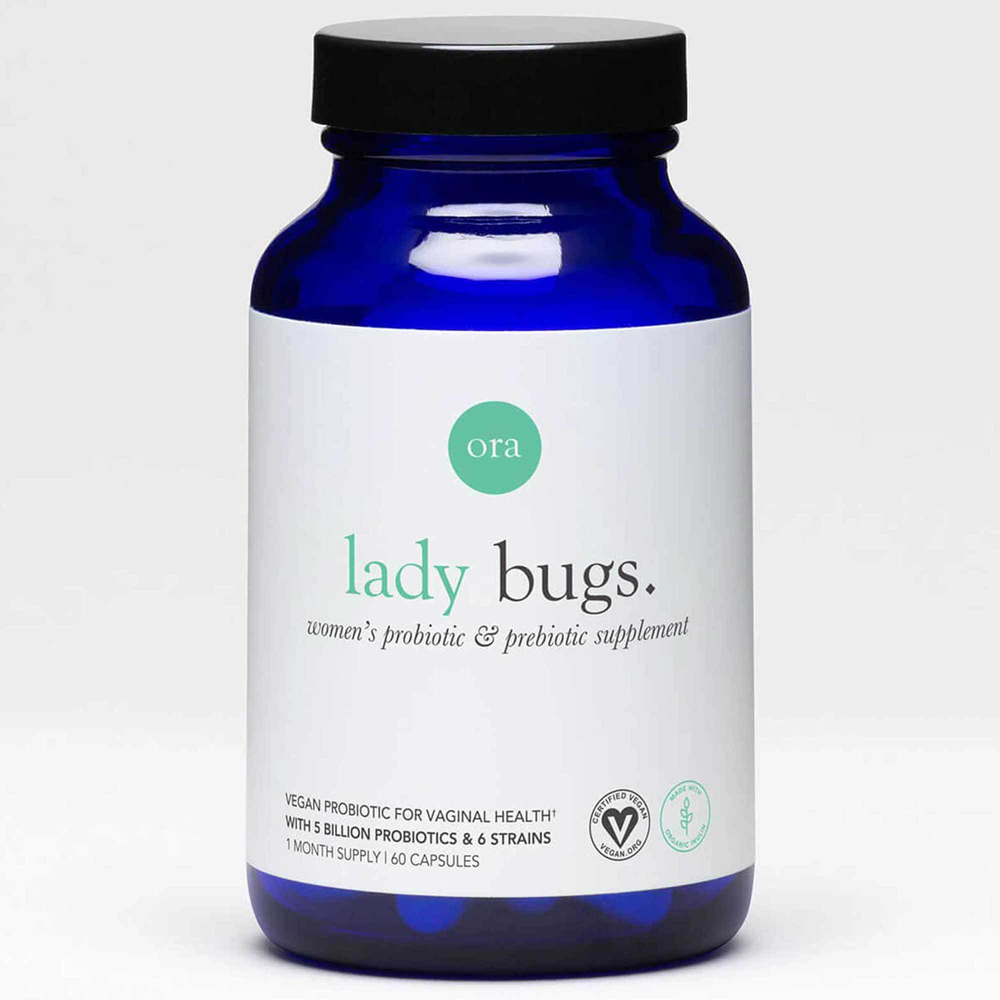 SKU: ORA858-1709T
Lady Bugs promotes optimal vaginal health with a combination of research-backed probiotics and prebiotics*. A mix of friendly bacteria naturally takes up residence in the vagina and urinary tract, just like in your digestive system. If this mixture of microbes is off-balance, it can contribute to issues like bacterial vaginosis, yeast infections, and UTIs. When the microbiome is balanced, it helps the vagina maintain an already healthy pH and resist colonization by other (not-so-friendly) bugs.
Plus Prebiotics
Ora Organics want to make sure that you get the strongest, healthiest bacteria from our probiotics. That's why Lady Bugs includes prebiotics, a special type of soluble fiber that good bacteria thrive on. Though your body can't digest these prebiotics, the bacteria in your digestive tract luckily can. When probiotics and prebiotics come together, they create beneficial compounds like short-chained fatty acids that support healthy glucose and lipid metabolism and a well-functioning digestive system. Ora Organics prebiotic of choice is inulin from organic Jerusalem artichoke because it's one of lactobacillus bacteria's favorite foods!



Suggested Use:
Take 2 capsules with a meal (or within 30 minutes of one). Take them at any time of day, and be sure to choose a time that you can be consistent with daily.
Tips: Put a capsule (or both) in your mouth, drink some water and then tilt your head forward before swallowing. The air in the capsules will help them float to the back of your throat and should make the capsules easier to swallow. Don't like swallowing pills? You can break the capsule open and sprinkle the probiotic in a drink or on food!
Serving Size:
2 Capsules
Amount Per Serving
Sodium
... 10 mg
Total Carbohydrate
... 1 g
Dietary Fiber
… 1 g
Organic Jerusalem Artichoke Inulin
… 725 mg
Ora Organic Blend
… 179 mg
Total Cultures
… 16 Billion CFU
Lactobacillus plantarum UALp-05™Lactobacillus acidophilus DDS-1®Lactobacillus rhamnosus LGG®Lactobacillus crispatus UALcr-35™Lactobacillus reuteri UALre-16™Lactobacillus fermentum UALf-32™
Other Ingredients
: Pullulan capsule, Organic Nu-Mag® (Organic Rice Extract, Organic Rice Hulls, Organic Gum Arabic, Organic Sunflower Oil), Maltodextrin.
Contains NO
dairy, gluten, soy, tree nuts, added sugars, nor artificial colors, flavors, sweeteners or preservatives.
DDS-1®, LGG® and UA-formative marks are trademarks of Chr. Hansen A/S and used under license.
Nu-MAG® is a registered trademark of RIBUS,Inc.
Warning
: If pregnant, nursing, or taking prescription drugs, consult your healthcare professional prior to use.
Storage: Store in a cool, dry place and keep away from moisture. Refrigeration is not required.