Trust Your Gut Probiotic Powder - Apple Raspberry
Ora Organic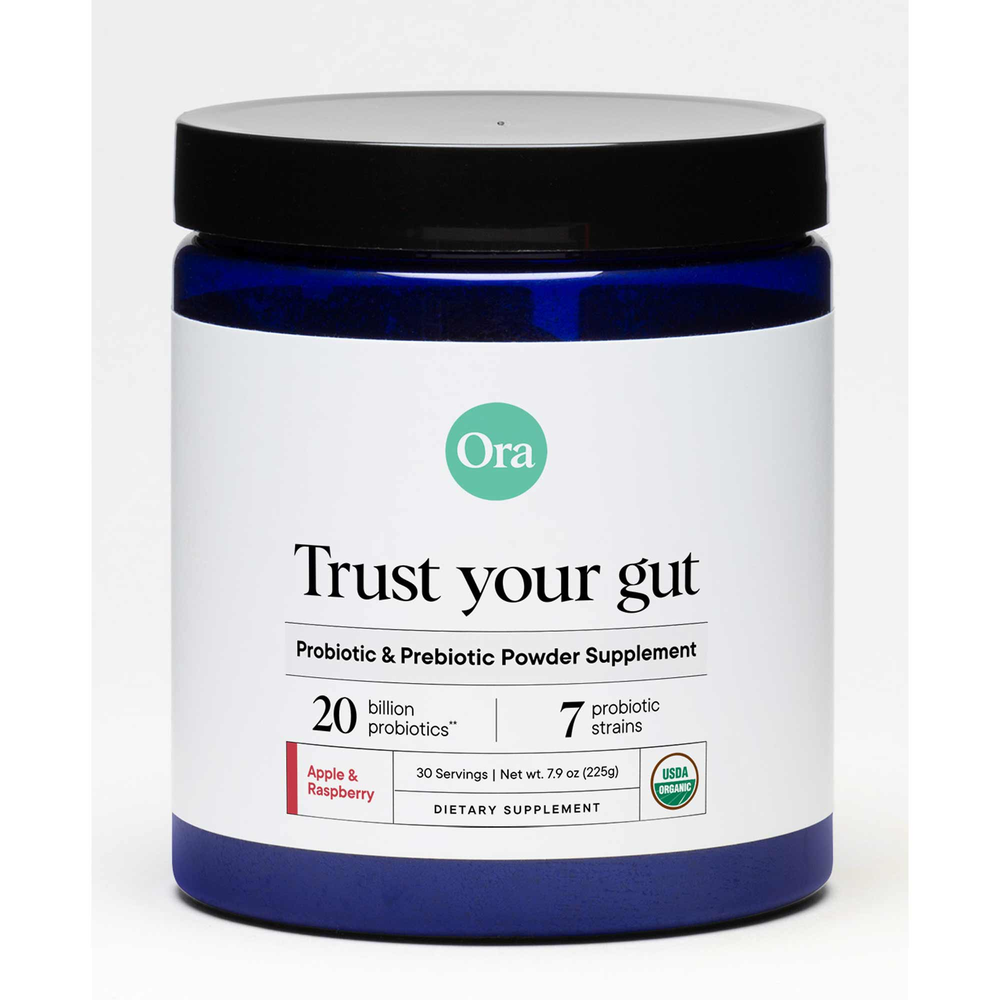 SKU: ORA858-1010P
Probiotics are living microorganisms that scientific research has shown to benefit human health. In some cases they are similar to, or the same as, microbes within a healthy digestive tract which are tied to digestion, the immune system, mood balance, essential nutrient creation, and also allergic reactions.
These microbiome can be thrown out of balance through stress, food, alcohol, exercise, medications and antibiotics. That's why taking a daily probiotic is so important to maintaining balance in the microbiome.
Our USDA certified Organic Probiotic Blend contains clinically documented and acid-resistant strains to give a comprehensive mix of probiotic species for optimal digestive health, immune function, mood balance, hair & skin health, and pathogen fighting support (candida, yeast, bacterial and viral).
20 billion probiotics
Each serving contains 20 billion probiotics, made up of 7 different probiotic strains, to support optimal digestive health and peak immune function.
Suggested Use:
Mix 1 scoop of powder with 1.5 oz of water or into a smoothie.


Serving Size:
1 scoop (7.5 g)
Amount Per ServingCalories
... 30
Total Carbohydrate
… 7 g
Sugar
… 1 g
Contains 0 g of added sugarsOra Prebiotic Blend
… 4.4 mg
Organic Jerusalem Atrichoke InulinOrganic Tapioca Oligosaccharide
Ora Probiotic Blend
… 134 mg
Total Cultures
… 20 Billion CFU**
Lactobacillus acidophilus DDS-1®Lactobacillus plantarum UALp-05™Bifidobacterium lactis UABla-12™Lactobacillus reuteri UALre-16™Bifidobacterium bifidum UABb-10™Bifidobacterium breve UABbr-11™Bifidobacterium longum UABl-14™
Other Ingredients:
Organic Apple Powder (Organic apple, Organic Rice), Organic Raspberry.
Contains NO:
dairy, gluten, soy, GMOs, tree nuts, added sugars, filler ingredients, artificial colors, flavors, sweeteners or preservatives.
Warning
: If pregnant, nursing, or taking prescription drugs, consult your healthcare professional prior to use.
Storage: Store in a cool, dry place below 77 degrees F. Keep away from moisture. Refrigeration is not required.
No refrigeration
Unlike most probiotics, this does not require refrigeration because it's freeze-dried! #readytotravel. As with all of our products, this Trust Your Gut is 100% plant-based, dairy-free, gluten-free, non-GMO and contains no artificial ingredients.