Trust Your Gut: High Potency Probiotic Capsules
Ora Organic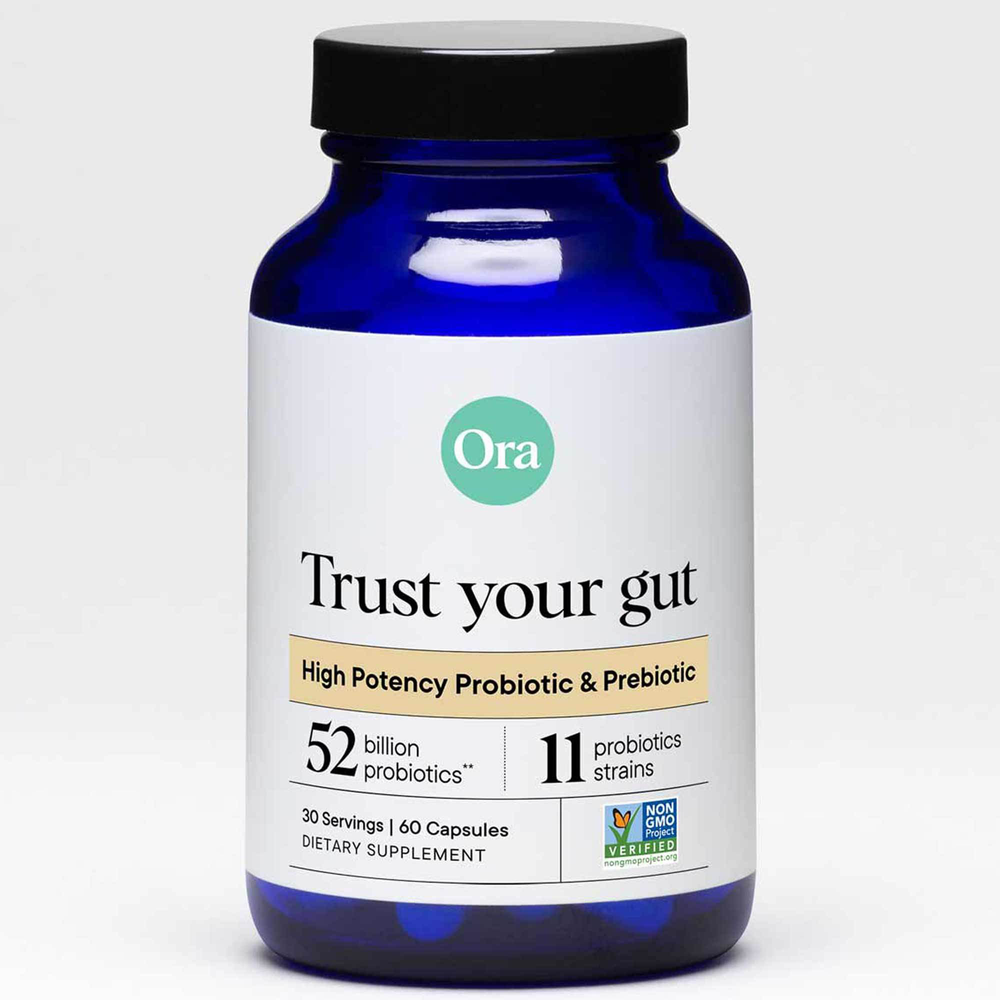 SKU: ORA858-10219
Trust Your Gut High Potency is great for daily use, but is especially helpful if you're in need of a 'gut reset' or if you've just completed a round of antibiotics. The probiotic strains in this product have been studied for their potential to support digestive health, immune health, mood, healthy weight management and a strong intestinal wall.
Acid-resistant Strains
Your stomach is extremely acidic, but never fear, the probiotics in Trust Your Gut High Potency are acid-resistant. That means they're able to survive the acid in your gut to ensure you reap maximum benefits.
Includes Organic Prebiotics
Ora Organics included the organic prebiotic Jerusalem Artichoke Inulin. Prebiotics act as fuel for probiotics and help ensure they can be at their most effective. They can also support the beneficial bacteria already present in your gut.
Science-backed Strains in a Potent Dose
Meet the high potency version of our best-selling probiotic Trust Your Gut. This product is designed to support optimal digestive and immune health with a diverse range of 11 probiotic strains in a 52 billion strong probiotic dose.
Suggested Use:
Take two capsules daily at any time of day. We recommend taking both capsules together in one dose just before or with a meal.



Serving Size
: 2 Capsules
Amount Per ServingSodium
... 10 mg
Total Carbohydrate
… 1 g
Dietary Fiber
… <1 g
Ora Probiotic Blend
… 128 mg
Total Cultures
… 52 Billion CFU**
L. plantarum UALp-05™L. acidophilus UALa-01™L. paracasei UALpc-04™L. casei UALc-03™L. rhamnosus UALr-18™B. breve UABbr-11™B. bifidum UABb-10™B. longum UABl-14™L. gasseri UALg-05™L. salivarius UALs-07™L. brevis UALbr-02™
Organic Jerusalem Artichoke Inulin
… 650 mg
Other Ingredients
: Vegan Capsule (Pullulan), Organic Nu-Mag (Rice Extract, Rice Hulls, Gum Arabic, Sunflower Oil), Organic Nu-FLOW (Organic Rice Hulls).
Contains NO
dairy, gluten, soy, tree nuts, added sugars, nor artificial colors, flavors, sweeteners or preservatives.
Nu-MAG® and Nu-FLOW® are registered trademark of RIBUS, Inc
Warning
: If pregnant, nursing, or taking prescription drugs, consult your healthcare professional prior to use.
Storage: Store in a cool, dry place below 77 degrees F. Keep away from moisture. Refrigeration is not required.

No refrigeration
Unlike most probiotics, this does not require refrigeration because it's freeze-dried! #readytotravel. As with all of our products, this Trust Your Gut is 100% plant-based, dairy-free, gluten-free, non-GMO and contains no artificial ingredients.