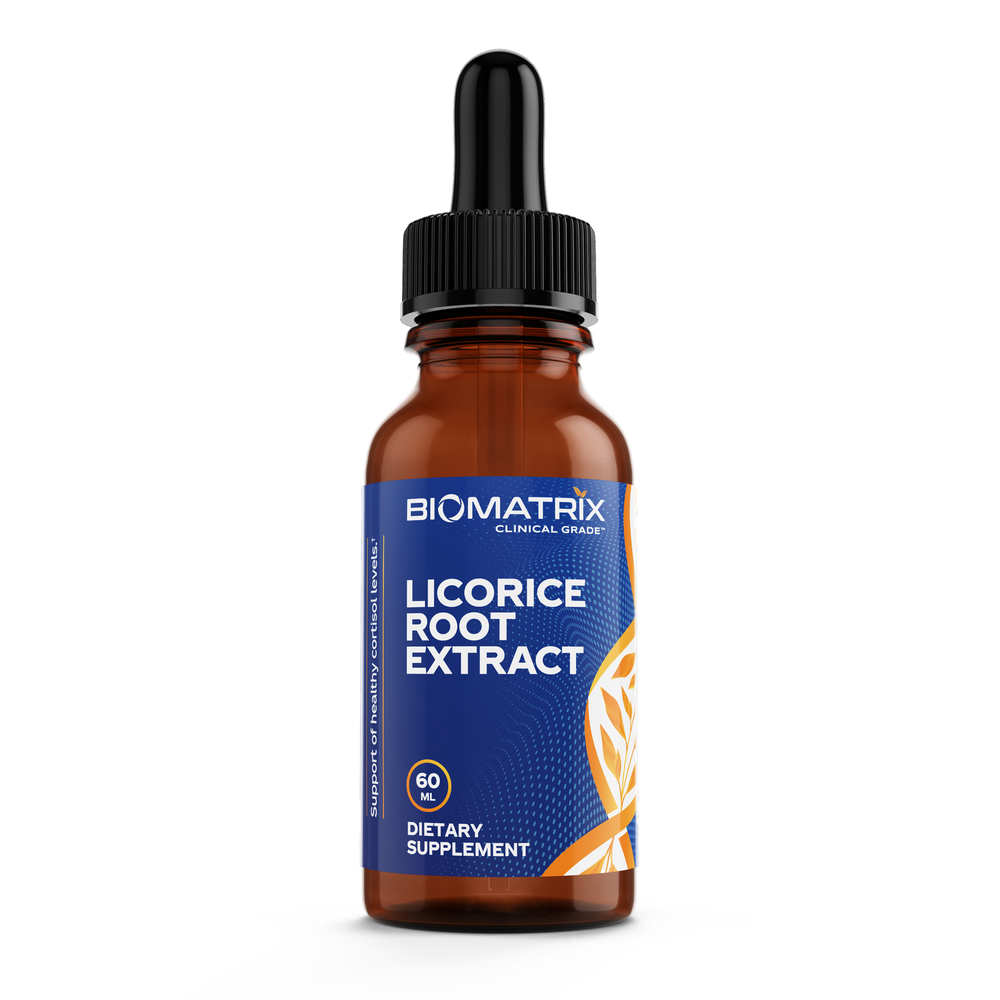 SKU: BMX-50801
The licorice root plant gets its sweet flavor from the triterpenoid glycyrrhizin. Glycyrrhizin has a molecular structure that is extremely similar to certain corticosteroids. Its metabolites have been shown to block the enzyme 11B-hydroxysterokid responsible for the conversion of cortisol (active) to cortisone (inactive). The result is increased cortisol levels which can provide dramatic relief from a variety of symptoms.
Unlike most liquid licorice root extracts available, this has the exact, assayed content of Glycyrrhizin per drop right on the label. This licorice root extract has 0.87 mg per drop which is high strength and ideal for precise dosing/titration. It's important to know the assayed Glycyrrhizin content of your licorice root extract, not just the amount of "extract." You don't need to take 28-56 drops of this product.
In 2020, BioMatrix sourced an improved licorice root extract (Glycyrrhiza glabra) with 3X the strength of the active ingredient, Glycyrrhizin. The 10.5 mg of licorice root extract per drop contains the same amount of Glycyrrhizin as the previous version of the product (which contained 35 mg of extract per drop). There is no need to change the number of drops taken with this upgraded version of the product.
Promotes proper cortisol levels.
Supports the body's stress response.
Boosts libido and energy levels.
Aids in blood sugar control.
Helps to reduce to reduce feelings of nervousness and poor mood.
Alleviates female symptoms such as swollen breasts and hot flashes.
Derived from 100% organic licorice.
Helps to maintain a balanced cortisol-to-DHEA ratio.
Contains glycyrrhizin to block the enzyme that converts cortisol to cortisone.
When met with chronic stress of any kind, the hypothalamic-pituitary-adrenal (HPA) axis becomes burdened by the overwhelming need to produce the stress hormone cortisol. This affects metabolism, immunity, reproductive health, energy levels, and mood. BioMatrix Licorice Root Extract supports proper cortisol levels and reduces these symptoms to restore your overall well-being.
Suggested Use:
Take 2-3 drops 1-2 times daily
Serving Size: 1 Drop (0.05 ml)
Licorice Root Extract … 10.5 mg
(from Glycyrrhiza glabra, yielding 0.87 mg/drop of Glycyrrhizin)
Other Ingredients: Glycerin (from palm oil), purified water.
Warning: For specific recommendations, or if you are nursing or pregnant, please consult a health professional. Formulated to be free of allergens derived from: gluten, corn, yeast, artificial colors and flavors. Store in a cool, dry place. Keep out of reach of children. This product was sealed for your protection. Do not use if outer neck/bottle seal is damaged or missing.