Liver Support Px
Restorative Formulations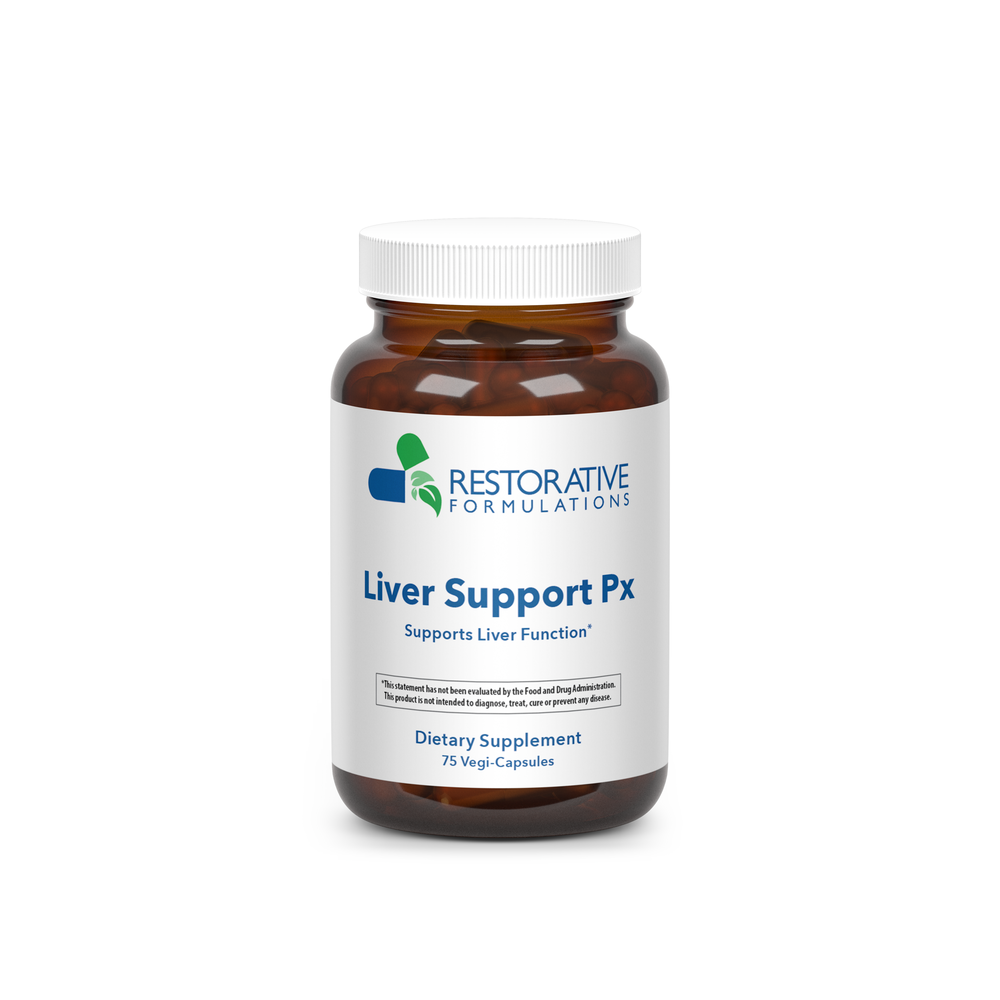 SKU: RF-1176
A blend of Ayurvedic herbs and concentrated Milk Thistle extract help promote liver health and hepatic cell activity. Milk Thistle supports optimal glutathione levels to enhance antioxidant defenses for the liver.
Supports healthy liver function
Preserves healthy bile flow
Utilizes phase 1 and phase 2 liver detoxification pathways
Liver Support Px formula is based on potent herbs from Ayurveda and Chinese medicine which have been traditionally used to support the liver, combined with a concentrated extract of Milk Thistle seed. The combination of herbs in this high-potency formula were chosen to deliver important antioxidant defenses, optimize healthy liver function, and promote the flow of bile.
Silymarin, a flavonoid naturally occurring in Milk Thistle seed, is well known for its hepatoprotective effects and for supporting optimal glutathione levels.
Turmeric is included to support detoxification, protect the liver from oxidative damage and support a healthy inflammatory response.
Take 1 to 3 capsules twice daily, or as directed by your health care practitioner. Can be taken with or without food.
Serving Size: 3 capsules
Amount Per Serving
Selenium ... 300mcg
(selenomethionine)
Organic Turmeric ... 1050mg
(Curcuma longa)(2% naturally occuring curcuminoids)
Milk Thistle extract 30:1 ... 450mg
(Silybum marianum)
Organic Bupleurum ... 225mg
(Bupleurum aureum)
Organic Triphala ... 150mg
(Amalaki, Bibhitaki, Haritaki)

Minimum Constituent BioMarker Per Dose
Silymarin HPLC ... 252mg
Curcuminoids ... 21mg
Other Ingredients: Vegetable Capsule (cellulose)
Product is free of GMOs, wheat, gluten, nuts, eggs, soy, dairy, fillers, binders, preservatives, animal derived ingredients and heavy metal toxicity
Caution: If pregnant, nursing or considering pregnancy do not use without first consulting with your health care provider. Keep out of reach of children. Due to potential drug-herbal interactions, tell your physician about any medications you are taking.