MagPure Glycinate
Jigsaw Health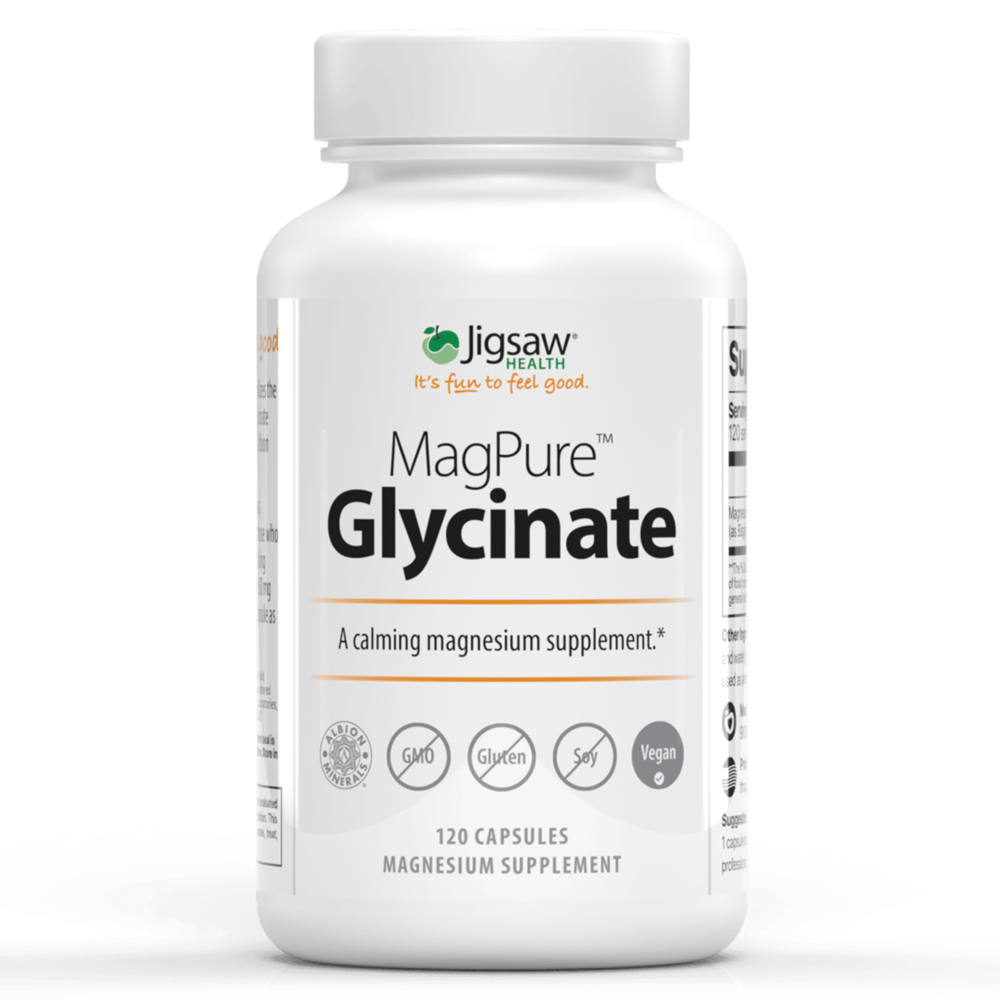 SKU: JIG-JI0044
MagPure™ Glycinate delivers 50 mg of pure elemental magnesium glycinate per capsule using minimal other ingredients and utilizes the highly bioavailable form, Magnesium Bisglycinate Chelate (bisglycinate means there are two glycine molecules attached one magnesium molecule), exclusively from Albion Labs.*
Jigsaw specifically designed this Magnesium supplement for those who want Magnesium and nothing else. Thats why they called it MagPure™.
The only other ingredients are the vegetable capsule and L-leucine.
L-leucine is an essential amino acid that has a natural slipperiness to it. Because of this, Jigsaw is able to use it as an anti-caking agent during the manufacturing process, as opposed to stearate or stearic acid. So not only does L-Leucine keep the capsulation machines from "gunking" up, youre also providing your body with an "essential" amino acid, meaning you must obtain it through your diet.
As dietary supplement, take 1 capsule per day with food. Or use as directed by your health care professional.
Serving Size: 1 Capsule
Amount Per Serving
Magnesium ... 50mg
(as Albion Bisglycinate Chelate)
Other Ingredients: Vegetable Capsules (as Hypromellose), L-leucine (an essential amino acid used as a anti-caking agent)
JIGSAW MAGPURE™ GLYCINATE IS:
GMO Free
Gluten Free
Soy Free
Dairy Free
Vegan safe
Please Note: If you are currently being treated for kidney disease, please consult your healthcare professional before taking any magnesium supplement as magnesium toxicity can occur in those with kidney disease.