MegaFlora® Probiotic
MegaFood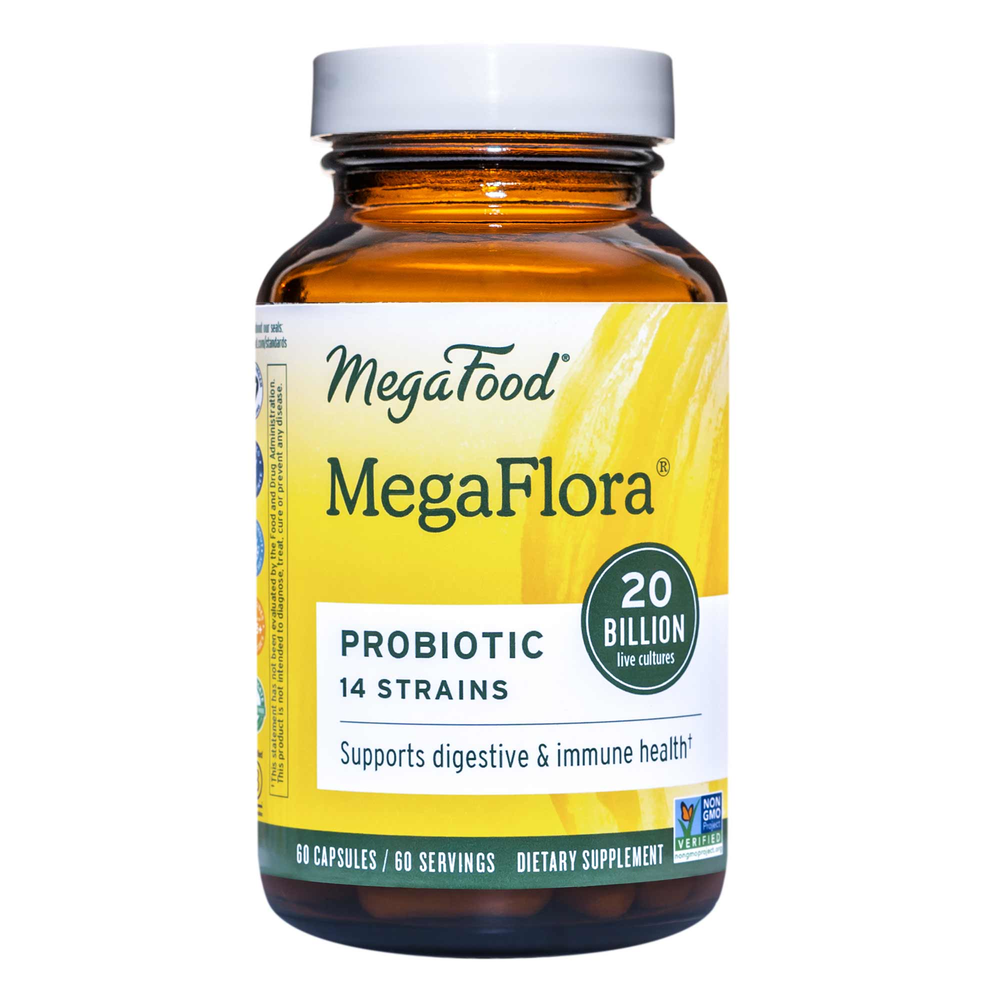 SKU: MEG-10204
Trust your gut & trust our signature probiotic*
Supports digestive & immune health*
Contains our proprietary blend of 14 unique strains of probiotics with 20 billion active bacteria to help restore and maintain the balance of healthy intestinal probiotics*
Use as part of your foundational health program
Certified Vegan; suitable for those following a plant-based lifestyle
We recommend storing in the fridge or freezer
Take once daily with food and a beverage
Suggested Use:
Take 1 capsule per day with a meal and a beverage.

Serving Size:
1 Capsule
Amount per ServingProprietary MegaFlora® Blend ... 20 Billion CFU
Bifidobacterium lactis (SD-5219)
Lactobacillus acidophilus (SD-5212)
Lactobacillus casei (SD-5213)
Lactobacillus plantarum (SD-5209)
Lactobacillus rhamnosus (SD-5217)
Lactobacillus salivarius (SD-5208)
Lactobacillus brevis (SD-5214)
Lactobacillus bulgaricus (SD-6833)
Lactobacillus gasseri (SD-5585)
Lactococcus lactis (SD-5584)
Bifidobacterium longum (SD-5588)
Bifidobacterium bifidum (SD-6576)
Bifidobacterium infantis (SD-6720)
Streptococcus thermophilus (SD-5207)
Other Ingredients:
Hypromellose, microcrystalline cellulose, l-leucine, silicon dioxide.
This product is Certified Vegan, Gluten Free, Soy Free, Dairy Free, Non-GMO>

Warning: Keep out of reach of children. Keep refrigerated or frozen to maintain potency. Potency guaranteed until expiration, when stored as recommended.