Meno-Breeze®
Natura Health Products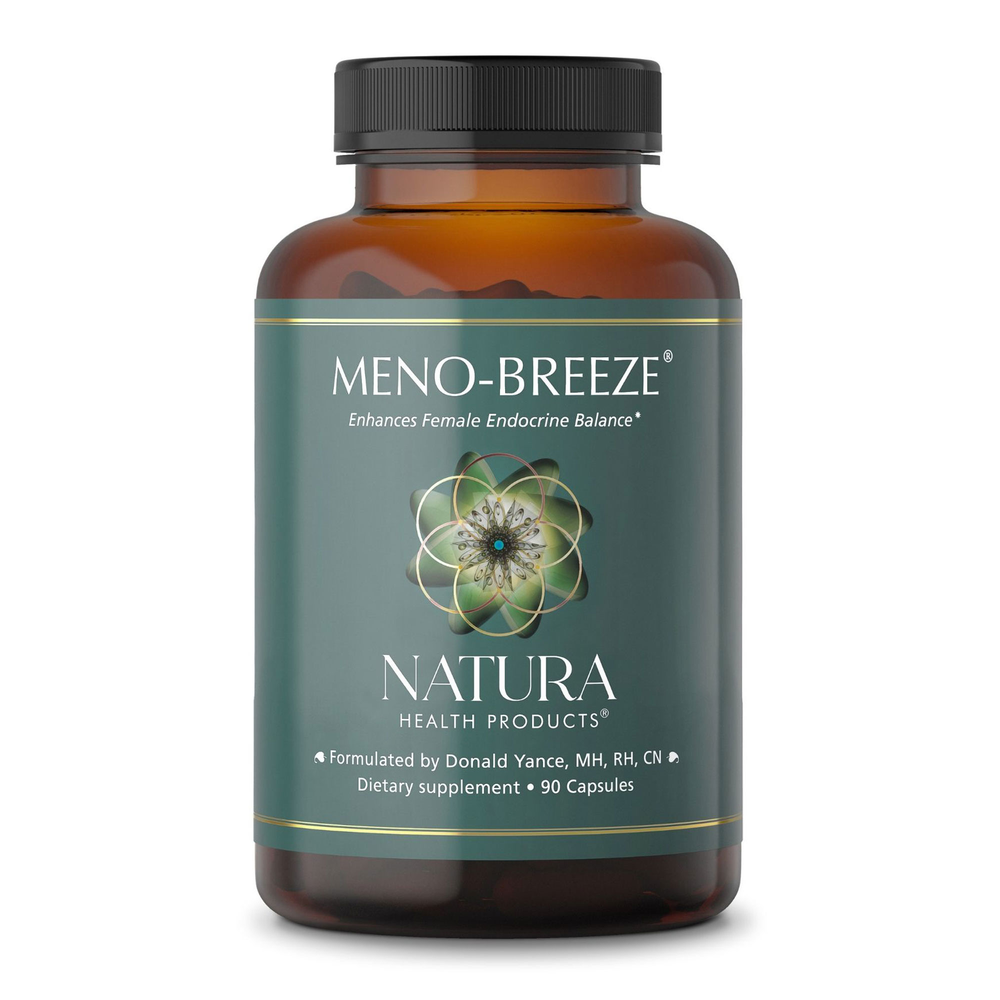 SKU: NTH-MBEC114
enhances female endocrine balance*
eases the transition through menopause*
supports female reproductive health*
nourishes bone and tissue health*
Meno-Breeze® addresses endocrine issues generated by the onset of menopause by incorporating standardized herbal extracts from different traditional medical systems including Ayurveda, Traditional Chinese Medicine (TCM) and Western herbology. It is formulated to promote a healthy balance of progesterone and estrogen, which results in an improvement in the luteal phase of the menstrual cycle. This hormone balancing effect reduces menopausal or premenstrual symptoms and also helps support reproductive health.*
Suggested Use:
Take 3 capsules daily or as directed by your healthcare practitioner.


Serving Size:
3 capsules
Amount Per ServingShatavari Root Ext
... 270mg
(Asparagus racemosus) 20% Saponins
Chinese Yam Root Ext
... 240mg
(Dioscorea oppositifolia) 6% Diosgenin
Chaste Berry Ext
... 240mg
(Vitex agnus-castus) 0.5% Agnusides
Rhemannia Root Ext
... 240mg
(Rehmannia glutinosa) 1% Catalpol
Black Cohosh Root and Rhizome Ext
... 240mg
(Cimicifuga racemosa) 2.5% Triterpene Glycosides
Lifenol® Hops Flower Ext
... 60mg
(Humulus lupulus)
Eucommia Bark Ext
... 60mg
(Eucommia ulmoides) 1% Pinoresinol Diglucoside
Red Clover Tops Ext
... 60mg
(Trifolium pratense) 40% Isoflavones
Polygonum multiflorum Root Ext
... 60mg
8% Stilbenes
Licorice Root Ext
... 30mg
(Glycyrrhiza glabra) 25% Glycyrrhizic Acid

Other Ingredients:
Vegetable capsule (HPMC, water), microcrystalline cellulose, magnesium stearate, silicon dioxide.
Does Not Contain:
Wheat, gluten, soy, milk, eggs, fish, crustacean shellfish, tree nuts, peanuts
Lifenol® is a registered trademark of Naturex
Warning
: If pregnant or breast feeding ask a health care professional before use.