BioFem Transition
Nutra BioGenesis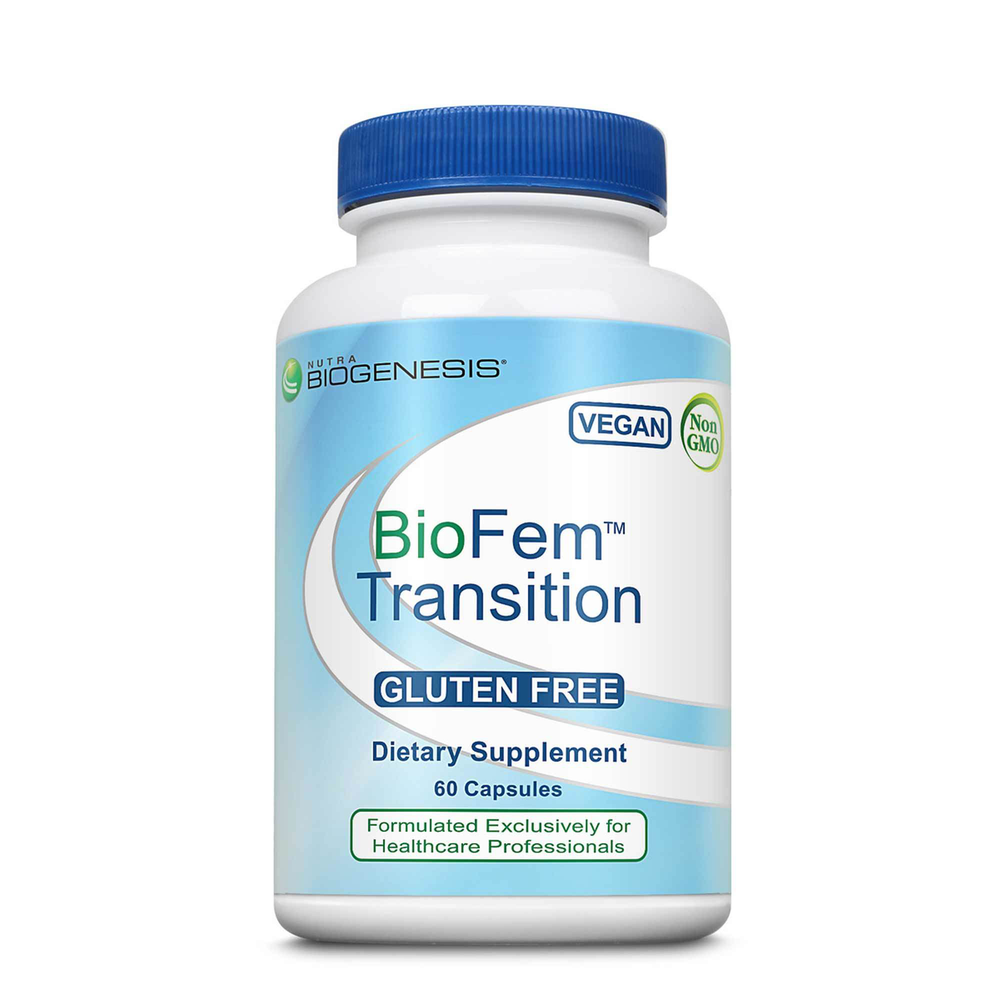 SKU: BI5-91646
BioFem™ Transition is a special blend of herbs, DHEA, and pregnenolone intended to provide nutritional support during a womans transistion
Use only as directed. Take 1 capsule daily or as directed by your healthcare practitioner. Keep tightly capped and store in a cool, dry place.
Serving Size: 1 capsule
Amount Per Serving
DHEA ... 5mg
(dehydroepiandrosterone)
Pregnenolone ... 5mg
Black cohosh ... 160mg
(Cimicifuga racemosa)(root extract)(2.5% tritrepene glycosides)
Wild yam ... 150mg
(Dioscorea villosa)(root extract)(10% diosgenin)
Dong quai ... 100mg
(Angelica sinensis)(root extract)(1% ligustilide)
Hops ... 67mg
(Humulus lupulus)(cone extract)(0.15% 8-prenylnaringenin)
Ginkgo ... 50mg
(Ginkgo biloba)(Leaf extract)(24% ginkgo flavonglycosides, 6% terpene lactones)
Other Ingredients: Vegetable cellulose capsule, cellulose, gum arabic, rice bran extract, silica.
Warning: Do not use if safety seal is broken or missing. Not for use by individuals under the age of 18 years. Do not use if pregnant or nursing. Consult a physician or licensed qualified healthcare professional before using this product if you have, or have a family history of, prostate cancer, prostate enlargement, heart disease, low "good" cholesterol (HDL), or if you are using any other dietary supplement, prescription drug, or over-the-counter drug. Do not exceed recommended serving. Exceeding recommended serving may cause serious adverse health effects. Possible side effects include acne, hair loss, hair growth on the face (in woman), aggressiveness, irritability, and increased levels of estrogen. Discontinue use and call a physician or licensed qualified healthcare professional immediately if you experience rapid heartbeat, dizziness, blurred vision, or other similar symptoms. Keep out of reach of children.
These statements have not been evaluated by the FDA. This product is not intended to diagnose, treat, cure, or prevent any disease.