Menopause Relief Herb Pack
Pacific Herbs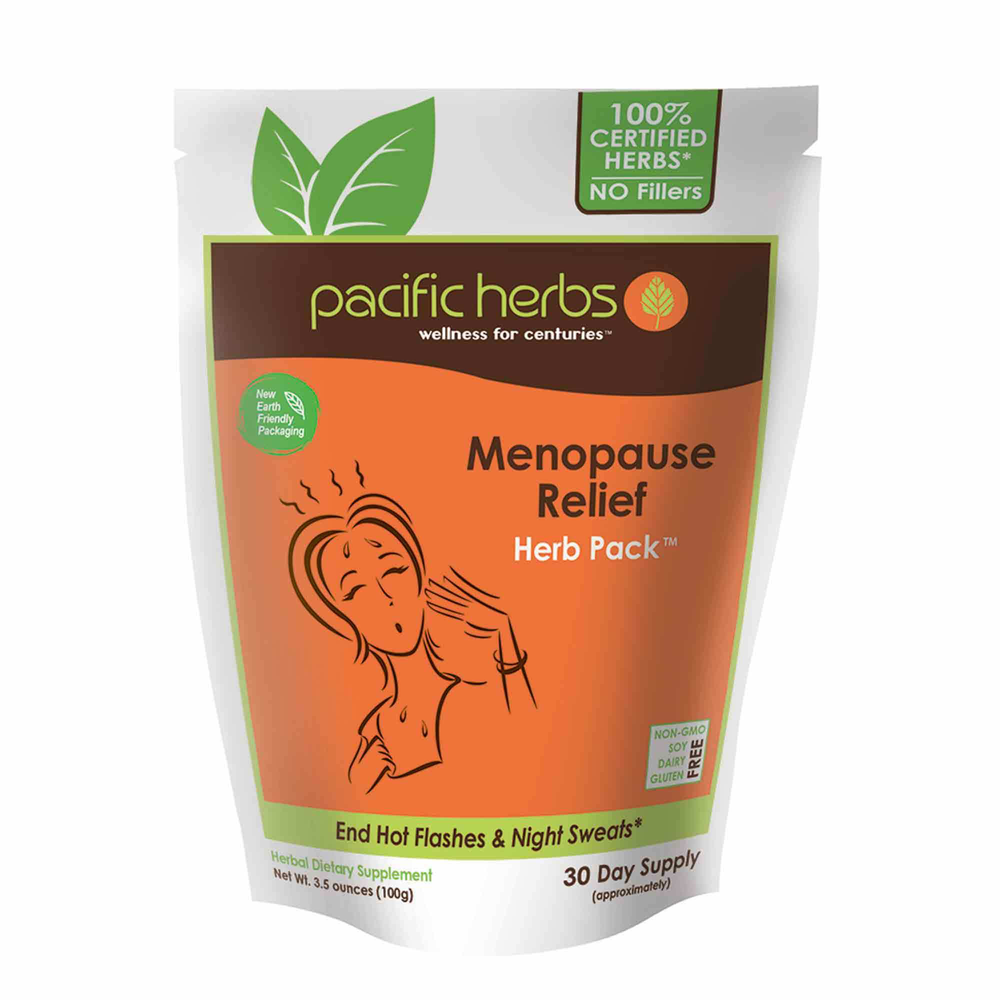 SKU: PAC316-M101
Pacific Herbs all natural, all herbal Menopause Relief Herb Pack is for the menopausal and peri-menopausal age woman.*
Their large re-sealable, stay fresh pouch of highly concentrated herbal extract usually last about a month. Just dissolve granules in warm water and drink as a delicious cup of tea or place directly on tongue and swallow with water or juice. Either way you get a therapeutic dose of their full spectrum concentrated herbal extracts.
They understand you want a natural solution. Herbs in this combination have been used for centuries. Herbs dont replace hormones, they balance them. Treating menopause with artificial or bioidentical hormone therapy unfortunately does not address the underlying issues.*
Whether you are peri-menopausal with mild night sweats, or have been menopausal for some time, you will get relief with these herbs. Asian cultures have used this combination of herbs effectively as a natural alternative for symptoms such as hot flashes, night sweats, mood swings, anxiety, mental clarity and other signs of natural aging.*
Recommended Use:
Mix in warm water and enjoy, or place granules in mouth and swallow with water or juice.
Serving Size: 1/2 tsp
Amount Per Serving
Rehmanniae prepared root … 130mg
(Shu Di Huang)
Cornus fruit … 90mg
(Shan Zhu Yu)
Disoscoreae root … 90mg
(Chinese Yam)
Poria … 90mg
(Fu Ling)
Proprietary Extract Blend … 1,600mg
(Eclipta (Mo Han Lian), Ligusticum (Chuan Xiong), Anemarrhenae Root (Zhi Mu), Lycium berry (Goji berry), Horny Goat Weed/Epimedium (Yin Yang Huo), Alisma (Ze Xie), Licorice root (Gan Cao), Moutan (Mu Dan Pi)
Other Ingredients: None
Pacific Herbs only solvent is purified water
Libido Booster Herb Pack is Gluten Free – Dairy Free – Soy Free
No necessary fillers or binders
No magnesium stearate
No coloring agents
No gelatin
No preservatives
No yeast, corn, wheat, alcohol, sugar or salt.