Metabolic Manager
Vitanica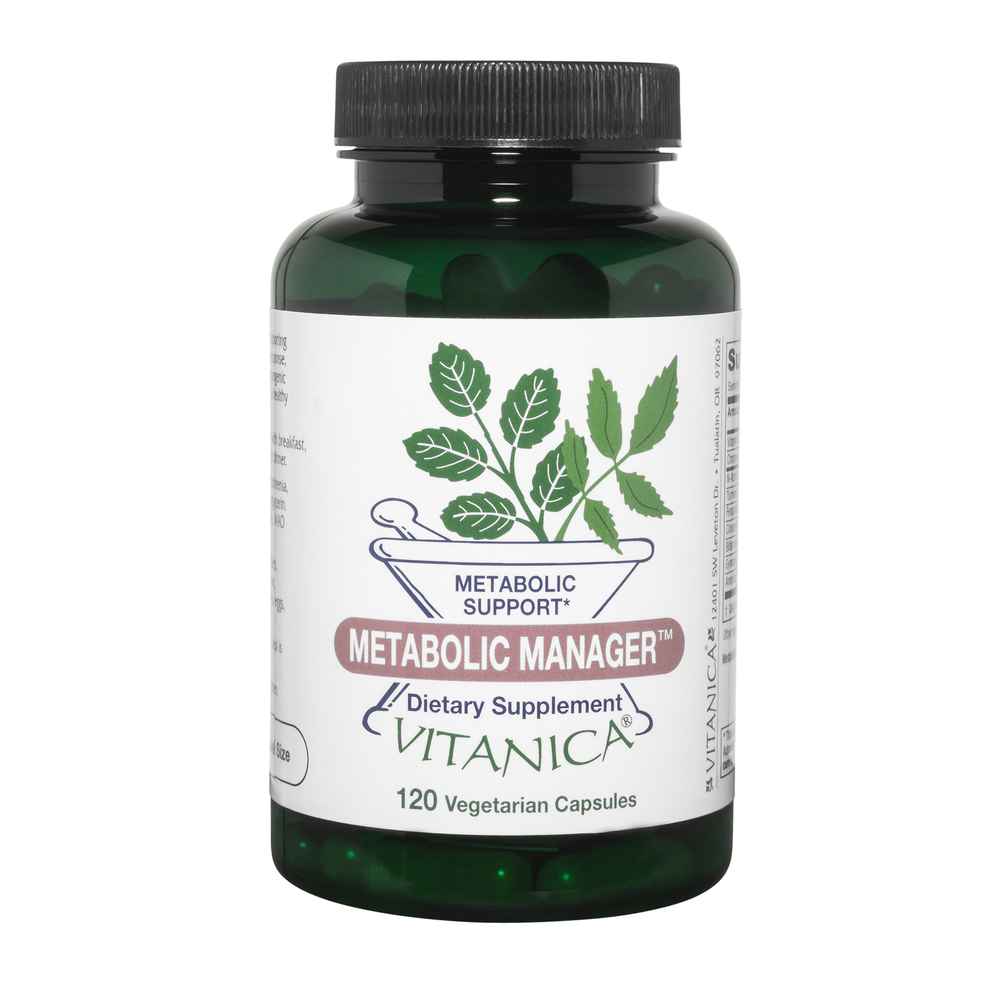 SKU: VTC-01032
Metabolic Manager is a holistic formula supporting maintenance of a normal
healthy glycemic response, utilizing botanicals with antioxidant and
adaptogenic properties as well as nutrients in suppoirt of a healthy metabolic
response.*
Two (2) to four (4) capsules with breakfast, and two (2) to four (4) capsules
with lunch or dinner.
Serving Size: 4 capsules
Amount Per Serving:
Vitamin D2 ...1000IU
(as ergocalciferol)
Chromium ...500mcg
(as polynicotinate)
N-Acetyl L-Cysteine ...800mg
Turmeric root ~ Curcuma longa ...500mg
Fenugreek seed extract ~ Trigonella foenum-graecum ...500mg
Cinnamon bark ~ Cinnamomum verum ...500mg
Bitter melon fruit extract (5:1) ~ Momordica charantia ...400mg
Gymnema leaf extract (5:1) ~ Gymnema sylvestre ...400mg
American ginseng root ~ Panax quinquefolius ...200mg
Vitanicas Metabolic Manager is suitable for vegetarians and vegans.
This product contains no preservatives, binders, artificial colorings or
flavorings, sugars, lactose, salt, wheat, gluten, soybeans, milk derivatives,
eggs, peanuts, tree nuts, fish or shellfish.
Avoid during pregnancy/lactation, if breast cancer, schizophrenia, insomnia,
or if on Warfarin, intravenous nitroglycerin.
Caution if on diabetic medicine, MAO inhibitor, or thyroid hormone medication.
Tamper resistant: please do not use if safety seal is broken or missing.
Keep in a cool, dry place out of reach of children.
*These statements have no been evaluated by the Food and Drug Administration.
This product is not intended to diagnose, treat, cure or prevent any disease.