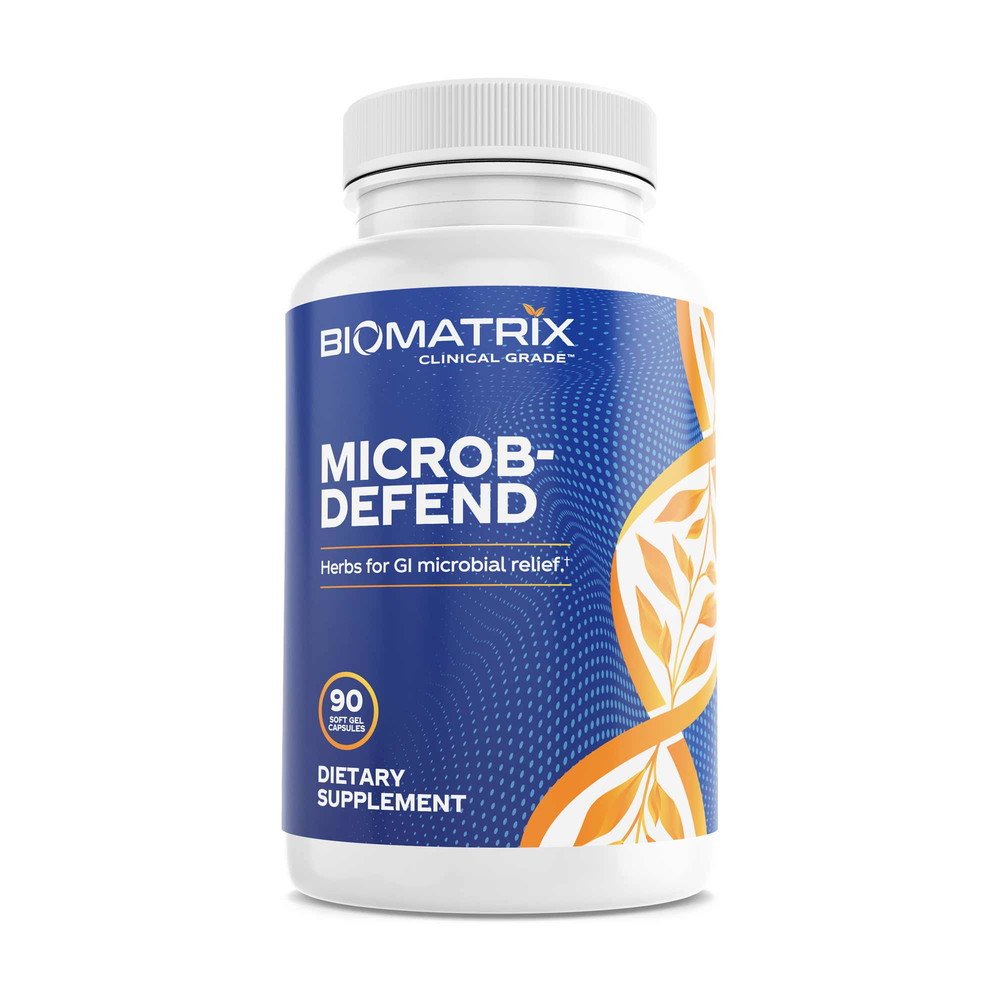 SKU: BMX-70501
The 3 essential oils in Microb-X have been shown to have activity against pathogenic and non-beneficial bacteria. They also have significant anti-fungal and anti-viral activities. This activity appears to be selective for disruptive organisms, leaving the normal gut flora relatively unaffected, helping to normalize and re-balance gut flora.
The key concept behind Microb-X is using natural substances to selectively target pathogenic and non-beneficial bacteria, leaving the beneficial bacteria and other organisms relatively untouched.
Thymol, the essential oil of thyme - as well as carvacrol, the essential oil of oregano - are in standardized amounts up to 75-80%. The clove oil is standardized to contain more than 80% eugenol. This strength translates to reduced spending on gut healing efforts.
A combination of essential oils which disrupt biofilms, the matrix-like substance that pathogens and fungi - like Candida - use to protect themselves.
Each oil is standardized for its most active constituents (thymol, eugenol and carvacrol), each shown to have antibiotic properties.
Derived from herbs which have been used for centuries in numerous cultures for similar purposes and known for their safety and effectiveness.
Suggested Use:
As a dietary supplement, take 1-3 soft gel capsules per day. For more specific recommendations, or if you are nursing or pregnant, please consult with your health professional.
Serving Size: 1 Soft Gel Capsule
Amount Per Serving
Thyme Oil … 200 mg
(Standardized to contain 30-75% thymol)
Clove Oil ... 100 mg
(Standardized to contain >80% eugenol)
Oregano Oil ... 100 mg
(Standardized to contain 55-80% carvacrol)
Other Ingredients: Rice Bran Oil, Gelatin, Glycerin, Corbitol, Purified Water.
This product is formulated to be free of egg, gluten, milk, added sodium, soy, wheat, added yeast, added sugars, synthetic dyes, artificial flavorings and preservatives.
Warning: Keep out of reach of children. Sore in a cool, dry place. This product was sealed for your protection. Do not use if the outer neck seal or inner seal is missing and/or damaged.