Milk Thistle Max-V 250mg
Douglas Labs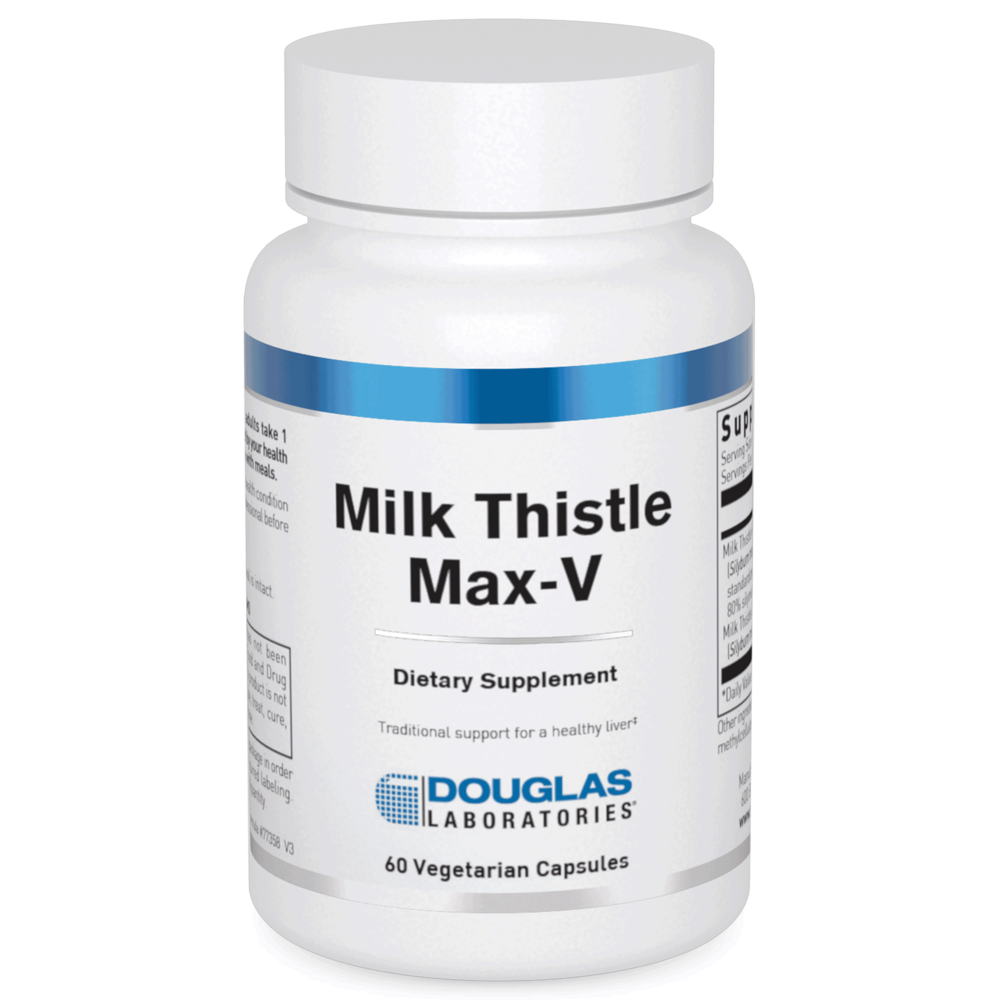 SKU: DL-7735860X
Milk Thistle Max-V vegetarian capsules, provided by Douglas Laboratories, contain 250 mg of milk thistle extract, standardized to contain a minimum of 80% of the flavonoid silymarin.
FUNCTIONS Milk thistle, a common herb native to the Mediterranean, has been widely used for its nutritional support of liver function for over 2, 000 years. Seeds of the dried milk thistle flower are rich in silymarin, a bioflavonoid complex of three flavonolignins: silybin, silydianin, and silychristin. Silymarin is responsible for milk thistle's powerful protective and regenerative activities in the liver. The liver is the body's detoxifying organ, disabling toxins such as ethanol, environmental poisons, pesticides, and certain pharmaceuticals. In addition to its detoxification properties, the liver plays an essential role in protein, carbohydrate, and lipid metabolism, cholesterol synthesis, bile secretion, and storage of fat-soluble vitamins. When damaged or diseased, the liver's ability to eliminate toxins and perform its numerous other functions may be severely impaired. Silymarin has been shown to support and enhance normal, healthy liver function through three primary actions. By binding to the outer cell membrane, silymarin prevents harmful toxins from entering the cell. Silymarin further protects the liver as an important component of the liver's antioxidant defense. The liver generates potentially damaging, toxic free radicals and reactive oxygen species (e.g. peroxides) as a result of its normal metabolic and detoxifying functions. Left unchecked, these radicals can damage the cell structure and interfere with normal cell functions. Fortunately, silymarin provides support for free radical damage. Furthermore, silymarin enhances levels of glutathione and superoxide dismutase, two primary antioxidants in the liver. In addition to its protective functions, silymarin stimulates damaged liver cells to regenerate. In the cell nucleus, silymarin augments the production of ribosomes, stimulating protein synthesis in the damaged cell. This results in expedited cell regeneration, the replacement and repair of damaged cells.
INDICATIONS Milk Thistle Max-V vegetarian capsules may be a useful nutritional supplement for individuals who wish to enhance healthy hepatic function through the natural protective and regenerative properties of this herb.
As a dietary supplement, adults take 1 capsule twice daily between the meals, or as advised by your healthcare professional. If digestive irritation occurs, take with meals.
Serving Size: 1 Capsule
Amount Per Serving
Milk Thistle Herbal Extract ...250mg *
(seed) (Silybum marianum) Standardized to provide 200 mg of silymarin flavonoids.
Milk Thistle (seed) ...100mg *
(non-standardized) (Silybum marianum)
Other ingredients: Cellulose, hydroxypropyl methylcellulose and vegetable stearate.
This product contains NO yeast, wheat, gluten, soy, milk/dairy, corn, sugar, starch, artificial preservatives, artificial flavoring, or genetically modified organisms (GMOs).
Stop use and consult your healthcare professional if allergic reactions occur.

Note: If you are pregnant or nursing consult your healthcare professional before using this product.
Tamper resistant package, do not use if outer seal is broken or missing.
Keep out of reach of children.
Store in a cool, dry place.
*This statement has not been evaluated by the Food and Drug Administration. This product is not intended to diagnose, treat, cure or prevent any disease.