Min-Tran®
Standard Process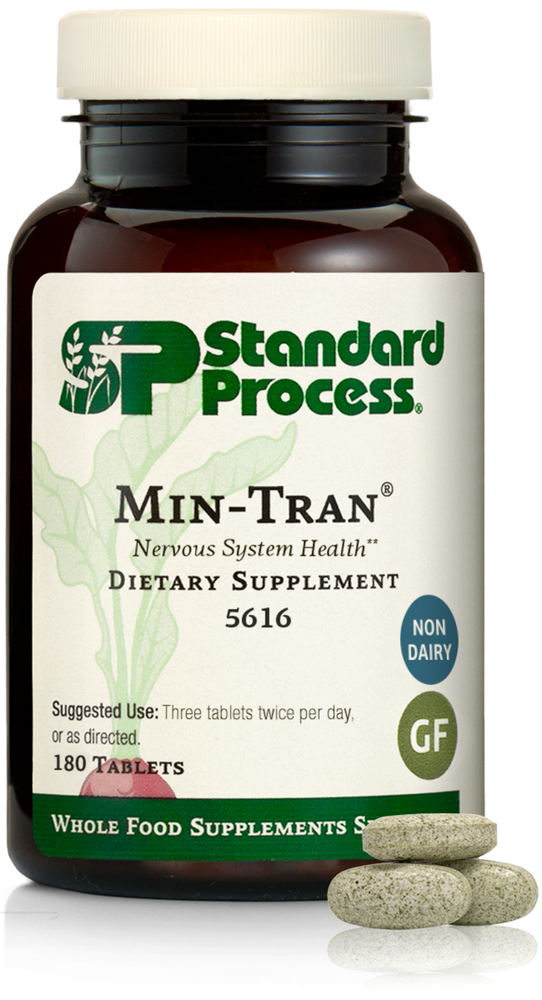 SKU: STP-5616
Min-Tran, a vegetarian nervous system support supplement, is a good source of magnesium, which supports the actions of neurotransmitters that help regulate mood.*

A good source of magnesium, which may play a role in the stress response pathway
A good source of magnesium, which is involved in sleep pathways that support brain homeostatic sleep processes*
Excellent source of iodine
Good source of calcium
This product is now available in medium oval tablets (rather than small tablets) which has reduced the total recommended quantity of tablets per day. The cost per day remains the same.


Suggested Use:
Three tablets twice per day, or as directed.

Serving Size: 4 Tablets

Amount Per Serving
Calories ... 5
Total Carbohydrate ... 2g
Calcium ... 180mg
Iodine ... 450mcg
Magnesium ... 20mg
Sodium ... 15mg

Ingredients: Calcium lactate, magnesium citrate, honey, kelp, organic alfalfa (aerial parts), and calcium stearate.

Gluten Free, Vegatarian, Non-Dairy, Non-Soy, Non-Grain


Warning: This product should only be used under the direct supervision of a qualifed health care professional. Please consult your health care professional if you are pregnant, nursing, or taking any antithyroid medicines. Keep out of reach of children.