Mito Cell PQQ
Neurobiologix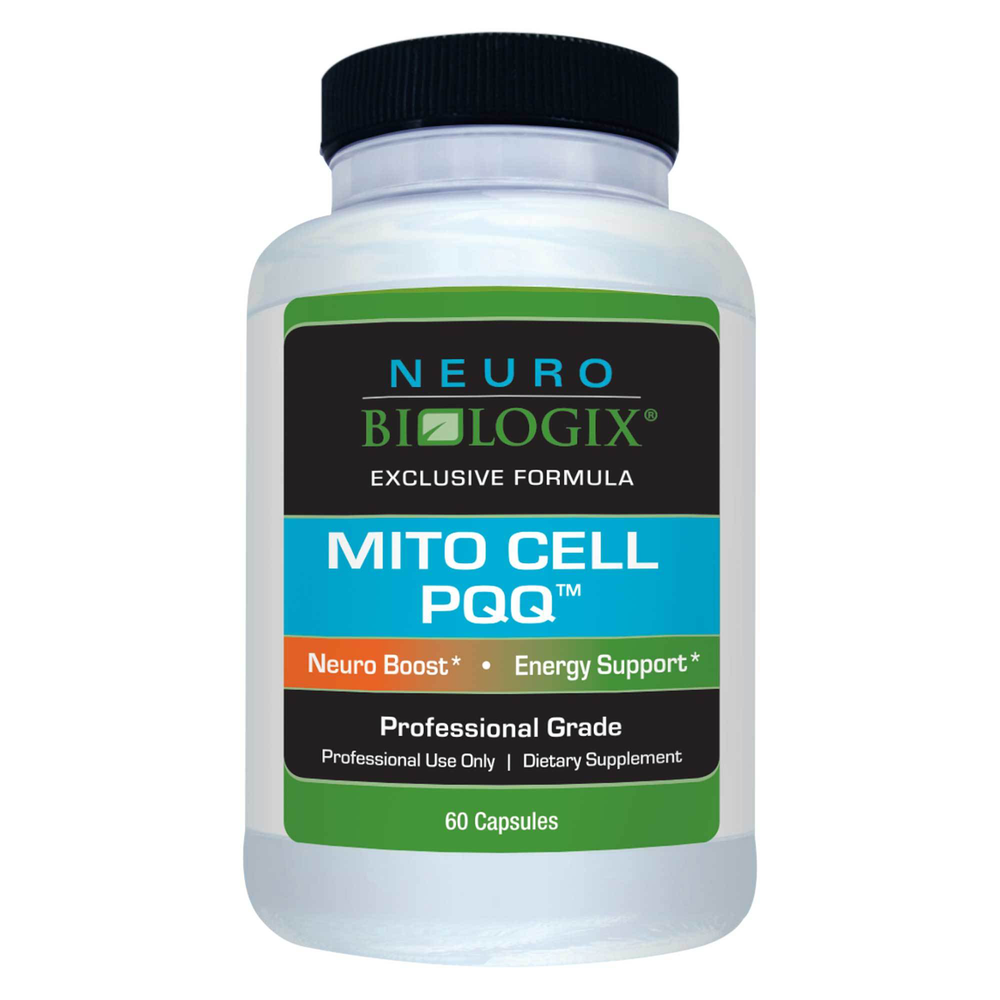 SKU: NEU866-943
9 ingredients to assist in the support and function of the mitochondria. EXCLUSIVE FORMULA created by a nationally renowned Neuro-Immune Specialist, Kendal Stewart, MD. This formula is recommended to help naturally support the decline of mitochondrial function associated with methylation deficiencies and immune and nervous system weakness.*
About Mito Cell PQQ:
Pyrroloquinoline Quinone (PQQ) and NADH (B3) are two major ingredients which form this powerful supplement. The combination of these 9 ingredients, selected by our advising physicians, ensures that these key ingredients stimulate proper mitochondrial function and guard against mitochondrial degeneration.*
What May Be The Benefits:
▪Improve overall energy*
▪Increase memory and focus*
▪Increase immune function*
▪Provide nutrients to brain needed for optimal function*
▪Increase cognitive health and may reduce stress*
▪Provide the necessary energy to mitochondria*
▪Improve energy production at the cellular level*
Suggested Use:
Adults
take 1- 2 capsules in the AM daily with food. Children take 1 capsule in the AM daily with food or as directed by your healthcare practitioner.
Serving Size:
2 Capsules
Amount Per ServingVitamin C
... 200mg
(Ascorbic Acid)
Zinc
... 35mg
(az Zinc Oxide)
Pyrroloquinoline Quinone Disodium Salt
... 20mg
(PQQ)
Nicotinamide Adenine Dinucleotide
... 20mg
(NADH)
Quercetin Dihydrate
... 100mg
(from Sophora Japonica Bud Extract)
Acetyl L-Carnitine HCI
... 200mg
Coenzyme Q-10
... 75mg
(Ubiquinone)
L-Ornithine HCI
... 200mg
Resveratrol
... 100mg
(from Polygonum Cuspidatum Root Extract)
Other Ingredients:
Hypromellose (Capsule), Ascorbyl Palmitate, Microcrystalline Cellulose, Dicalcium Phosphate, Silicon Dioxide.
Free Of: Yeast, wheat, gluten, soy protein, milk/dairy, corn, sodium, sugar, artificial coloring, preservatives or flavoring.
NOTE:
It is recommended to ease into a full dose of this formula. Begin at 1 capsule daily for 2-4 weeks then move up to a full dose.
CAUTION:
Keep out of reach of children. If you are pregnant or nursing discuss with your practitioner prior to use.