Mito-Detox III
Biospec Nutritionals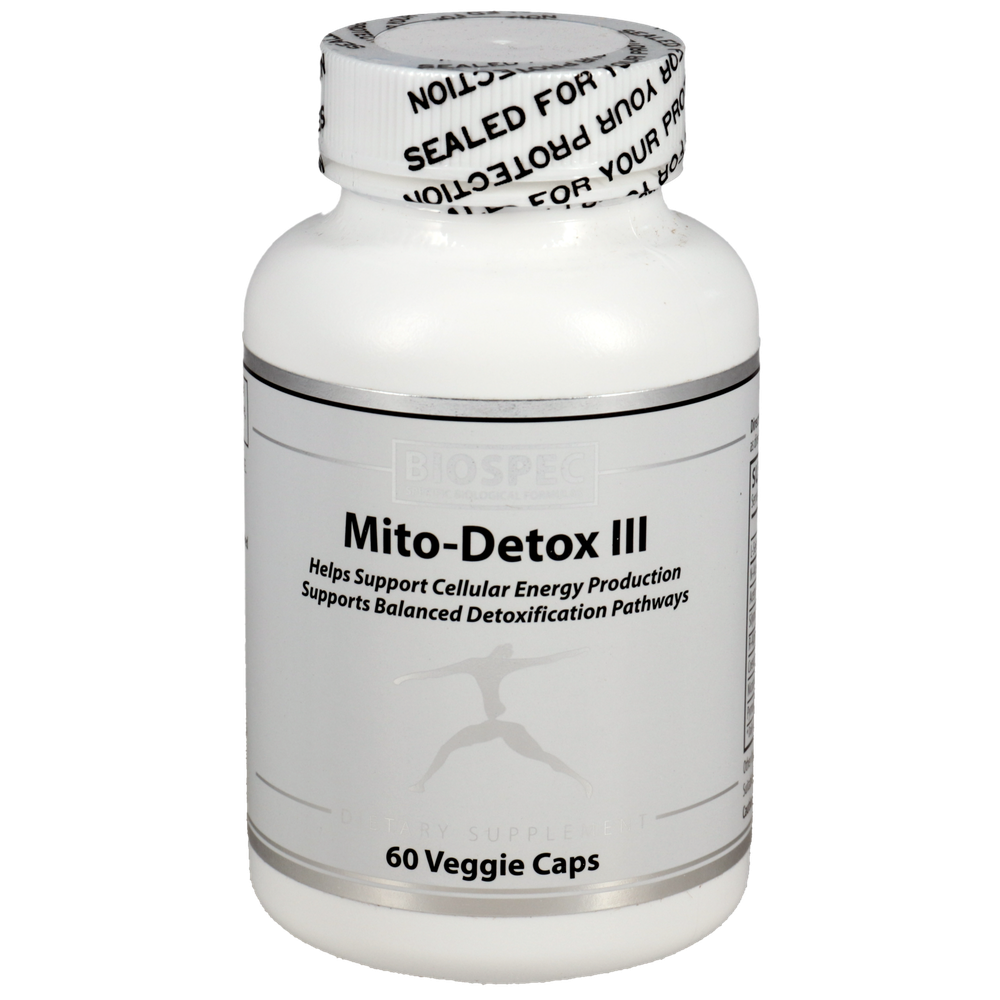 SKU: BSN-9571
Mitochondria dysfunction is characterized by insufficient cellular energy production' and is directly related to chronic fatigue' advanced aging' and degenerative diseases like Type-2 Diabetes' Cardiovascular Disease' Multiple Sclerosis' Cancer' Fibromyalgia' Alzheimer's' and other cognitive and mood disorders.
Mito-Detox III is an advanced nutraceutical formula providing a unique blend of nutrients known for mitochondria protective benefits and essential roles in energy production. The capacity of hepatic cells of the liver to perform their many vital roles' like the metabolism of harmful toxins' is highly contingent optimal mitochondrial activity.
Contains R-Lipoic Acid' the natural and most biologically active form of Alpha Lipoic Acid' which acts as a versatile antioxidant and is known for enhancing blood sugar metabolism and nerve function
Contains PQQ (pyrroloquinoline quinone)' a potent antioxidant and promotor of mitochondrial biogenesis. Research supports the enhanced benefit of PQQ when combined with CoQ10' as provided in Mito-Detox III.
Contains nicotinamide adenine dinucleotide (NADH). The ability of cells to produce nearly all high-energy molecules (ATP) is directly related to the availability of NADH.
Mito-Detox III may serve as a foundation of any nutritional intervention intended to enhance energy production capacity.


Suggested Use
As a nutritional supplement for adults, 2-4 capsules daily with meals or as directed by your Healthcare Professional.

Serving size: 4 Veggie Caps

Amount Per Serving
L-Selenomethionine ... 100 mcg
N-Acetyl Cysteine (NAC) ... 1200 mg
Acetyl L-Carnitine ... 800 mg
Silymarin Extract (standardized to 80%) ... 320 mg
R-Alpha Lipoic Acid (stabilized) ... 300 mg
Nicotinamide Adenine Dinucleotide (NADH) ... 12 mg
Coenzyme Q-10 (ubiquinone) ... 200 mg
Pyrroloquinoline Quinone (PQQ) ... 12 mg

Other Ingredients: Vegetable Cellulose.


Suitable for Most Vegetarians.
Caution:
If pregnant or nursing, please consult your Doctor before use.
Keep out of reach of children.
Do not use if outer seal is broken or missing.