Multi Collagen Peptides Powder
Codeage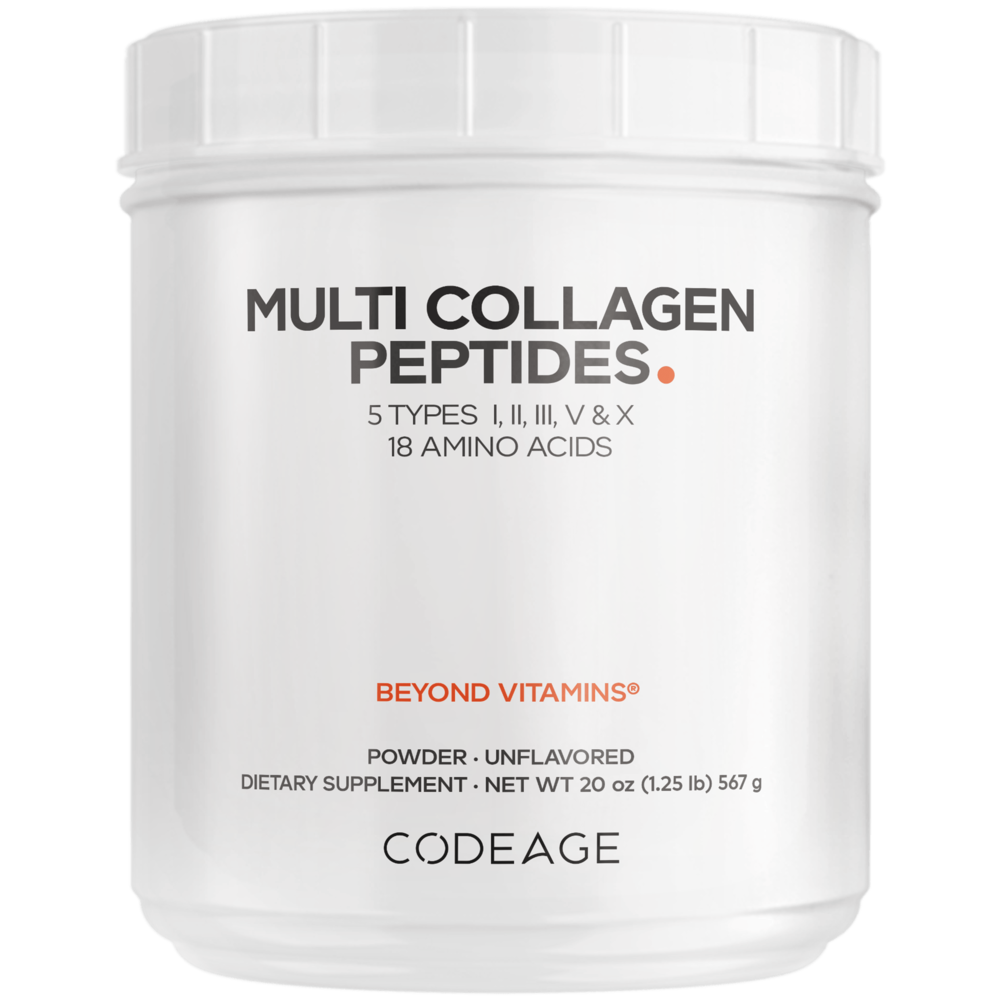 SKU: COD404-853919008021
Codeage Multi Collagen Protein powder is a hydrolyzed formula of 5 different types of Collagen (Types I, II, III, V & X) from 5 different collagen food sources, and provides 18 different amino acids all-in-one. This high-quality blend of 5 types of food sourced collagen includes grass-fed and pasture-raised bovine, free-range chicken, wild-caught white fish, and eggshell collagens. Collagen production naturally declines over time and can cause issues with bones, joints, skin, hair and nails among many others.
Collagen is best known to:
Support joints, bones, and muscle health*
Support skin health and may help decrease visible signs of aging*
Support healthy digestion*
Promote healthy hair and nails*
Suggested Use:
Adults mix 1 scoop of Codeage Multi Collagen Peptides powder into 8-12 oz of your favorite beverage, coffee, smoothies & baked treats to upgrade your diet. Do not exceed the recommended dose.
Serving Size:
1 Scoop (Approx. 9g)
Amount Per Serving
Calories
… 43
Sodium
… 50mg
Protein
… 9g
Multi-Collagen Complex
… 9,000mg
Grass-Fed Hydrolyzed Bovine Collagen Peptides (BSE-free), Organic Chicken Bone Broth, Organic Beef Bone Broth (BSE-free), Wild-Caught Hydrolyzed Fish Collagen Peptides (Cod, Snapper), Egg Shell Membrane Collagen
Contains:
Fish (Cod, Snapper), Egg
Does not contain:
GMO, gluten, dairy, milk, soy, shellfish, fillers, artificial flavors, colors, sweeteners, oil or preservatives.
Ideal for Keto and Paleo Diet
Warning: I
f you are pregnant, nursing, allergic, have a medical condition, or are taking any medications, consult a doctor before using this or any other dietary supplement.
Allergen warning:
Fish (Cod, Snapper), Egg.
Notice:
Use this product as a food supplement only. Do not use for weight reduction. Color and odor may vary from lot to lot.