Muscle-Aid
Nutra BioGenesis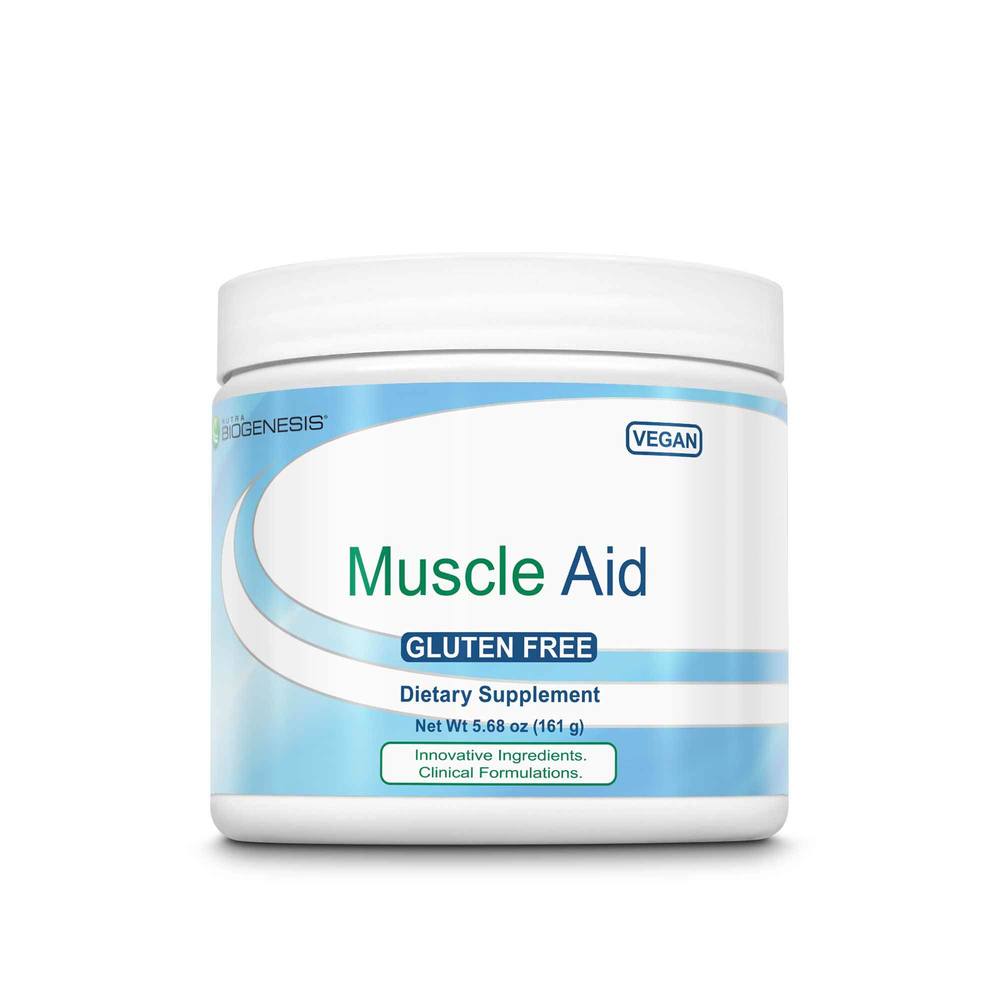 SKU: BI5-83535
NUTRITIONAL SUPPORT TO RELIEVE STRESS IN TIRED MUSCLES AND IMPROVE CELLULAR ENERGY†
Helps control muscle spasms†
Helps alleviate cramping†
Supports cardiovascular health†
Reduces myalgias and other pains†
Muscle-Aid is a combination mineral amino acid chelate and vitamin beverage that includes malic acid, L-taurine, L-glutamine, L-carnitine, and selenium for optimizing energy support. Muscle-Aid helps control muscle spasms, alleviate cramping, and support cardiovascular health.†
Suggestsed Use:
Use only as directed. Mix 1 heaping teaspoon (5.1g) to 3-6 ounces of water ir desired beverage twice daily or as directed by your healthcare practitioner.
Serving Size: One Tsp. (5.1g)
Amount Per Serving
Calories ... 5
Vitamin E ... 15IU
(from d-alpha-tocopheryl acetate)(soy)
Thiamine ... 25mg
(B-1)(from thiamine mononitrate)
Niacin ... 20mg
(from niacinamide)
Vitamin B6 ... 50mg
(from pyridoxine HCl, pyridoxal 5-phosphate monohydrate)
Folate ... 150mcg
(from (6S)-5-methyltetrahydrofolate, glucosamine salt)
Vitamin B12 ... 20mcg
(from methylcobalamin)
Calcium ... 18mg
(from calcium phosphate)
Magnesium ... 280mg
(from magnesium glycinate)
Selenium ... 25mcg
(from selenomethionine)
Molybdenum ... 60mcg
(from sodium molybdate)
Potassium ... 200mg
(from potassium phosphate, potassium aspartate)
Malic acid ... 900mg
Taurine ... 500mg
L-glutamine ... 500mg
Citric Acid ... 400mg
Glycine ... 320mg
L-carnitine ... 50mg
Other Ingredients: Natural orange juice flavor, stevia (leaf extract)
PRECAUTIONS
Single doses of magnesium greater than 1000 mg may cause diarrhea. Use with caution in renal impairment disease due to potassium content.
WARNING
DO not use if safety seal is broken or missing. Keep out of reach of children. Keep your licensed healthcare practitioner informed when using this product, especially if pregnant or nursing.