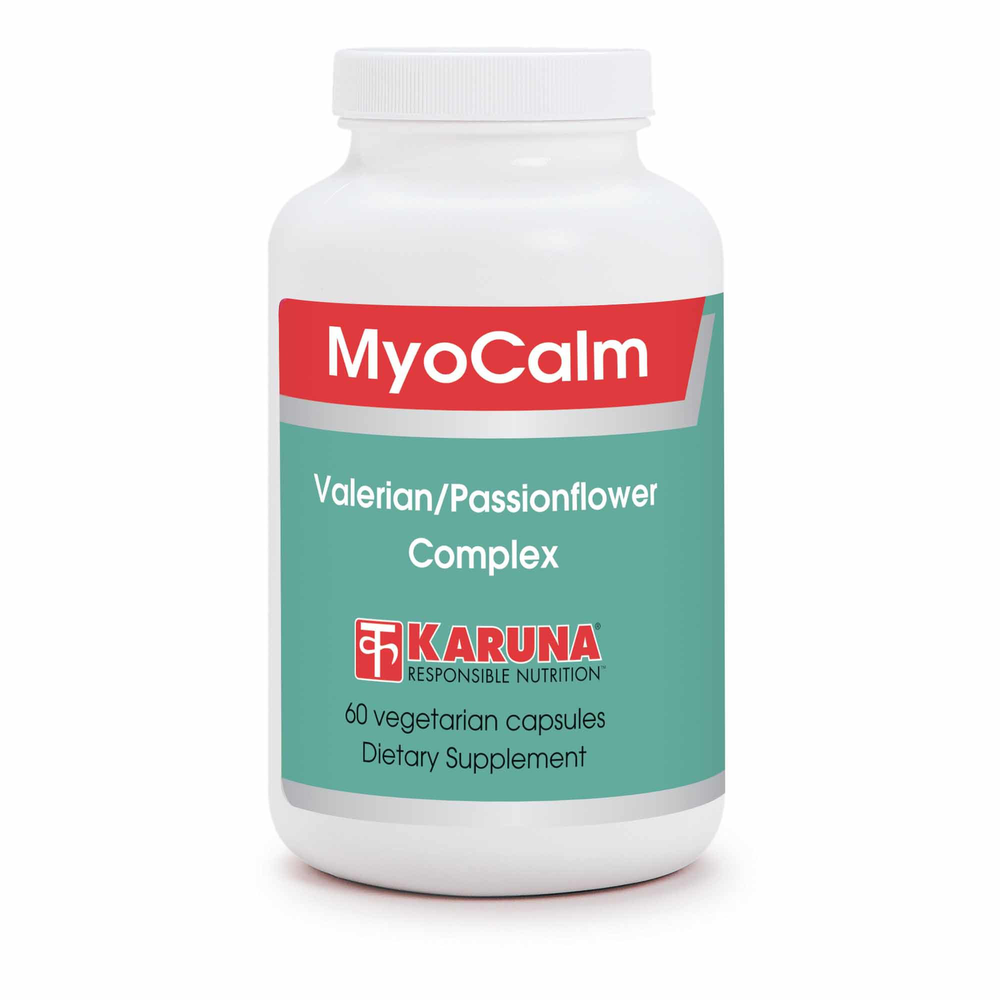 SKU: KAR-5114
Valerian/Passion Flower complex with supporting nutrients
MyoCalm contains a complementary array of ingredients that stabilize neuromuscular function and oppose the tendency toward excessive muscular tension and spasms.

Experimental and clinical studies suggest that magnesium has a special role in opposing neuromuscular hyperexcitability, as its insufficiency can lead to muscle cramping, nervous excitability, agitation, irritability, restlessness, anxiety and anxious depression.

Extracts of valerian and passion flower provide a mild calming, antispasmodic sedation.

Valerian and passion flower are principal ingredients of numerous herbal sedative compounds in the U.K. and Europe. They have been used empirically for centuries as mild sedatives and provide an antispasmodic tension relief.

Research suggests that the valerenic acid content in Valeriana officinalis interacts in vitro with GABA (gamma-amino-butyric acid) receptors, a critical site for sedation in the brain.

Valerian is a source of valepotriates and valerenic acids, which calm the CNS and relax muscles.
Two capsules with breakfast and two more 30 minutes before bedtime.

Serving Size: 1 Capsule

Amount Per Serving
B3 ... 100 mg
(niacinamide)
B6 ... 50 mg
(pyridoxine HCI)
Calcium ... 75mg
(citrate/malate 1:1)
Magnesium ... 75 mg
(glycinate)
Valerian ... 175 mg
(Valeriana officinalis)
Passion Flower ... 100 mg
(Passiflora incarnata)
Black Cohosh ... 100 mg
(Cimicifuga racemosa)

Other Ingredients: vegetarian capsule (hypromellose and water), magnesium stearate, silica

This product contains no yeast, wheat, soy, corn, milk, salt, sugar, artificial coloring, preservatives or flavoring
Not to be used by pregnant or lactating women or by persons operating heavy machinery.