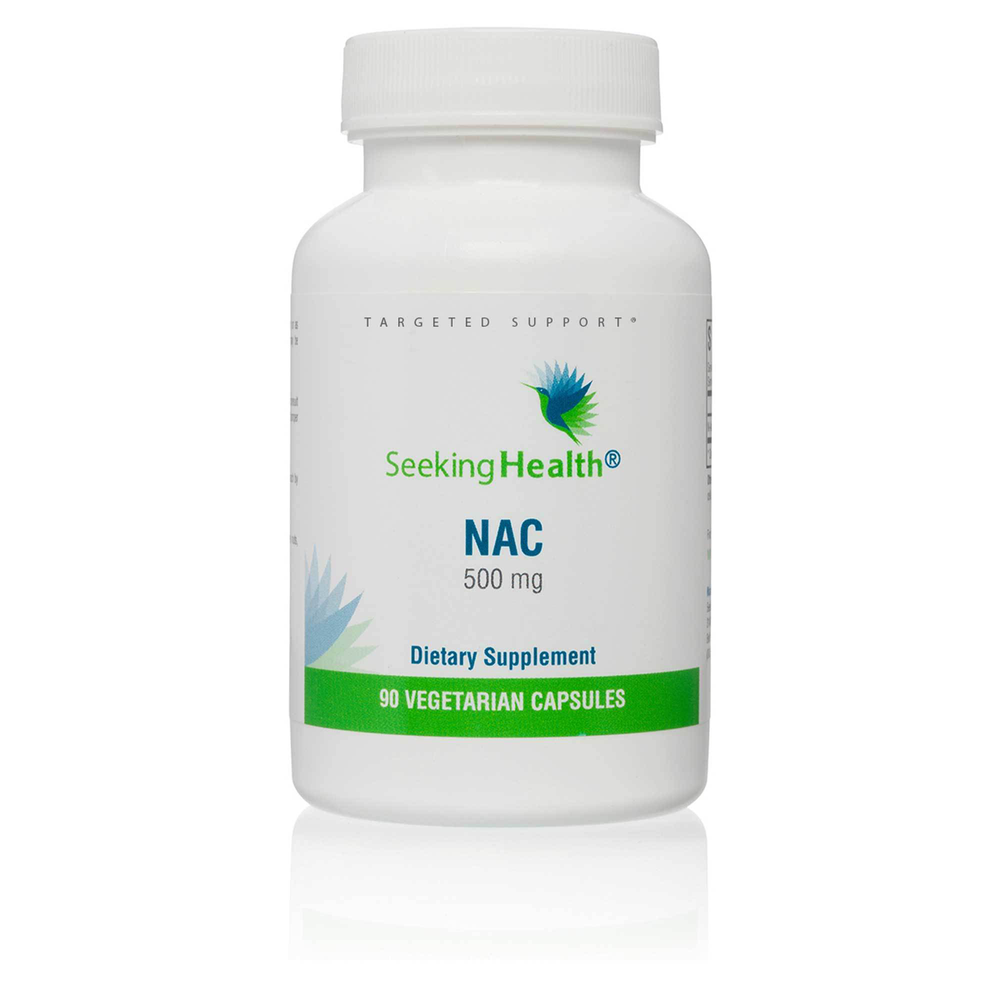 SKU: SKH-NAC90CAPS
May help support respiratory health
May help support liver health
May help support the body's natural free-radical defenses
May help support a healthy immune system
NAC by Seeking Health provides 500 mg of N-acetyl-L-cysteine (NAC) per vegetarian capsule. NAC supports the health of the liver, brain, lungs, and other body tissues. Many of the beneficial actions of NAC are related to its role in supporting normal production of glutathione, one of the body's most important antioxidants. NAC is a well-absorbed supplemental form of cysteine, an amino acid required for the enzyme reaction that produces glutathione in the body. Typically the body's ability to produce glutathione will begin to decline with age. Daily exposures to environmental toxins may increase the need for antioxidant protection from glutathione. Providing the building blocks for glutathione, such as NAC, may help support healthy levels of glutathione and the body's healthy responses to these exposures.*
NAC may help support and maintain healthy brain and nerve cells. NAC's relation to the body's antioxidant system suggests that it may play a role in protecting against oxidative damage to neurons, the specialized cells found in the nervous system that are vital to maintaining memory and cognitive function. NAC supports antioxidant activity by helping to produce intracellular glutathione, and adequate levels of glutathione are crucial for healthy function of the liver, nerve cells, brain, pancreas, and lungs. NAC is normally present in high amounts in lung and liver tissues. It provides immune and respiratory system support by helping to disrupt disulfide bonds of proteins found in mucus, allowing it to be more easily expelled from the lungs. The antioxidant action of NAC may also help protect the lungs and support the immune system.*
Take 1 capsule with 8 oz of water or as directed by your healthcare professional. Capsule may be opened and contents mixed into juice or applesauce.
Serving Size:
1 Capsule
Amount Per ServingN-Acetyl-L-Cysteine
... 500mg
Other Ingredients:
HPMC (capsule), ascorbyl palmitate, microcrystalline cellulose, L-leucine, and silica.
Does not contain
dairy, egg, fish, shellfish, tree nuts, peanuts, wheat, soy, gluten, or GMOs.
Children and pregnant or lactating women should consult their healthcare practitioner prior to use. Do not use if tamper seal is damaged. Consult with a healthcare professional prior to use if you are taking any medications, including ACE-inhibitors or blood-pressure medications, or if you are undergoing treatment for any medical condition.