Natural Calm Raspberry/Lemon
Natural Vitality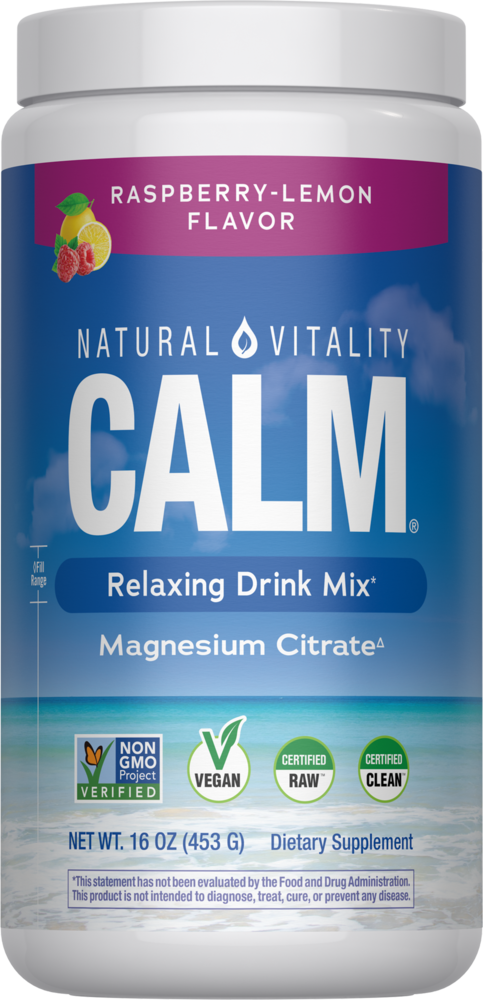 SKU: NVT-2739
Magnesium is one of the most important basic nutrients that power our bodies, and it is required for more than 700 biochemical reactions. But since our bodies don't produce this mineral, we need to replenish its supply every day. Due to nutrient-deficient soil and fast-paced lifestyles, few of us (estimated at less than one in five) get sufficient magnesium in our diets. This means supplementation is needed, and Natural Calm is the best-selling, award-winning ionic magnesium that mixes easily in water to restore healthy magnesium levels quickly and effectively.
Start with half a teaspoon (1g) daily and gradually increase to two teaspoons (4g) per day as needed.
Serving Size: 2 teaspoons (4g) or 1 packet
Amount Per Serving
Magnesium ... 325mg
Ingredients: Ionic magnesium citrate (created from a highly absorbable proprietary blend of citric acid and magnesium carbonate), organic raspberry and lemon flavors and organic stevia
For children under four, for pregnant or lactating women, or if you have kidney problems, an obstructed bowel, or are currently on medication, consult with your doctor.
The flavoring used has a sub-ingredient that is derived from corn (organic maltodextrin). There are no corn proteins however and all flavors have been verified as non-GMO by the Non-GMO Project.