Natures Collagen
DaVinci Labs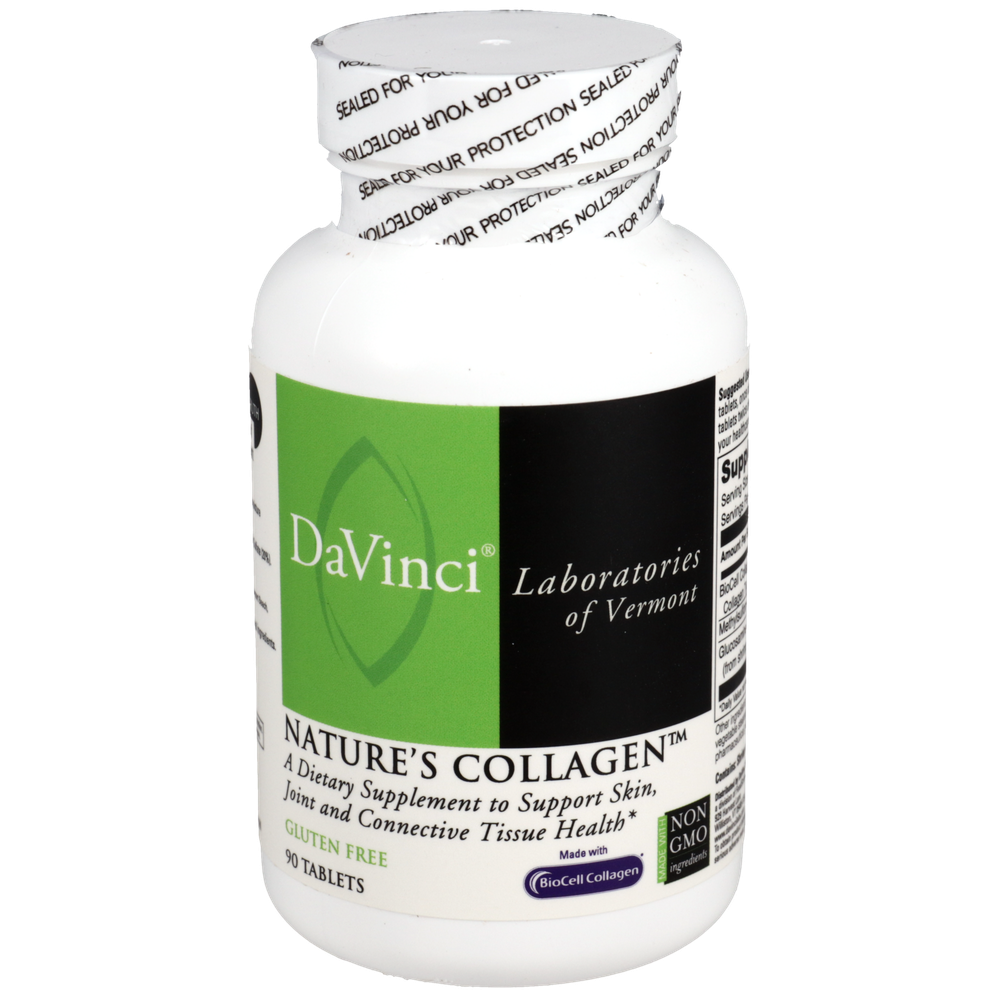 SKU: DAV-0200410090
Natures Collagen
-A dietary supplement to support skin, joint, and connective tissue health.
Natures Collagen contains BioCell Collagen II which is a multi-functional,
patented ingredient for joint, skin, and vascular support. BioCell Collagen II
is made from 100% pure enzymatically hydrolyzed chicken sternum cartilage,
thereby providing high bioavailability and purity. BioCell Collagen II
naturally contains a minimum of 20% depolymerized Chondroitin Sulfate, a form
of Chondroitin Sulfate that is absorbed up to 5 times better than
bovinederived materials. BioCell Collagen II is naturally rich in Hyaluronic
Acid (10%) and Cartilage Matrix Glycoprotein (CMGP), powerful substances that
support cartilage health and function as well as joint comfort. The benefits
of Natures Collagen with Glucosamine HCI, and Methylsulfonylmethane make this
a unique, advanced, and effective formula for skin and connective tissue
health.
As a dietary supplement, take 2 tablets, once daily. For faster results take 2
tablets twice daily for 4 weeks, or as directed by your healthcare
practitioner.
Serving Size: 2 Tablets
Amount Per Serving
BioCell Collagen ...1000mg
(Hydrolyzed Chicken Collagen Type II)
Methylsulfonylmethane ...800mg
Glucosamine HCl ...600mg
(from shrimp and crab)
Other ingredients: microcrystalline cellulose, stearic acid, vegetable
stearate, croscarmellose sodium, silicon dioxide, pharmaceutical glaze.
Contains: Shrimp and crab.
Color of this product may vary due to color variations of the natural
ingredients.
If pregnant or nursing, consult your healthcare practitioner before taking
this product.
Keep out of reach of children.
Store in a cool, dry place.
*This statement has not been evaluated by the Food and Drug Administration.
This product is not intended to diagnose, treat, cure or prevent any disease.