Type 2 Collagen 500mg
Jarrow Formulas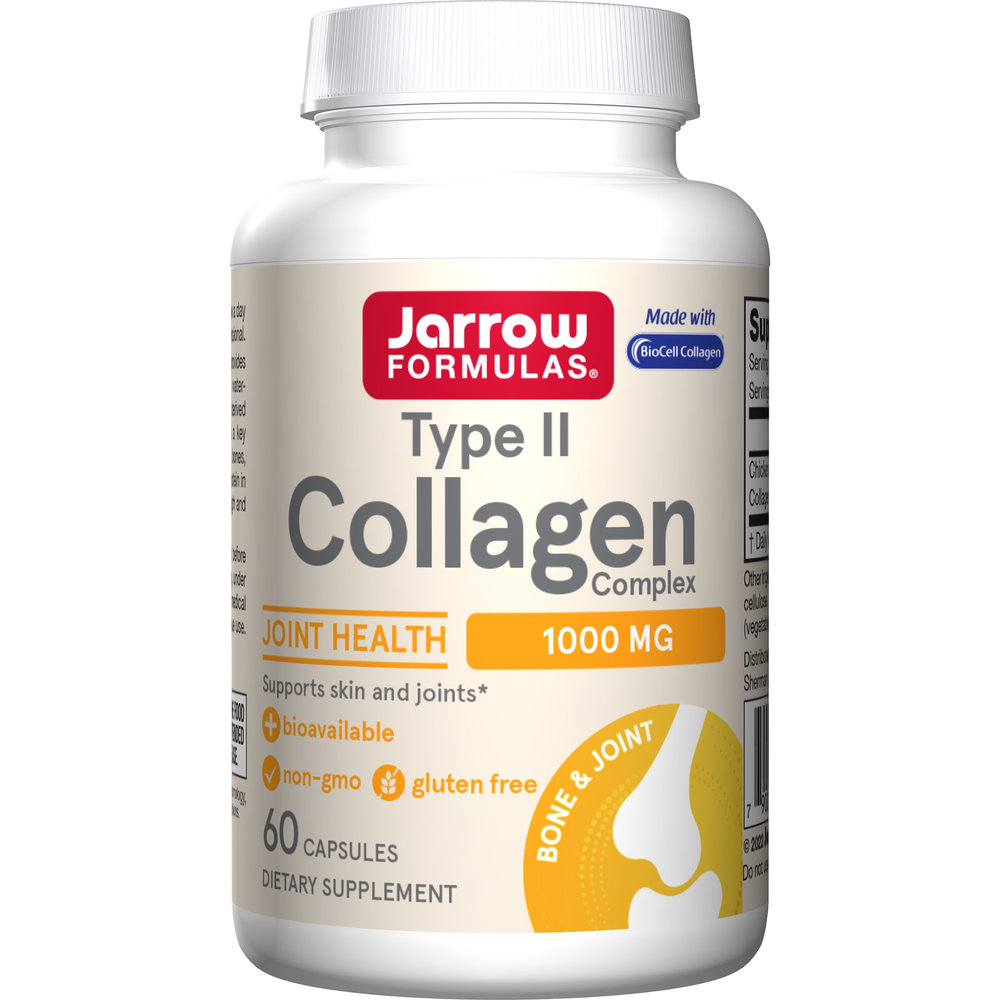 SKU: JAR-COLLAGEN
Type II Collagen Complex
-Supports Skin* and Joints*
-Bioavailable: Low Molecular Weight Collagen
-1000 mg Patented BioCell Collagen II®
-From chicken sternum cartilage
-Perfect Complement to JarroSil®
-Activated Silicon® formula
BioCell Collagen® is a low molecular weight, water-soluble glycosaminoglycan complex completely derived from chicken sternum cartilage. BioCell Collagen® has clinically documented bioavailability, and has been shown to support joint health and skin hydration.*
Take 2 capsules per day or as directed by your qualified healthcare professional.
Serving Size: Two Capsules

Amount Per Serving
BioCell Collagen® ... 1000 mg
Chicken Sternum Collagen Extract
Other Ingredients: Cellulose, calcium phosphate, magnesium stearate (vegetable source) and silicon dioxide. Capsule consists of gelatin.

No wheat, no gluten, no soybeans, no dairy, no egg, no fish/shellfish, no peanuts/tree nuts.
If you have a medical condition, are pregnant, lactating, trying to conceive, under the age of 18, or taking medications, consult your healthcare professional before using this product.
BioCell Collagen® is a registered trademark of BioCell
Technology, LLC, Newport Beach, CA and is protected by U.S.
Patents 6, 025, 327, 6, 323, 319, and 6, 780, 841 and other U.S. and foreign patents pending.

Made with BioCell Collagen
KEEP OUT OF REACH OF CHILDREN.