Neuro Benefits
DaVinci Labs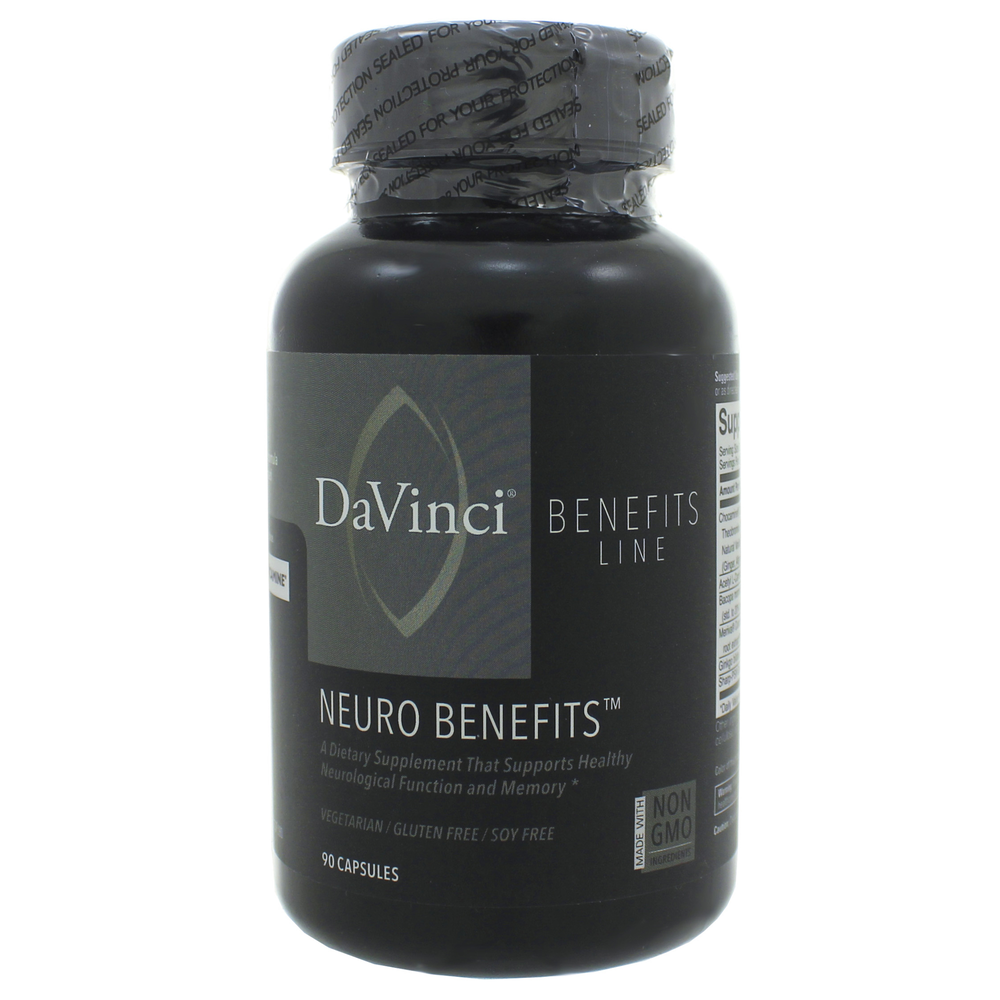 SKU: DAV-022153F090
Neuro Benefits™ includes both botanical and nutrient ingredients to support healthy neurological function and memory.* The formula provides broad support through various mechanisms of action, including through those of the novel ingredients Chocamine® and Sharp-PS®, which have neurologically centered data to support their importance in a supplement regimen.*
As a dietary supplement, take 3 capsules daily, or as directed by your healthcare practitioner.
Serving Size: 3 Capsules
Amount Per Serving
Chocamine® ... 500mg
[Cocoa Low Fat Powder Extract, Theobromine, Tapioca Starch natural vanilla flavor, and spices (ginger, allspice, cinnamon)]
Acetyl L-Carnitine ... 500mg
Bacopa monnieri Leaf Extract ... 200mg
(std. to 20% bacosides)
Meriva® Curcumin Phytosome™ ... 150mg
(Curcuma longa root extract/Phosphatidylcholine complex)
Ginkgo biloba Leaf 20:1 Extract ... 200mg
Sharp-PS® Green Phosphatidylserine ... 50mg
Other Ingredients: hypromellose (capsule), microcrystalline cellulose, vegetarian leucine.
Chocamine® is exclusively licensed by RFI LLCMeriva® & Phytosome™ are registered trademarks of Indena SpA.Sharp-PS® is a registered trademark of Enzymotec Ltd.
WARNING: If pregnant or nursing, consult your healthcare practitioner before taking this product.
CAUTION: Discontinue use 2 weeks prior to surgery.
Color of this product may vary due to color variations of the ingredients.
Keep out of reach of children. Store in a cool, dry place.