NeuroOne
Patient One MediNutritionals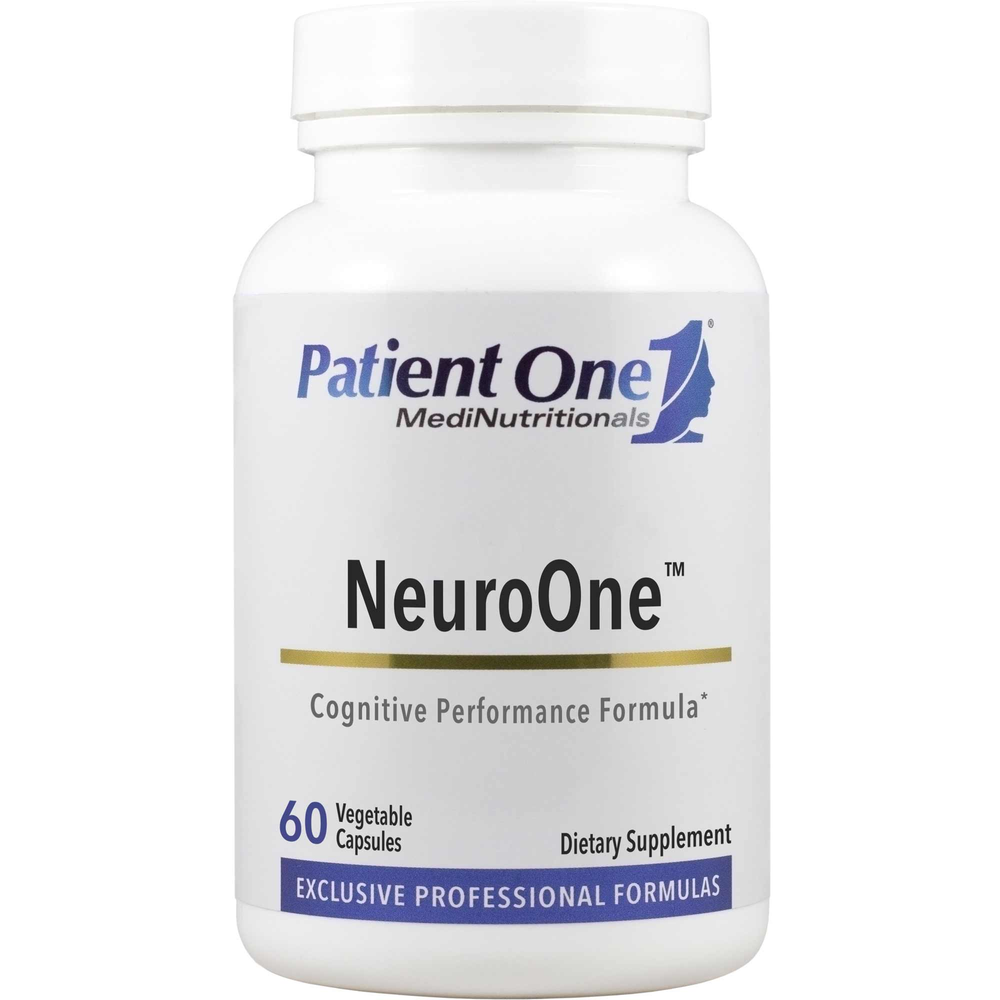 SKU: ONE631-P112460R
Comprehensive, multi-modal support for cognitive performance, supplying nutrition for neurogenesis, cerebral circulation and antioxidant activity in the brain.
Healthy focus, memory, clarity and mood
Promotes neurogenesis and brain energy
Optimizes neurotransmitter production
Supports healthy cerebral circulation
Patient One NeuroOne™ supplies advanced support for focus, memory and mood. NeuroOne activates serotonin (5HT-1a) receptors, promotes healthy cerebral blood flow, supports neurotransmitter production, provides antioxidant protection against brain oxidative stress, and supplies vital building block nutrition for neurogenesis – the creation of new brain cells. NeuroOne is an ideal formula for optimizing cognitive function, whether supporting mental focus and attention span or promoting bright mood and addressing mild memory problems associated with aging.
Suggested Use:
Take 2 capsules once daily as a dietary supplement, or as directed by your health practitioner. Store in a cool, dry place.
Serving Size: 2 Capsules


Amount Per Serving
Acetyl-L-Carnitine … 300 mg
(as HCI)
Citicholine … 200 mg
(cytidine 5'-diphosphocholine)
Phosphatidylserine ... 100 mg
(as Sharp-PS® Green Phosphatidylserine, from sunflower)
Bacognize®... 300 mg
(Bacopa monnieri) (whole-herb extract) [Std. to 45% bacosides (135 mg) and 12% total bacopa glycosides (36 mg)]
Ginkgo biloba ... 60 mg
(leaf) extract [Std. for 24% ginkgoflavonglycosides (14.4 mg) and 6% total terpene lactones (3.6 mg)]
Proprietary Blend ... 30 mg
Perluxan® Hops Std. Extract (Humulus lupulus L.) (cones), Ginger Root Std. Extract (Zingiber officinale) (rhizome), Spanish Rosemary Exract (Rosmarinus officinalis) (leaves), Grapeseed extract (Vitis vinifera) (inner core of fruit) [Std. for 95% proanthocyanidins], trans-Resveratrol (from Polygonum cuspidatum extract) (root) and Quercetin (as Quercetin dihydrate)

Other Ingredients: Vegetable cellulose, rice flour, calcium palmitate, silica.


Does not contain: Milk, egg, fish, peanuts, crustacean shellfish, soy, tree nuts, wheat, yeast, gluten, and GMOs.

Ideal for Vegans, Vegetarians

Sharp-PS® Green is a registered trademark of Enzymotec Ltd.
Bacognize® is a registered trademark of Verdure Sciences.
Perluxan® is a registered trademark of Pharmachem Laboratories.
Warning: If pregnant, nursing, or taking blood thinners or other medications, consult your health practitioner before use. Discontinue use and consult your health practitioner if any adverse reactions occur. Keep out of reach of children. Use only if safety seal is intact.