Brain Vitale
Designs for Health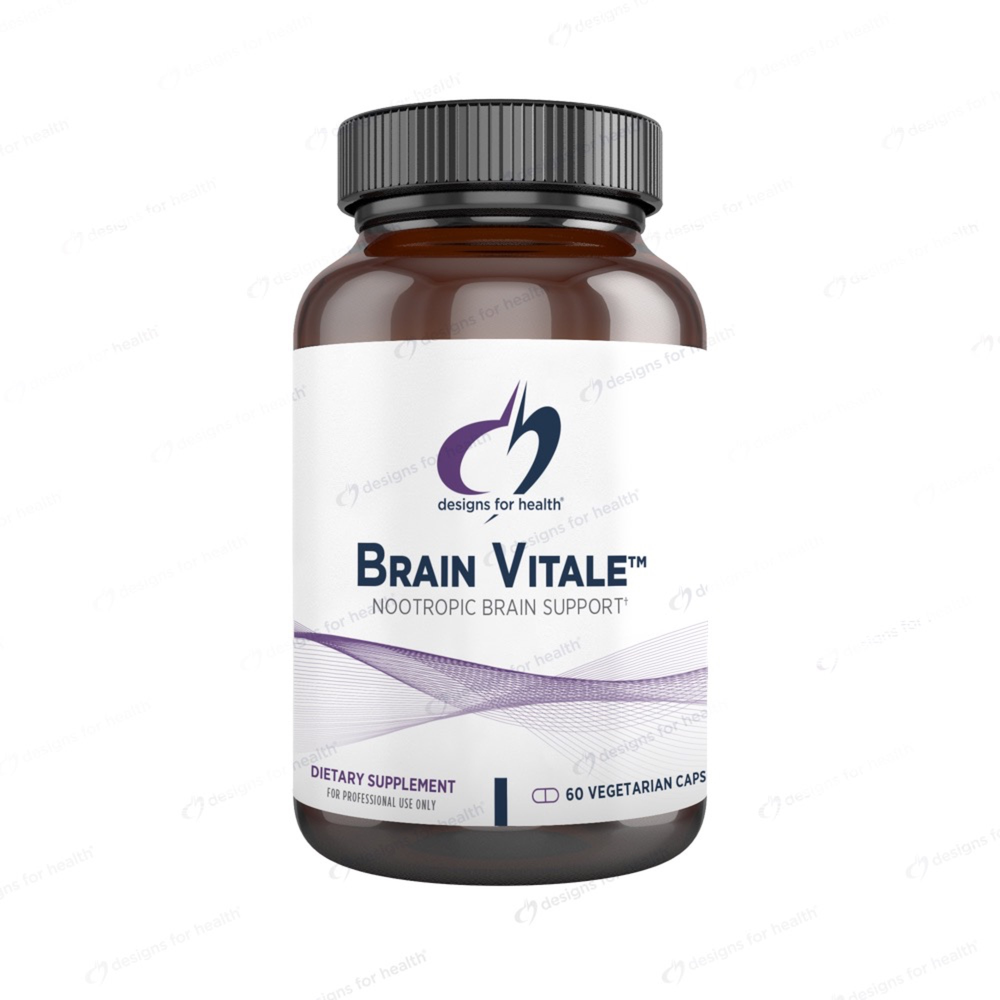 SKU: DFH-BVCN60
Brain Vitale™ is a unique nootropic formulation designed to optimize brain function, and to support healthy cognition, mood, and memory. It contains a comprehensive array of brain-supportive nutrients, including acetyl-l-carnitine, GPC, PS, Ginkgo biloba (standardized to contain 24% ginkgoflavonglycosides), and citicoline. Also included is a unique coffee fruit concentrate extracted from the flesh of the berry that surrounds the coffee bean and contains several distinctive compounds not found in coffee beans themselves.
Brain Vitale™ provides building blocks for the normal regeneration of brain phospholipids, crucial structural components of neuronal synapses. It is formulated to help assist with various aspects of brain health, such as cell energy production, mitochondrial support, and antioxidant protection.
As a dietary supplement, take two capsules per day with meals, or as directed by your health care practitioner.
Serving Size: 2 capsules
Amount Per Serving
Acetyl-L-Carnitine HCl ... 500mg
Citicoline ... 250mg
(as Cognizin®)
Glycerophosphocholine ... 200mg
(from soy lecithin)
Coffee Fruit Concentrate ... 100mg
(asNeuroFactor™) (Coffea arabica) (whole fruit)
Phosphatidylserine ... 100mg
(from sunflower lecithin)
Ginkgo ... 100mg
(Ginkgo biloba) (leaf)
[standardized to contain 24% ginkgoflavonglycosides and 6% terpene lactones]
Other Ingredients: Cellulose (capsule), silicon dioxide, dicalcium phosphate, vegetable stearate.
Does not contain gluten
Cognizin® is a registered trademark of KYOWA HAKKO BIO CO., LTD.
NeuroFactor™ products are protected by US patents 6572915, 7754263, 7807205, 7815959, 8597710, 8603563, and 8603564, issued foreign patents, and pending US and foreign applications. NeuroFactor™ is a trademark of VDF FutureCeuticals, Inc. used under license.
Warning: Consult your health care practitioner before use if you are pregnant or lactating, have chronic kidney failure, or are taking prescription medication, especially blood thinners or anticoagulants.
STORE AT ROOM TEMPERATURE.
KEEP OUT OF REACH OF CHILDREN.