Nourish Greens™
Apex Energetics, Inc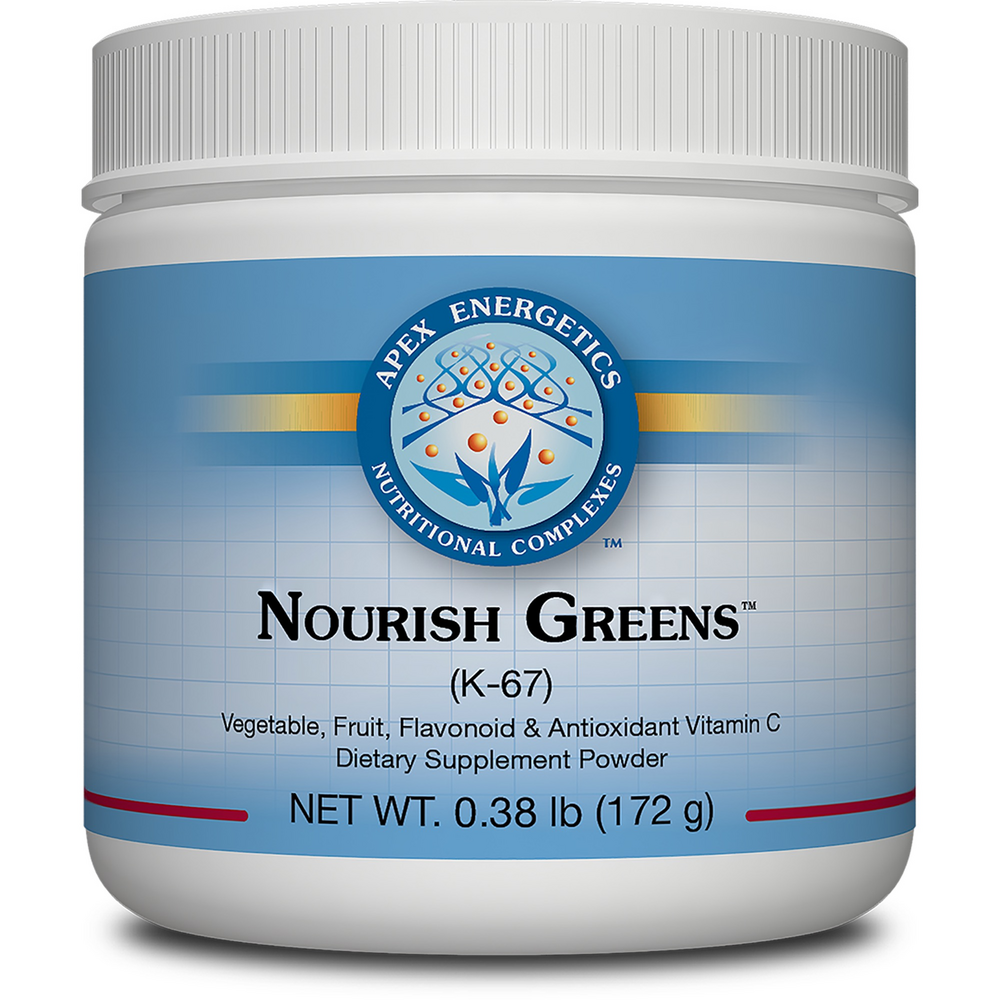 SKU: APE949-K67
Nourish Greens™ is an advanced phytonutrient formula that uses a combination of tropical fruits, chlorophyll-rich vegetables, and spices native to the Mediterranean, Asia, and South America. Many of these ingredients have been used for thousands of years for their unique properties.* Several may be involved in antioxidant processes.* This formula also incorporates flavonoids to help support the immune system and phytochemicals to offer tissue support.* The ingredients are primarily organic or wildcrafted and include acai, kale, black currant, mangosteen, pomegranate, clove, turmeric, and ginger. Nourish Greens™ is prepared from a base of non-GMO, high-yielding pea protein.
Suggested Use:
Mix 1 scoop with up to 8 ounces of water. Mix well before drinking. Use once a day, or as directed by your healthcare professional.

Serving Size: 1 scoop (4 g)
Amount Per Serving
Calories ... 15
Total Carbohydrates ... 2g
Dietary Fiber ... <1g
Sugar ... 1g
Vitamin C ... 10 mg
Proprietary Blend ... 3.91 g
Pea Protein
Medium Chain Triglycerides Oil
Raspberry Extract (Rubus idaeus) (fruit) - organic
Broccoli (Brassica oleracea var. italica) (flower) - organic
Acai Juice Powder (Euterpe oleracea) (fruit) - organic
Luo Han Guo Extract (fruit) - wildcrafted
Kale (Brassica oleracea var. acephala) (leaf) - organic
Collard Greens Extract (Brassica oleracea var. acephala) (leaf) - organic
Black Currant Extract (Ribes nigrum) (fruit) - organic
Turmeric Extract (Curcuma longa) (root) - wildcrafted
Maqui (Aristotelia chilensis) (fruit) - organic Goji Extract (Lycium barbarum) (fruit) - wildcrafted
Apple Extract (Malus domestica) (fruit) - organic
Acerola Cherry (Malpighia glabra) (fruit) - wildcrafted
Mangosteen (Garcinia mangostana) (fruit) - organic
Carrot Extract (Daucus carota) (root) - organic
Cilantro (Coriandrum sativum) (leaf) - wildcrafted
Glucoamylase
Amylase
Pomegranate Extract (Punica granatum) (fruit) - organic
Flax (Linum usitatissimum) (seed) - organic
Sumac Extract (Sorghum bicolor) (berry)
Parsley Extract (Petroselinum crispum) (leaf) - organic
Hesperidin
Rutin (from Japanese Pagoda Tree Extract [Sophora Japonica]) (bud)
Oregano Extract (Origanum vulgare) (leaf) - organic
Basil Extract (Ocimum basilicum) (leaf) - organic
Clove (Syzygium aromaticum) (stem, bud) - organic
Quercetin (as quercetin dihydrate)
Sea Salt
Ginger Extract (Zingiber officinale) (root) - organic
Lycopene
Luteolin (from chrysanthemum leaf extract [Dendranthema morifolium])
Astaxanthin
Cellulase
Cinnamon Extract (Cinnamomum cassia) (bark) - wildcrafted


Consult your healthcare professional before use if pregnant, nursing, taking medications, or for any use by minors. Do not use if safety seal is broken or missing. KEEP OUT OF REACH OF CHILDREN.