Nutrient 950® without Copper & Iron
Pure Encapsulations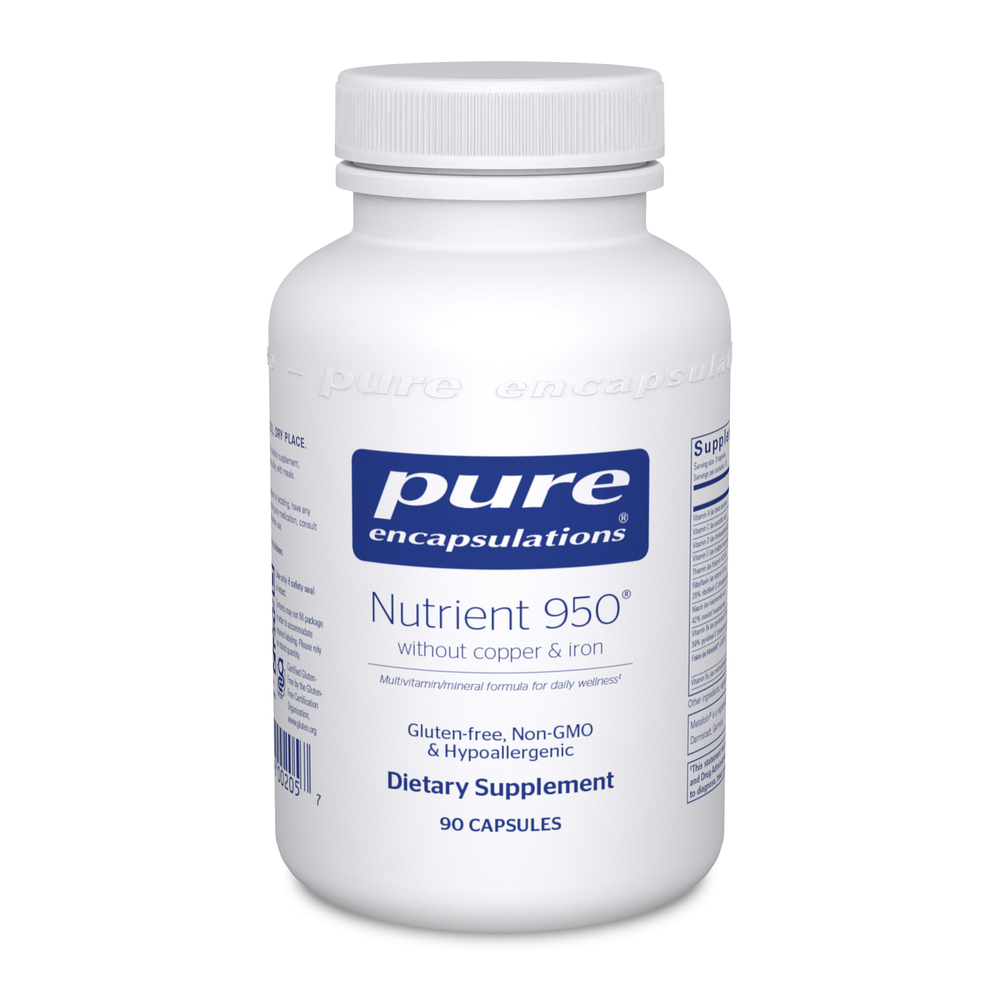 SKU: PUR-MVM9
Multivitamin/mineral formula for optimal health‡
Activated vitamins and chelated minerals for optimal absorption
Available in formulas with and without iron, copper, iodine and vitamin K
Formulated to be well tolerated by sensitive individuals
Made with high-quality vegetarian ingredients backed by verifiable science

Nutrient 950® is a complete highly bioavailable multivitamin, multi-mineral, and trace element supplement. It contains bioavailable minerals, activated vitamins, and antioxidants.1 Nutrient 950® is also available in the following formulas: without iron; without copper and iron; without copper, iron, and iodine; with Vitamin K; and with N-acetyl-l-cysteine (NAC).

References
1. Institute of Medicine: Dietary Reference Intakes for Vitamin C, Vitamin E, Selenium, and Carotenoids. Washington DC: National Academic Press 2000.
Suggested Use:
As a dietary supplement, take 3 capsules, 1-2 times daily, with meals.
Serving Size:
3 capsules
Amount Per Serving
Vitamin A
... 2,250mcg
(as beta carotene)
Vitamin C
... 500mg
(as ascorbic acid)
Vitamin D
... 10mcg (400IU)
(as cholecalciferol) (D3)
Vitamin E
... 134mg
(as d-alpha tocopherol succinate)
Thiamin
... 50mg
(as thiamin HCI) (B1)
Riboflavin
... 34.75mg
(as vitamin B2 and 28% riboflavin 5' phosphate (activated B2))
Niacin
... 86mg
(as niacinamide and 42% inositol hexaniacinate)
Vitamin B6
... 20.5mg
(as pyridoxine HCl and 39% pyridoxal 5' phosphate (activated B6))
Folate
... 667 mcg DFE
(as Metafolin®, L-5-MTHF) (400 mcg L-5-MTHF)
Vitamin B12
... 500mcg
(as methylcobalamin)
Biotin
... 400mcg
Pantothenic acid
... 200mg
(as calcium pantothenate) (B5)
Calcium
... 150mg
(as calcium citrate)
lodine
... 100mcg
(as potassium iodide)
Magnesium
... 100mg
(as magnesium citrate)
Zinc
... 12.5mg
(as zinc picolinate)
Selenium
... 100mcg
(as selenomethionine)
Manganese
... 2.5mg
(as manganese aspartate)
Chromium
... 100mcg
(as chromium polynicotinate)
Molybdenum
... 50mcg
(as molybdenum aspartate) (TRAACS™)
Potassium
... 49.5mg
(as potassium aspartate)
Boron
... 1mg
(as boron glycinate)
Vanadium
... 100mcg
(as vanadium aspartate)
Proprietary mixed carotenoid blend
... 425mcg
(as lutein, lycopene, zeaxanthin)
Other ingredients:
vegetarian capsule (cellulose, water), ascorbyl palmitate
Gluten-free, Non-GMO & Hypoallergenic
Metafolin® is a registered trademark of Merck KGaA, Darmstadt, Germany.
Warning: If you are pregnant or lactating, have any health condition, or are taking any medication, consult your health professional before use. Keep out of the reach of children.

Store in a cool, dry place.