Nutrient 950® with NAC
Pure Encapsulations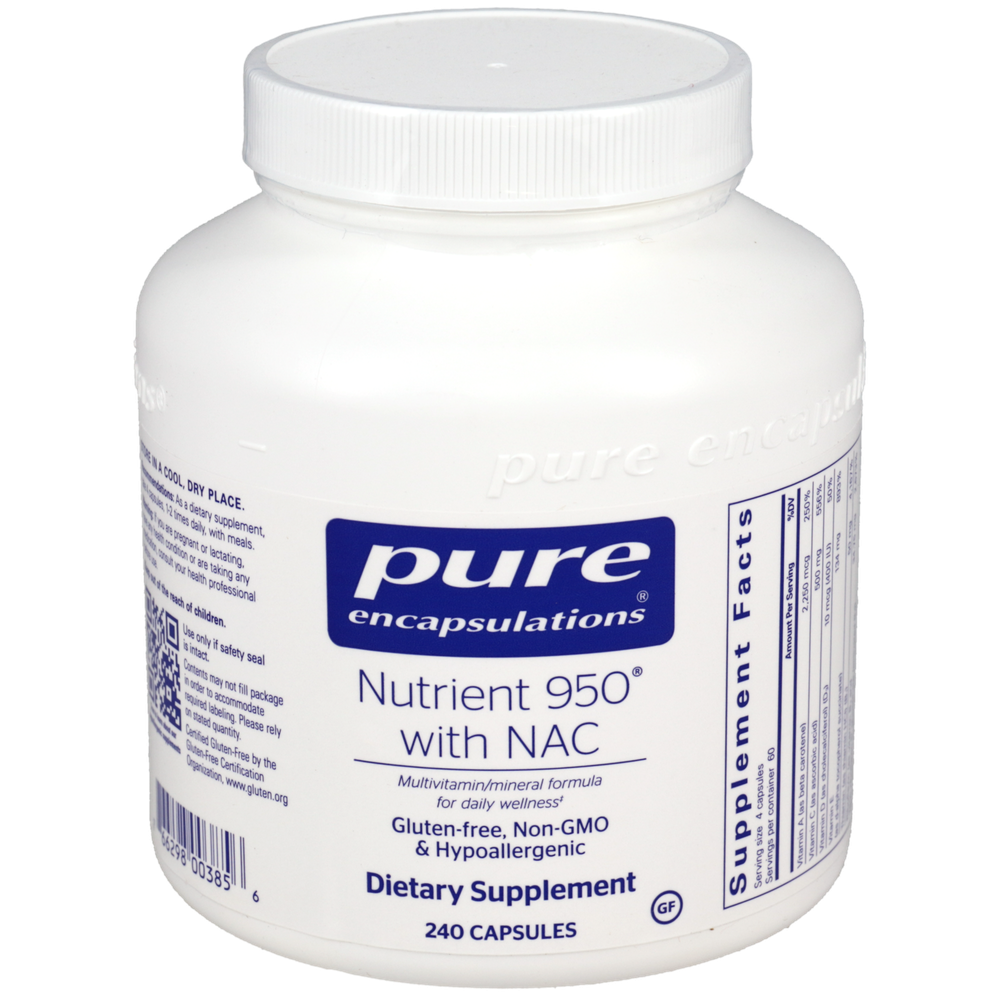 SKU: PUR-MVN2
Nutrient 950 is a complete hypoallergenic multivitamin and mineral supplement that is available with NAC (N-Acetyl-l-Cysteine). The addition of NAC helps provide additional immune support.*
Provides nutrients and minerals to support a healthy lifestyle*
Supports immune health*
Made with hypoallergenic ingredients
Nutrient 950® is now available with NAC (N-Acetyl-l-Cysteine). NAC is a powerful free radical scavenger and thus supports the bodys natural defense system. NAC supports tissue levels of glutathione, a key component of the antioxidant defense system. It also has the ability to chelate heavy metals. Eight capsules of Nutrient 950 with NAC contain 1, 000 mg of NAC. This formula does not contain boron, copper, iron or iodine.*
Take 4 capsules, 1-2 times daily, with meals.
Four Vegetarian Capsules Contain:
Amount Per Serving
Vitamin A ... 2,250mcg
(as beta carotene)
Vitamin C ... 500mg
(as ascorbic acid)
Vitamin D ... 10mcg (400IU)
(as cholecalciferol)(D3)
Vitamin E ... 134mg
(as d-alpha tocopherol succinate)
Thiamin ... 50mg
(as thiamin HCl)(B1)
Riboflavin ... 34.75mg
(as vitamin B2 and 28% riboflavin 5' phosphate (activated B2))
Niacin ... 86mg
(as niacinamide and 42% inositol hexaniacinate)
Vitamin B6 ... 20.5mg
(as pyridoxine HCl and 39% pyridoxal 5' phosphate (activated B6))
Folate ... 667mcg DFE (L-5-MTHF 400mcg)
(as Metafolin®, L-5-MTHF)
Vitamin B12 ... 500mcg
(as methylcobalamin)
Biotin ... 400mcg
Pantothenic Acid ... 200mg
(as calcium pantothenate)(B5)
Calcium ... 150mg
(as calcium citrate)
Magnesium ... 100mg
(as magnesium citrate)
Zinc ... 12.5mg
(as zinc picolinate)
Selenium ... 100mcg
(as selenomethionine)
Manganese ... 2.5mg
(as manganese aspartate)
Chromium ... 100mcg
(as chromium polynicotinate)
Molybdenum ... 50mcg
(as molybdenum aspartate)
Potassium ... 49.5mg
(as potassium aspartate)
Vanadium ... 100mcg
(as vanadium aspartate)
Proprietary Mixed Carotenoid Blend ... 425mcg
(as lutein, lycopene, zeaxanthin)
N-Acetyl-L-Cysteine ... 500mg
(free form)
Other Ingredients: vegetarian capsule (cellulose, water), ascorbyl palmitate
Zeaxanthin is sourced from OPTISHARP™ brand. OPTISHARP™ is a trademark of
DSM Nutritional Products, Inc.
Metafolin® is a registered Trademark of Merck KGaA, Darmstadt, Germany.
ChromeMate® brand niacin-bound chromium. U.S. Patents 4, 923, 855; 4, 954, 492; 5, 194, 615.
ChromeMate® is a trademark of InterHealth, N.I.
If pregnant or lactating, consult your physician before taking this product.
Nutrient 950® contains vitamin E, which may react with blood thinning medications. Consult your physician for more information. Vitamin K may be contra-indicated for individuals taking Coumadin/warfarin blood thinning medication.