Nutrient 950 w/Vitamin K
Pure Encapsulations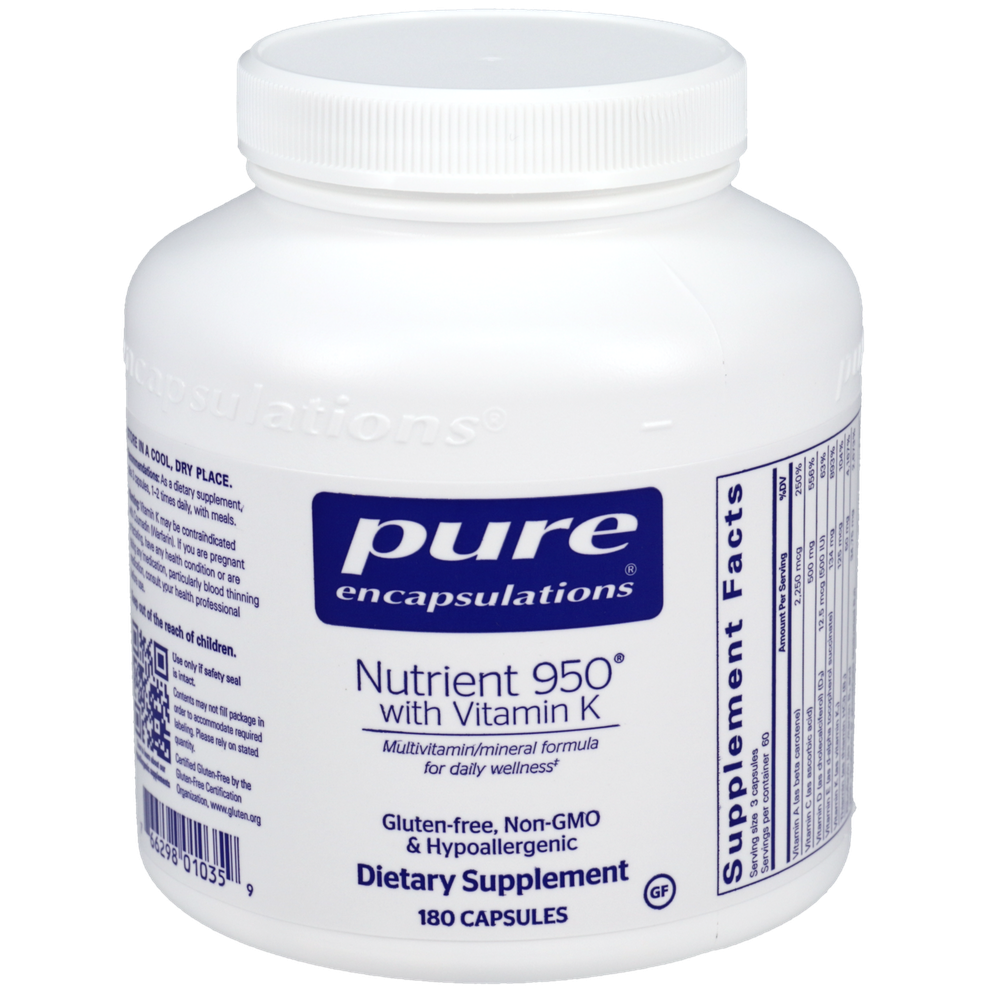 SKU: PUR-MVCK1
Nutrient 950 with Vitamin K is a complete hypoallergenic multivitamin and mineral supplement with an emphasis on vitamin K for enhanced support for bone and arterial health.*
Provides nutrients and minerals to support a healthy lifestyle*
Supports bone and arterial health*
Made with hypoallergenic, vegetarian ingredients
This formula provides our Nutrient 950 without iron formula, enhanced with vitamin K1 and vitamin K2. Vitamin K1, phylloquinone, is the most common form of vitamin K and is found in plants and green vegetables. This formula also provides the most active and bioavailable forms of vitamin K2, menaquinone-7 (MK-7) and menaquinone-4 (MK-4). Studies indicate that vitamin K1 and MK-4 are primarily concentrated in the liver, while MK-7 concentrates in extra-hepatic tissues. Vitamin K2 encourages osteocalcin to bind to calcium and promote healthy bone mineralization. Vitamin K2, as MK-7, is especially important for maintaining healthy arterial calcium metabolism, supporting healthy vascular elasticity. Recent studies indicate that vitamin D also potentiates the activity of vitamin K, providing synergistic support for bone health and blood vessel function. This formula provides 1, 000 i.u. vitamin D.*
Take 3 capsules, 1-2 times daily, with meals.
Serving Size: Three Vegetarian Capsules
Amount Per Serving
Vitamin A ... 2,250 mcg
(as beta carotene)
Vitamin C ... 500mg
(as ascorbic acid)
Vitamin D ... 10 mcg (400 IU)
(cholecalciferol)(D3)
Vitamin E ... 134mg
(as d-alpha tocopherol succinate)
Vitamin K ... 382mcg
(as vitamin K1, 65% vitamin K2 (menquinone-4), and 2% vitamin K2 (menaquinone-7)
Thiamin ... 50mg
(as thiamin HCl)(b1)
Riboflavin ... 34.75mg
(as vitamin B2 and 28% riboflavin 5' phosphate (activated b2))
Niacin ... 86mg
(as niacinamide and 42% inositol hexaniacinate)
Vitamin B6 ... 20.5mg
(as pyridoxine HCl and 39% pyridoxal 5' phosphate (activated B6))
Folate ... 667 mcg DFE (L-5-MTHF 400 mcg)
(as Metafolin®, L-5-MTHF)
Vitamin B12 ... 500mcg
(as methylcobalamin)
Biotin ... 400mcg
Pantothenic Acid ... 200mg
(calcium pantothenate)(B5)
Calcium ... 150mg
(as calcium citrate)
Iodine ... 100mcg
(potassium iodide)
Magnesium ... 100mg
(as magnesium citrate)
Zinc ... 12.5mg
(as zinc picolinate)
Selenium ... 100mcg
(as selenomethionine)
Copper ... 1mg
(as copper glycinate)
Manganese ... 2.5mg
(as manganese aspartate)
Chromium ... 100mcg
(as chromium polynicotinate)
Molybdenum ... 50mcg
(as molybdenum aspartate) (TRAACS™)
Potassium ... 49.5mg
(as potassium aspartate)
Boron ... 1mg
(as boron glycinate)
Vanadium ... 100mcg
(as vanadium aspartate)
Proprietary Mixed Carotenoid Blend ... 425mcg
(as lutein, lycopene, zeaxanthin)

Other Ingredients: vegetarian capsule (cellulose, water), ascorbyl palmitate.


If pregnant or lactating, consult your physician before taking this product. Nutrient 950® contains vitamin E, which may react with blood thinning medications. Consult your physician for more information. Vitamin K may be contra-indicated for individuals taking Coumadin/warfarin blood thinning medication.