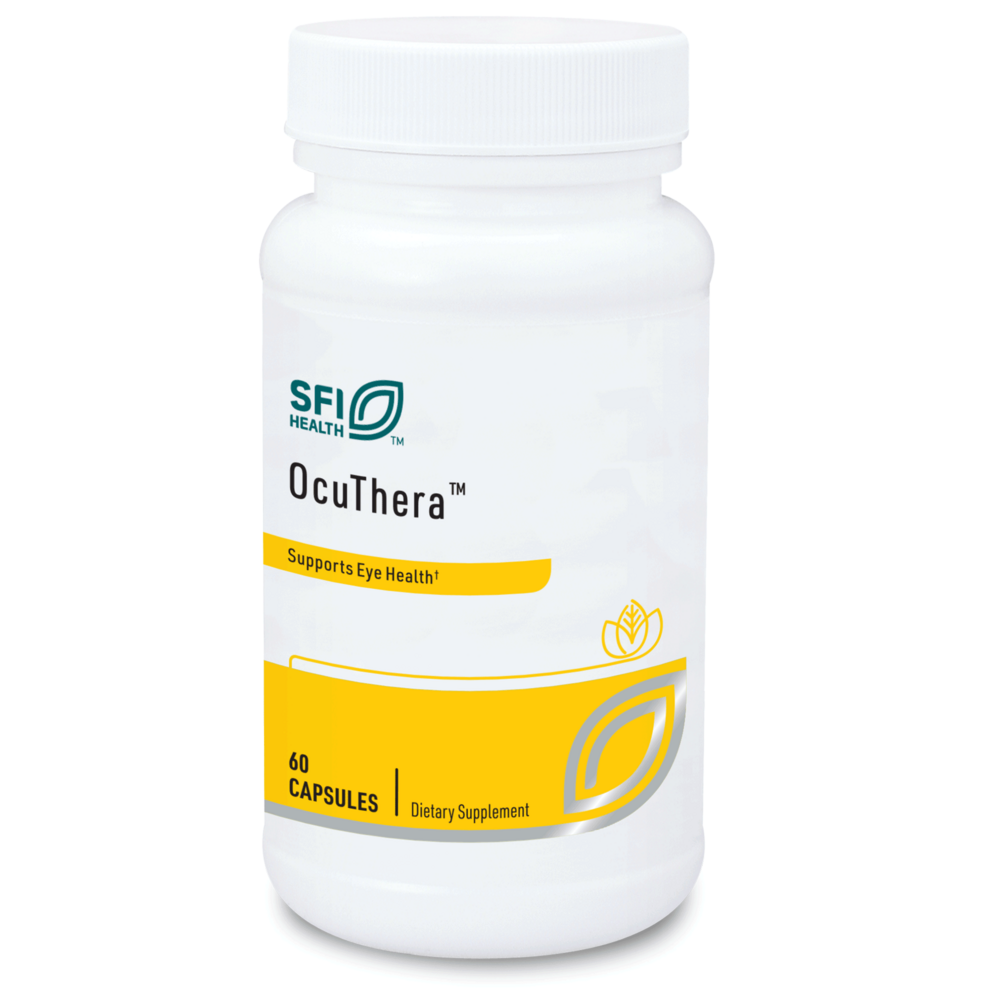 SKU: KLP-OCU
Visual tissues are highly susceptible to free radicals as a result of daily exposure to light radiation and oxygen. Maintaining a strong antioxidant defense system to protect the ocular lens, retina, and macula is critical to maintaining visual health and function. OcuThera™ augments the actions of MultiThera™ multivitamin formulas with key amino acids, antioxidants, and phytonutrients that protect and nourish ocular tissues.† Significant amounts of lutein, taurine, N-acetyl-L-cysteine, and other key nutrients for the eyes are provided in just two daily capsules of OcuThera™ at an affordable price. Extra vitamin E and C are also included, since high levels appear necessary for protecting lens proteins from oxidation.†
Take 2 capsules daily with food or as directed by a healthcare professional.



Serving Size: 2 Capsule

Amount Per Serving
Vitamin C ... 250mg
(as L-ascorbic acid)
Vitamin E ... 128mg
(as RRR-alpha-tocopheryl acid succinate)
Lutein ... 15mg
(Tagetes erecta)(marigold flower extract)
Zeaxanthin ... 0.75mg
(Tagetes erecta)(marigold flower extract)
N-Acetyl-L-Cysteine ... 300mg
L-Glutathione ... 50mg
(reduced form)
Alpha-Lipoic Acid ... 50mg
Taurine ... 300mg
Bilberry Extract ... 60mg
(Vaccinium myrtillus)(fruit)
(standardized to 25% anthocyanosides)
Red Grape Extract ... 50mg
(Vitis vinifera)(seeds, skin, fruit/pulp)
(full-spectrum phytonutrients, includes trans-resveratrol)

Other Ingredients: Vegetarian capsule (hydroxypropyl methylcellulose, water), ascorbyl palmitate, microcrystalline cellulose, silicon dioxide, and natural orange flavor.

Does not contain: Milk/casein, eggs, fish, shellfish, tree nuts, peanuts, wheat, gluten, artificial colors, flavors, or preservatives.
If you are pregnant, nursing, have a medical condition, or taking prescription drugs, consult your healthcare professional before using this product. Keep out of reach of children.