Vital Eyes Complete
Metabolic Maintenance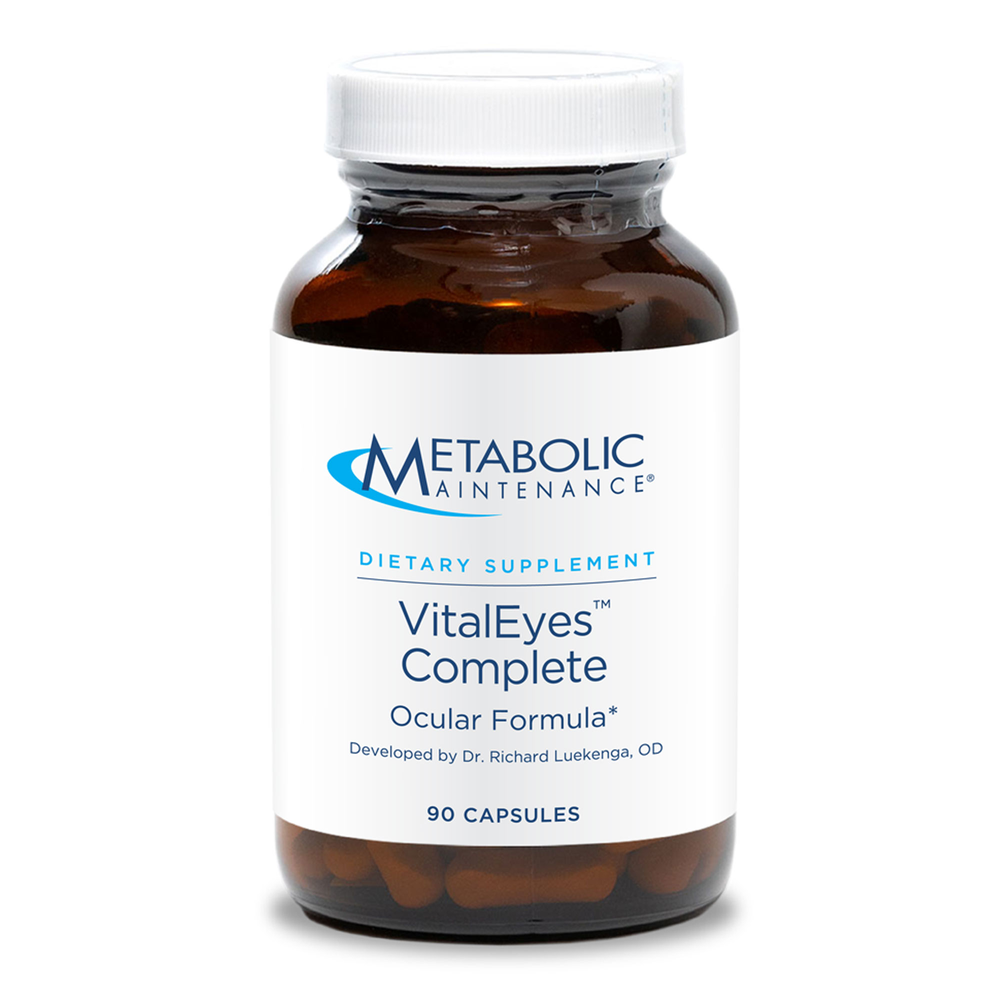 SKU: ME3-00229
Vital Eyes Complete
-Your patients will no longer need to take an ocular formula in addition to a vitamin/mineral complex.*







Suggested Use:
Three (3) capsules daily with meals as a dietary supplement, or as directed by a Doctor.
Serving Size: 3 Capsules
Amount Per Serving
Vitamin A ... 5400 mcg RAE
(as Beta Carotene)
Vitamin C ...500mg
(as Ascorbic Acid)
Vitamin D-3 ... 75 mcg
(3000 IU as Cholecalciferol)
Vitamin E ... 133mg
(as d-Alpha Tocopheryl Acid Succinate)
Thiamine ...10mg
(as Thiamine Mononitrate)
Riboflavin ...15mg
(as Riboflavin 5' Phosphate)
Niacin ...25mg NE
(as Niacinamide)
Vitamin B-6 ...15mg
(as Pyrixodine HCI and Pyridoxal 5' Phosphate)
Folate ... 667 mcg DFE
(400 mcg as L-5-Methylfolate, glucosamine salt)
Vitamin B-12 ...100mcg
(as Methylcobalamin)
Biotin ...300mcg
Pantothenic Acid ...25mg
(as d-Calcium Pantothenate)
Zinc ... 30mg
(as Zinc Citrate)
Selenium ...200mcg
(as L-Selenomethionine)
Copper ...2mg
(as Copper Bis-Glycinate)
Manganese ...10mg
(as Manganese Glycinate)
Chromium ...200mcg
(as Chromium Niacinate)
Molybdenum ...25mcg
(as Molybdenum Glycinate)
Taurine ...100mg*
Citrus Bioflavonoids ...100mg*
(Standardized to 25% bioflavonoids)
Lipoic Acid ...100mg*
Bilberry fruit extract ...75mg*
(Vaccinium myrtillus) (standardized to 25% anthocyanosides)
CoEnzyme Q10 ...30mg*
Lutein ...20mg*
(from Lutemax 2020)
Zeaxanthin Isomers ...4mg
(from Lutemax 2020)
Other Ingredients: Vegetarian cellulose capsule, L-leucine
Vitamin E is derived from soy oil


No excipients, preservatives, binders, or fillers. Nothing but pure active ingredients.