Little One (Childrens Multi)
Metabolic Maintenance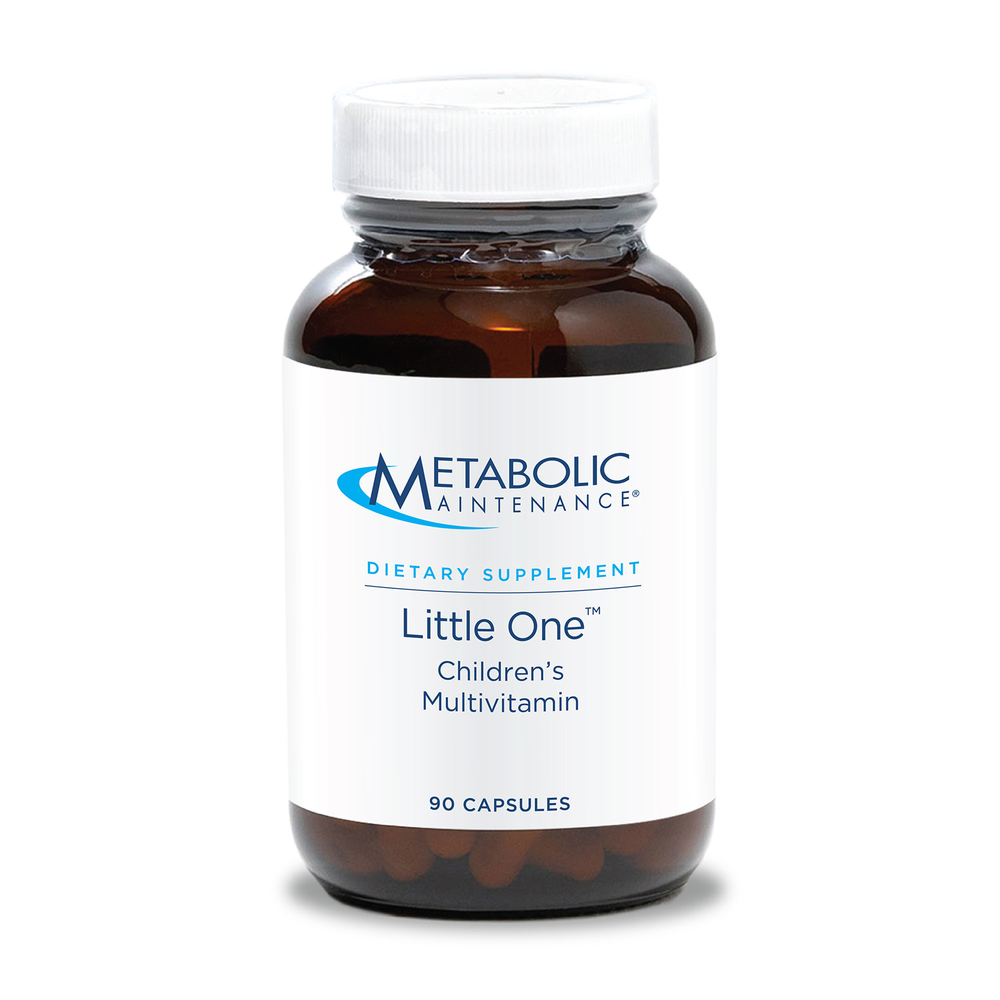 SKU: ME3-00522
Little One (Childrens Multi)
Our one-per-day multivitamin is created specifically for childrens unique nutritional needs from ages 6-12. Each dose contains only the finest ingredients in the most bioavailable forms in a very small capsule. We know of no better multivitamin supplement available for children.*


Suggested Use:
One (1) capsule daily with a meal as a dietary supplement, or as directed by a Doctor.
Serving Size: 1 Capsule
Amount Per Serving:
Vitamin A ... 1500 mcg RAE
(as Beta Carotene and Palmitate)
Vitamin C ... 75mg
(as Ascorbic Acid)
Vitamin D-3 ... 20 mcg
(800 IU as Cholecalciferol)
Vitamin E ... 40 mg
(as d-Alpha Tocopherol Acid Succinate)
Thiamine ... 5mg
(as Thiamine Mononitrate)
Riboflavin ... 5mg
(as Riboflanin 5 Phosphate)
Niacin ... 25mg NE
(as Niacinamide)
Vitamin B-6 ... 5mg
(as Pyridoxine HCI and Pyridoxal 5 Phosphate)
Folate ... 667 mcg DFE
(400 mcg as L-5-Methylfolate, calcium salt)
Vitamin B-12 ... 10mcg
(as Methylcobalamin)
Biotin ... 300 mcg
Pantothenic Acid ... 25mg
(as d-Calcium Pantothenate)
Iron ... 9mg
(as Iron Bisglycinate)
Iodine ... 100mcg
(as Potassium Iodide)
Zinc ... 15mg
(as Zinc Citrate)
Selenium ... 100mcg
(as L-Selenomethionine)
Copper ... 2mg
(as Copper Gluconate)
Manganese ... 1mg
(as Manganese Glycinate)
Chromium ... 100mcg
(as Chromium Polynicotinate)
Molybdenum ... 25mcg
(as Molybdenum Glycinate)

Other Ingredients: Vegetarian cellulose capsule, L-leucine.
Vitamin E is derived from soy oil.


Egg free, Gluten free, Nuts free and Dairy free.



Keep tightly closed in a dry place; do not expose to excessive heat.
KEEP OUT OF REACH OF CHILDREN.
Accidental overdose of iron-containing products is a leading cause of fatal poisoning in children under 6. In case of accidental overdose, call a doctor or poison control center immediately.
No excipients, preservatives, binders, or fillers. Nothing but pure active ingredients.