The Big One w/o Iron
Metabolic Maintenance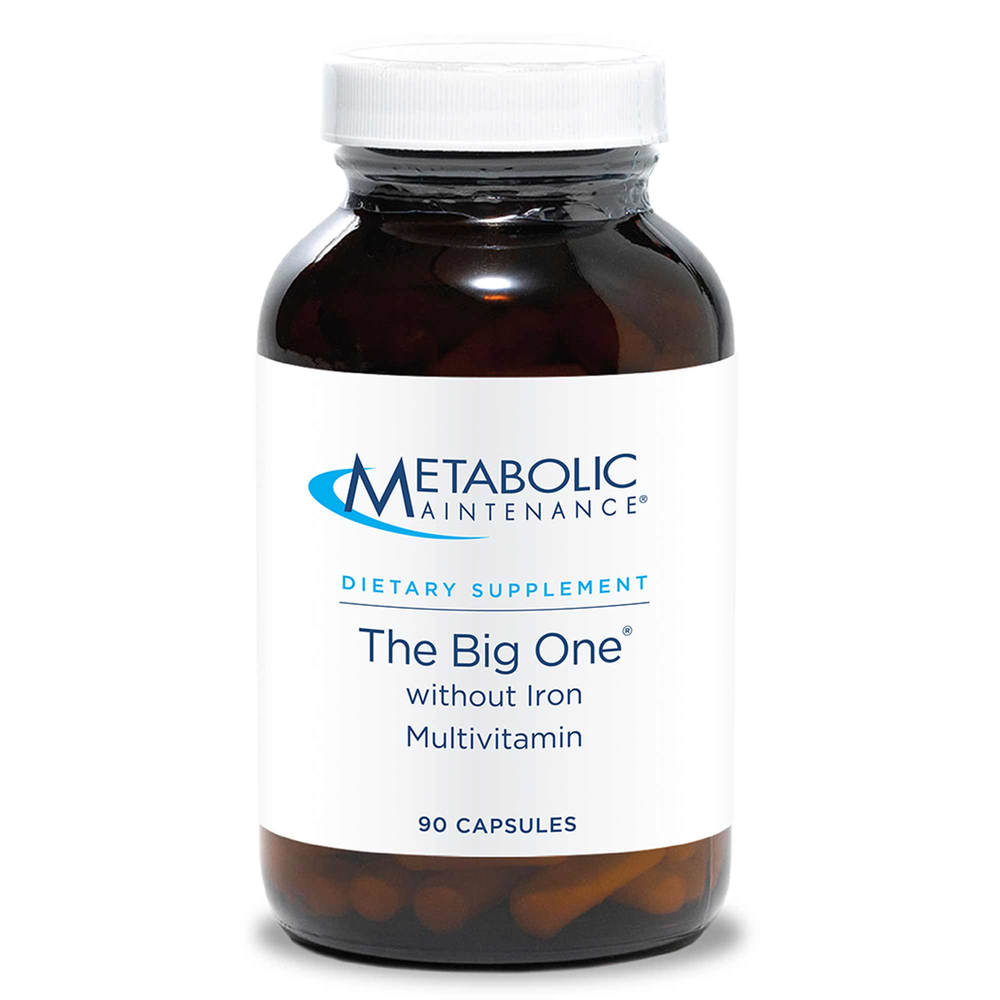 SKU: ME3-00520
The BIG ONE® without Iron is designed for those who prefer a convenient, one-per-day multivitamin/mineral. One single capsule is packed with key nutrients at optimal levels, providing a solid framework for further individualized supplementation and supports the nutritional requirements for women that are postmenopausal where the need for additional iron significantly decreases. The BIG ONE® without Iron delivers activated B vitamins and trace minerals as well as foundational amounts of antioxidants, including mixed carotenoids and tocopherols.
Provides key nutrients in bioavailable forms
Provides beneficial trace minerals
Convenient one-a-day dose
Suggested Use:
Take one (1) capsule daily with a meal, or as directed by a healthcare professional.
Serving Size: 1 Capsule

Amount Per Serving
Vitamin A ... 2400mcg RAE
(500IU as Natural Mixed Carotenoids and 300IU as Retinyl Palmitate)
Vitamin C ... 125mg
(as Ascorbic Acid and Ascorbyl Palmitate)
Vitamin D-3 ... 25mcg
(1000IU as Cholecalciferol)
Vitamin E ... 67mg
(100IU as d-Alpha Tocopheryl Acid Succinate and Mixed Tocopherols)
Vitamin K ... 100mcg
(as K-1 and K-2 M7)
Thiamine ... 25mg
(as Thiamine Mononitrate)
Riboflavin ... 25mg
(as Riboflavin 5 Phosphate)
Niacin ... 100mg NE
(as Niacinamide)
Vitamin B-6 ... 25mg
(as Pyridoxine HCl and Pyridoxal 5' Phosphate)
Folate ... 667mcg DFE
(400mcg as L-5-Methylfolate, calcium salt)
Vitamin B-12 ... 100mcg
(as Methycobalamin)
Biotin ... 200mcg
Pantothenic Acid ... 100mg
(as d-Calcium Pantothenate)
Iodine ... 100mcg
(as Potassium Iodide)
Zinc ... 15mg
(as Zinc Citrate)
Selenium ... 100mcg
(as L-Selenomethionine)
Copper ... 1mg
(as Copper Gluconate)
Manganese ... 5mg
(as Manganese Glycinate)
Chromium ... 100mcg
(as Chromium Polynicotinate)
Molybdenum ... 50mcg
(as Molybdenum Glycinate)
Betaine HCL ... 25mg*
Boron ... 1mg
(as Boron Citrate)
Vanadium ... 50mcg
(as Vanadyl Sulfate)

Other Ingredients: Vegetarian cellulose capsule.

Vitamin E is derived from soy oil.


This product is Egg Free, Gluten Free, Free of Nuts, Dairy Free.
Caution: Keep tightly closed in a cool, dry place, out of the reach of children.

Moisture sensitive formula.. Best consumed within 120 days after opening.