The Big One w/ Iron
Metabolic Maintenance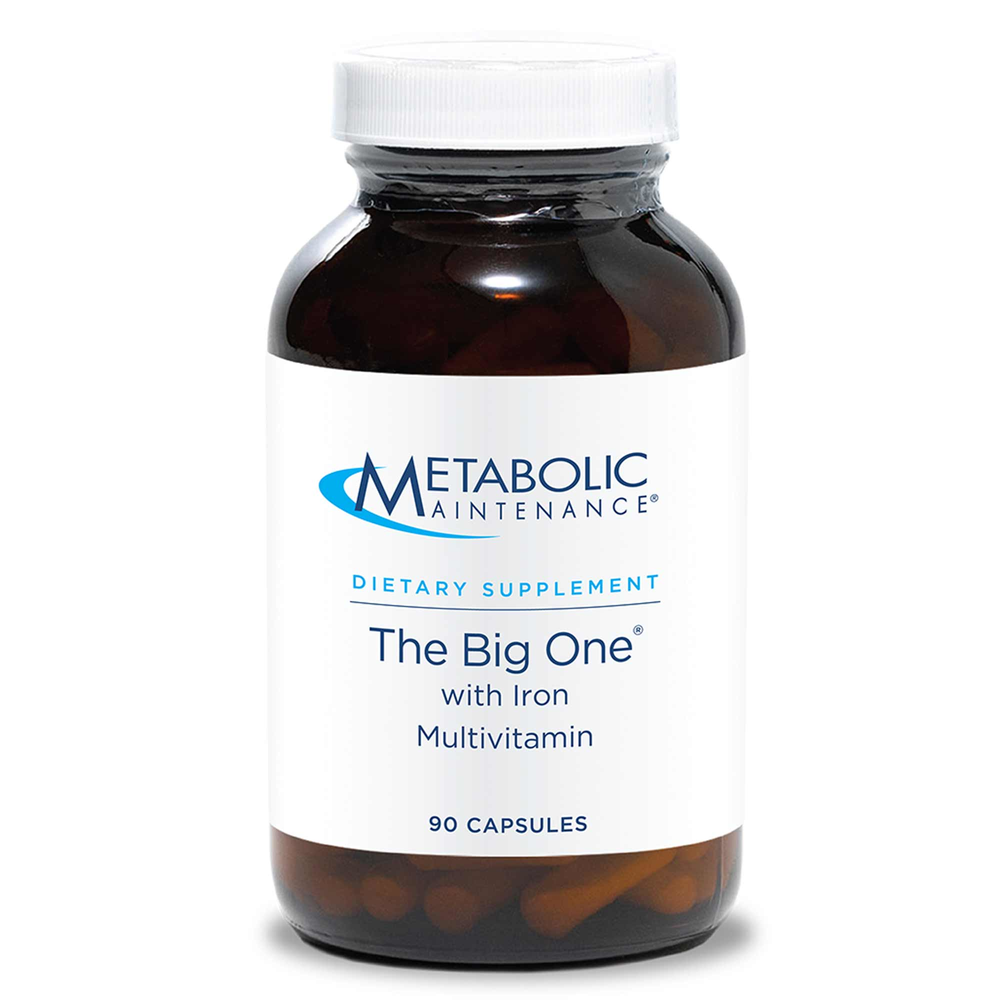 SKU: ME3-00518
The Big One w/ Iron
-Metabolic Maintenance bestselling multivitamin! This one-per-day multivitamin for adults contains only the finest ingredients in the most bioavailable forms.


Suggested Use: One (1) capsule daily with a meal as a dietary supplement, or as directed by a Doctor.
Serving Size: 1 Capsule
Amount Per Capsule
Vitamin A ... 2400mcg RAE
(as Beta Carotene and Palmitate)
Vitamin C ...150mg
(as Ascorbic Acid and Ascorbyl Palmitate)
Vitamin D-3 ... 25mcg
(1000IU as Cholecalciferol)
Vitamin E ... 67mg
(as D-Alpha Tocopheryl Acid Succinate and Mixed Tocopherols)
Vitamin K1 ... 85mcg
Thiamine ...25mg
(as Thiamine Mononitrate)
Riboflavin ...25mg
(as riboflavin 5' phosphate)
Niacin ...100mg
(as Niacinamide)
Vitamin B-6 ...25mg
(as Pyridoxine HCI and pyridoxal 5' phosphate)
Folate ...667mcg DFE
(400mcg as l-5-methylfolate, glucosamine salt)
Vitamin B-12 ...100mcg
(as Methycobalamin)
Biotin ...200mcg
Pantothenic Acid ...100mg
(as d-Calcium Pantothenate)
Iron ...10mg
(as Iron Bis-Glycinate)
Iodine ...100mcg
(as Potassium Iodide)
Zinc (as Zinc Citrate) ...15mg
Selenium ...100mcg
(as L-Selenomethionine)
Copper ...1mg
(as Copper Gluconate)
Manganese ...5mg
(as Manganese Gluconate)
Chromium ...100mcg
(as Chromium Niacinate)
Molybdenum ...50mcg
(as molybdenum glycinate)
Betaine HCL ...25mg*
Boron ...1mg*
(as Boron Citrate)
Vanadium ...50mcg*
(as vanadyl sulfate)
Vitamin K2 ... 15 mcg
(as K-2 M7)
Other Ingredients: Vegetarian cellulose capsule.
Vitamin E is derived from soy oil.


No preservatives, binders, or fillers. Nothing but pure active ingredients.