Olivirex (Olive Leaf Combination)
Biocidin Botanicals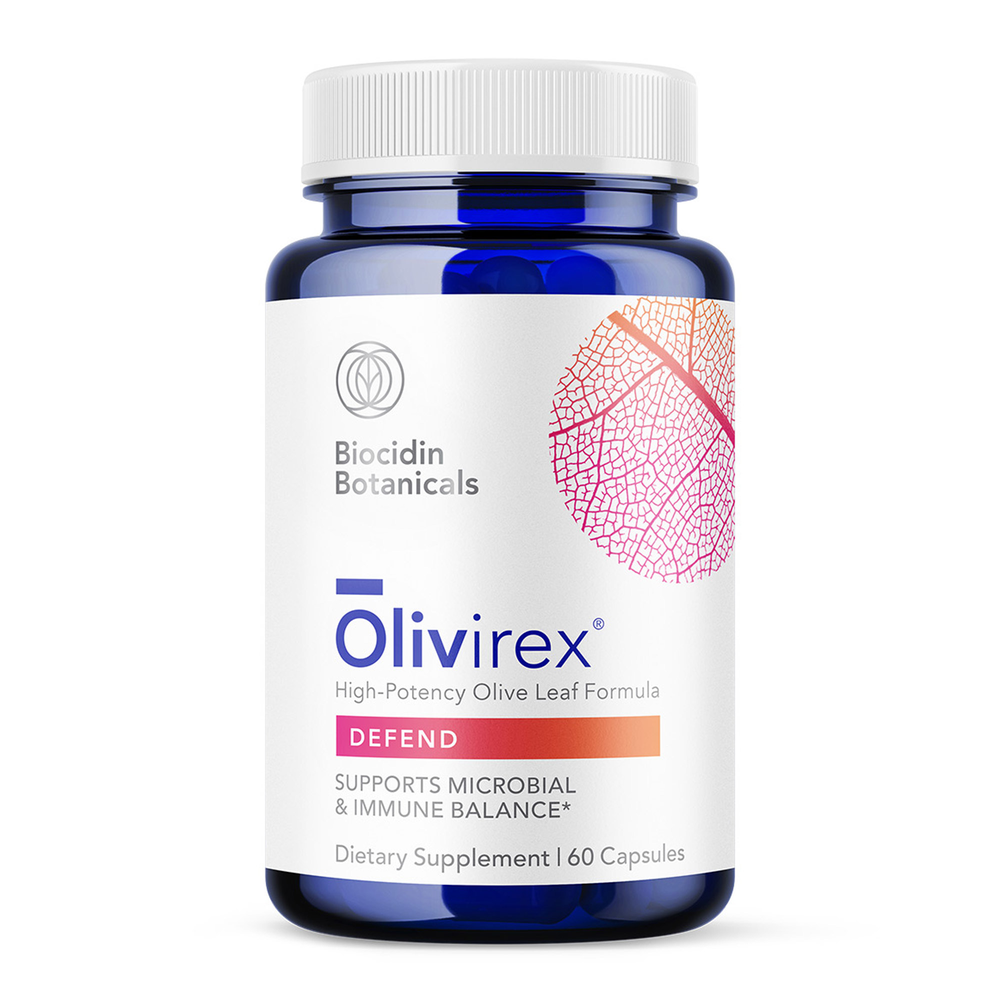 SKU: BI2-OLIV
SUPPORTS MICROBIAL & IMMUNE BALANCE*
Throughout the ages, Olive Leaf has been trusted by healers. It naturally addresses unwanted organisms, bringing additional force to oppose biofilms and support immune function.* Body and plant unite in action to create resilience. That's why Olive Leaf Extract is the main ingredient in Olivirex
®
.
Additional select botanicals open channels to support the kidney, lymphatics, and liver – driving the Olive Leaf where the body needs it most while ushering out toxins.*
For maintaining seasonal wellness, use Olivirex
®
in combination with Biocidin
®
TS Throat Spray.* When addressing long-standing microbial health challenges, use the combined strength of Olivirex
®
and Biocidin
®
.*
Benefits
Broad-spectrum support for addressing unwanted microorganisms*
Supports seasonal wellness, especially when combined with Biocidin®TS Throat Spray*
Supports body comfort*
Activates drainage pathways through liver and kidneys to assist in detoxification*
Features
Professional-grade ingredients
High-potency Olive Leaf Extract, 18% oleuropein
Contains a synergistic blend of additional botanicals
Contains adaptogenic herbs
Concurrent use with Biocidin® often recommended for longstanding or complex health challenges*
Take 1 capsule up to 3 times per day between meals or as directed by a healthcare professional.
Serving Size: 1 capsule

Amount Per Serving
Olive Leaf Extract (Olea Europaea) ... 375mg
Proprietary Herbal Blend ... 53mg
Garlic‡ bulb, Noni‡ fruit extract, Uva Ursi leaf‡, Milk Thistle seed extract, Cordyceps‡ fruiting body, St. John's Wort‡ aerial parts, Dandelion‡ root, Goldenseal‡ root, White Willow‡ bark, Bladderwrack‡ thallus, American Ginseng root extract

Other Ingredients: vegetable cellulose, vegetable capsule

Organic Ingredient

This product is made without dairy, gluten, soy, corn, animal products, artificial coloring or flavoring.
Warning
: Not recommended for use during pregnancy. Consult your physician before using any supplement, especially if you are nursing, have a medical condition, or are taking medication. Discontinue use should adverse reactions occur.
Keep out of reach of children.Store in a cool, dry place.