OmegaCo3-SE™
Apex Energetics, Inc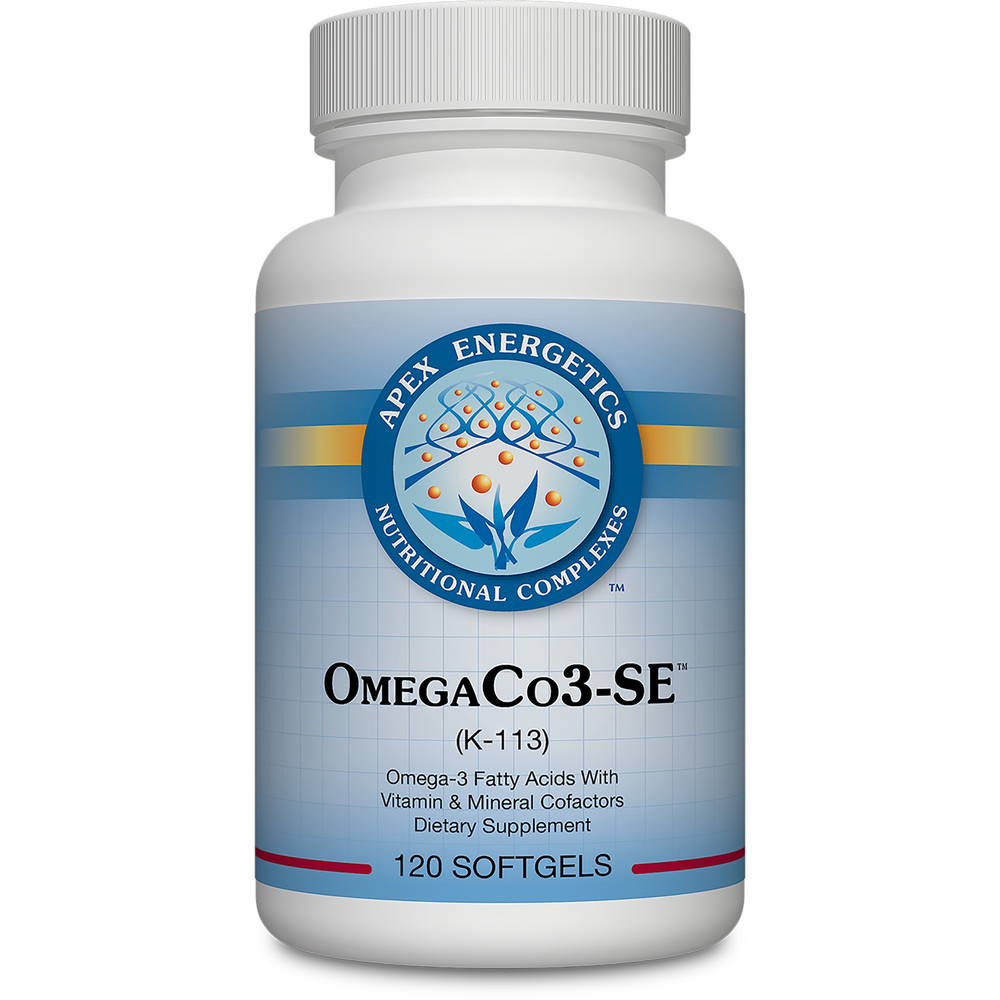 SKU: APE949-K113
OmegaCo3-SE™ supports cardiovascular health and the immune system with a unique formula that includes 975 mg of IFOS™ certified omega-3 and omega-6 fatty acids (DHA 375 mg, EPA 500 mg, GLA 100 mg).* In addition, this formula incorporates essential cofactors, including 115 mg of targeted vitamins, minerals, and the amino acid taurine specially selected to support a normal balance of prostaglandin and leukotriene generation.*
Suggested Use:
Take 2 softgels once a day, or as directed by your healthcare professional.


Serving Size: 2 softgels

Amount Per Serving
Calories ... 20
Calories from Fat ... 15
Total Fat ... 1.5g
Polyunsaturated Fat ... 1.5g
Vitamin E ... (6IU) 4mg
(as d-alpha tocopherol)
Niacin ... 2.5mg NE
(as nicotinic acid)
Vitamin B6 ... 2.5mg
(as pyridoxal 5'-phosphate)
Calcium ... 20mg
(as calcium glycinate)
Magnesium ... 10mg
(as magnesium glycinate)
Zinc ... 5mg
(as zinc glycinate)
Molybdenum ... 40mcg
(as molybdenum amino acid chelate)
EPA ... 500mg
(eicosapentaenoic acid)
DHA ... 375mg
(docosahexaenoic acid)
GLA ... 100mg
(gamma-linolenic acid)
Taurine ... 75mg

Other Ingredients: Fish body oil (sardine, herring, mackerel, anchovy), softgel (gelatin, glycerin, purified water, annatto), safflower oil, yellow beeswax, natural lemon flavor, sunflower lecithin.
Consult your healthcare professional before use if pregnant, nursing, taking medications, or for any use by minors. Do not use if safety seal is broken or missing. KEEP OUT OF REACH OF CHILDREN.