OmegaCo3™
Apex Energetics, Inc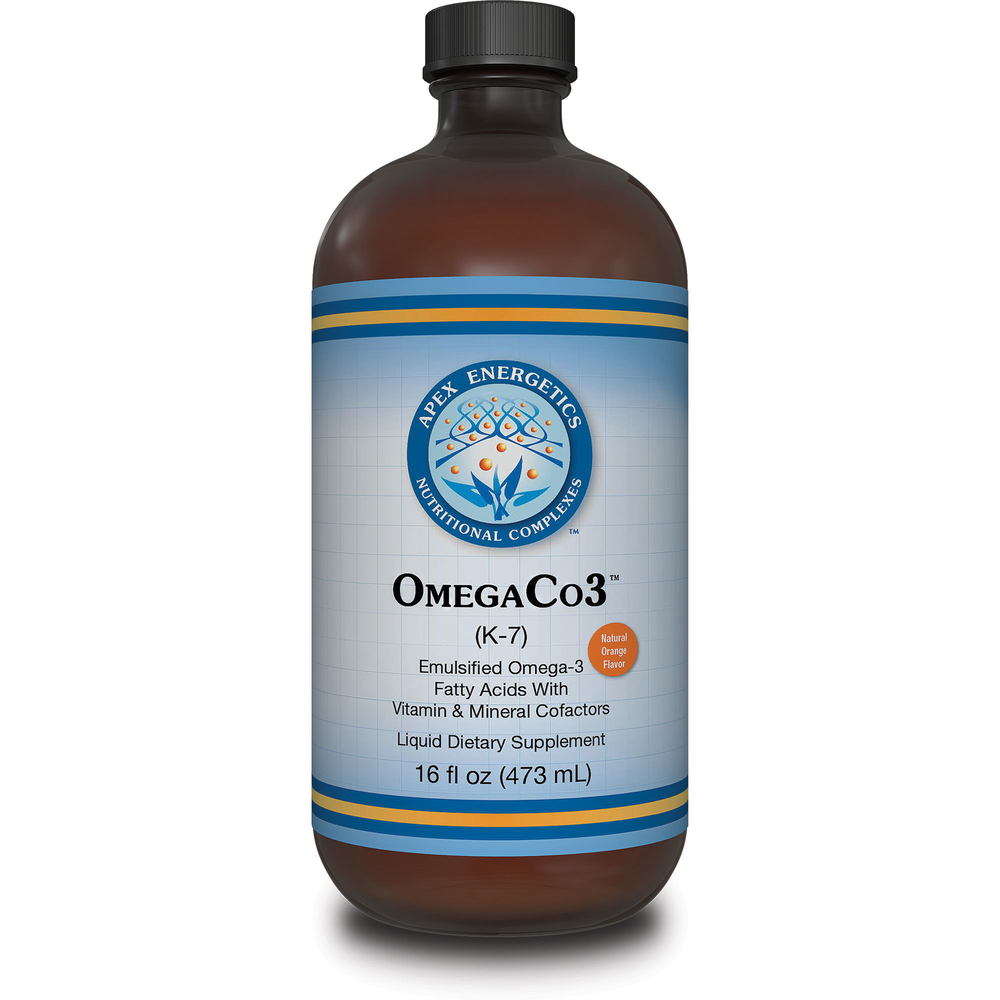 SKU: APE949-K07
OmegaCo3™ is a unique formulation that delivers 950 mg of omega-3 and -6 fatty acids in every tablespoon. This product is prepared using an advanced emulsification process which creates micronized structures that increase the surface-to-volume ratio of particles to make them more available to enzymatic action.* To optimize absorption, fatty acid metabolism, and overall system support, this formulation is specially emulsified, and vitamin and mineral cofactors and the amino acid taurine are added.* The pleasant-tasting liquid is ideal for flexible servings and for those who cannot take softgel capsules. Also available in a softgel OmegaCo3-SE™ (K113).
Suggested Use:
Take 1 tablespoon 1-2 times a day with a meal, or as directed by your healthcare professional. SHAKE WELL BEFORE USE.


Serving Size: 1 tablespoon (approx. 15 ml)

Amount Per Serving
Calories ... 35
Calories from Fat ... 35
Total Fat ... 4g
Saturated Fat ... 1g
Polyunsaturated Fat ... 1.5g
Cholesterol ... 30mg
Vitamin E ... 4mg (6IU)
(as d-alpha tocopherol succinate)
Niacin ... 2.5mg NE
(as nicotinic acid)
Vitamin B6 ... 2.5mg
(as pyridoxal 5'-phosphate)
Calcium ... 20mg
(as calcium glycinate)
Magnesium ... 10mg
(as magnesium glycinate)
Zinc ... 5mg
(as zinc glycinate)
Molybdenum ... 40mcg
(as molybdenum amino acid chelate)
EPA ... 500mg
(eicosapentaenoic acid)
DHA ... 350mg
(docosahexaenoic acid)
GLA ... 100mg
(gamma-linolenic acid)
Taurine ... 75mg

Other ingredients: Filtered water, fish body oil (sardine, herring, mackerel, anchovy), vegetable glycerin, evening primrose oil, citric acid, sunflower seed lecithin, natural flavor (orange), xanthan gum, sodium citrate, potassium sorbate (to maintain freshness), luo han guo fruit extract, turmeric root extract (natural coloring).

Contains: Fish body oil (sardine, herring, mackarel, anchovy)

Does not contain: Gluten, soy, milk.
Storage instructions: REFRIGERATE UPON RECEIPT TO MAINTAIN FRESHNESS. Keep this bottle tightly closed.

Warning: Consult your healthcare professional before use if pregnant, nursing, taking medications, or for any use by minors. Do not use if safety seal is broken or missing. KEEP OUT OF REACH OF CHILDREN. This product is not intended to diagnose, treat, cure, or prevent any disease. For nutritional use only.