Ultra-D Complex™
Apex Energetics, Inc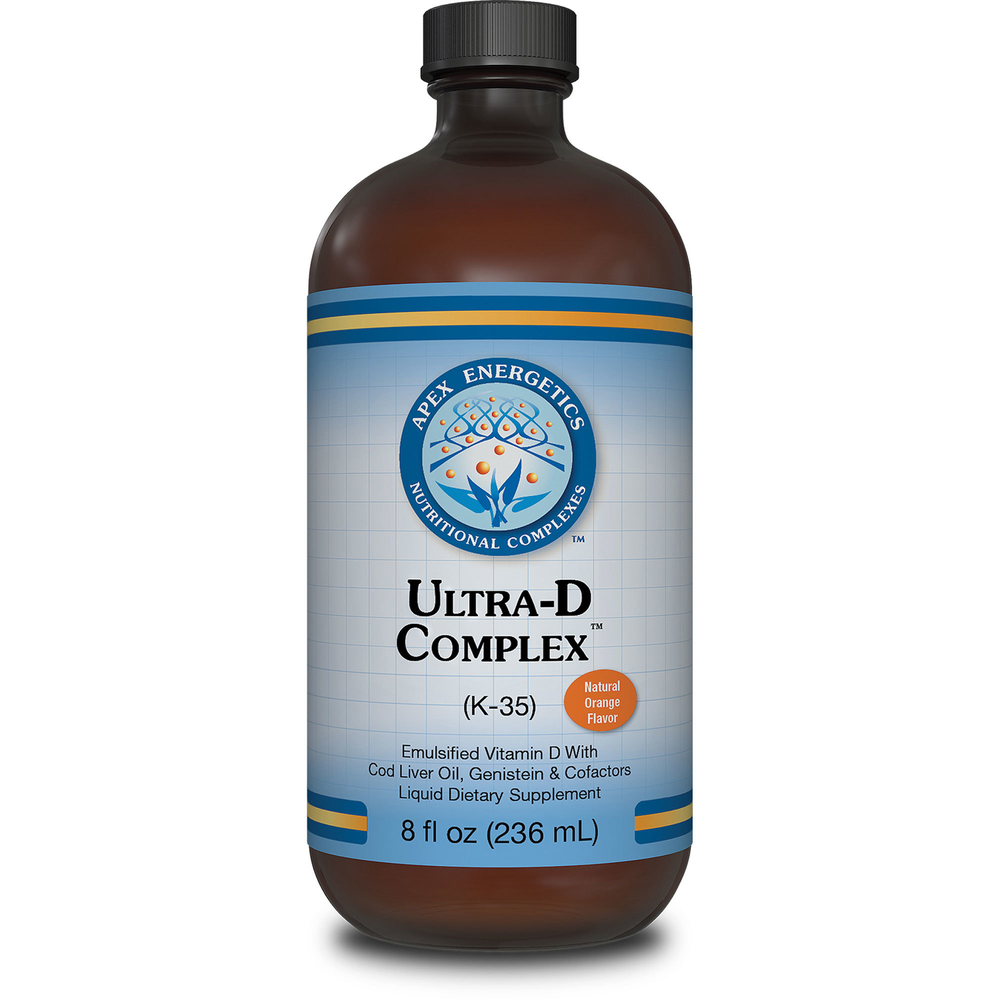 SKU: APE949-K35
Ultra-D Complex™ offers vitamin D (cholecalciferol) with its key cofactors in a base of cod liver oil, which is a natural source of vitamin D, vitamin A, EPA (115 mg), and DHA (95 mg). This formula is designed to support the metabolism of vitamin D and to deliver a powerful mix of supportive nutrients.* This advanced formula includes 2000 IU of vitamin D per serving (in a pleasant orange flavor without an unpleasant fishy taste). Other nutrients, such as magnesium, biotin, pantethine, calcium, and boron, are all incorporated in this formula. This formula is also available in 5000 IU of vitamin D per serving in Ultra-D 5000™ (K78).


Suggested Use:
Take 1 teaspoon 1-2 times a day with a meal, or as directed by your healthcare professional. SHAKE WELL BEFORE USE.

Serving Size: 1 teaspoon

Amount Per Serving
Calories ... 10
Calories from Fat ... 10
Total Fat ... 1g
Polyunsaturated Fat ... 0.5g
Cholesterol ... 5mg
Total Carbohydrates ... <1g
Vitamin A ... (650IU) 195mcg RAE
(from cod liver oil)
Vitamin D ... (2000IU) 50mcg
(as cholecalciferol)
Vitamin B6 ... 1mg
(as pyridoxal 5'-phosphate)
Biotin ... 150mcg
Calcium ... 10mg
(as calcium glycinate)
Magnesium ... 5mg
(as magnesium glycinate)
EPA ... 115mg
(eicosapentaenoic acid)
DHA ... 95mg
(docosahexaenoic acid)
Genistein ... 10mg
(from Japanese Pagoda Tree Extract [Sophora japonica])
Rosemary Extract ... 7mg
(Rosmarinus officinalis) (leaf)
Pantethine ... 3mg
Boron ... 500 mcg
(as boron citrate)

Other Ingredients: Filtered water, cod liver oil, vegetable glycerin, fish body oil (sardine, herring, mackerel, anchovy), citric acid, sunflower seed.


Consult your healthcare professional before use if pregnant, nursing, taking medications, or for any use by minors. Do not use if safety seal is broken or missing. KEEP OUT OF REACH OF CHILDREN. REFRIGERATE UPON RECEIPT TO MAINTAIN FRESHNESS. Keep this bottle tightly closed.