Ultra-D 5000™
Apex Energetics, Inc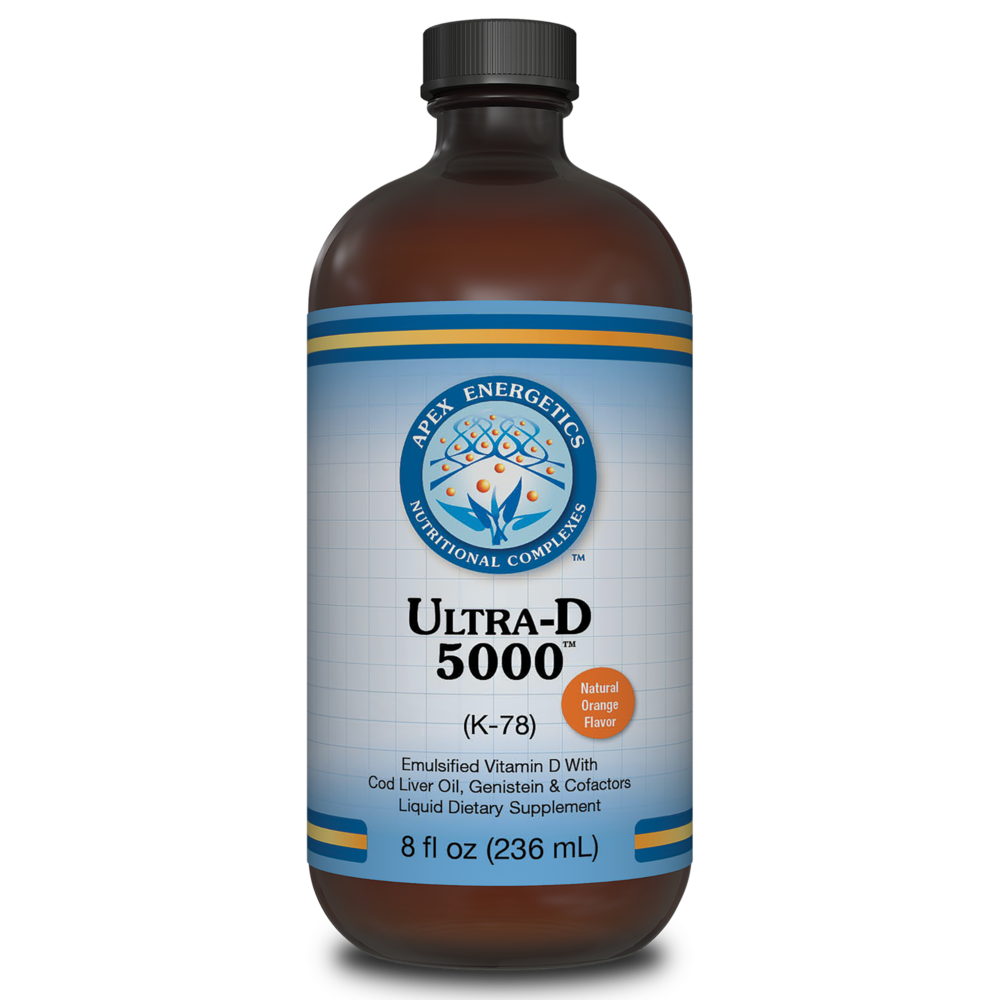 SKU: APE949-K78
Ultra-D 5000™ offers (5000 IU) 125 mcg of a highly absorbable and natural source of vitamin D3 (cholecalciferol) with its key cofactors in a base of cod liver oil. The formula was designed to support the metabolism of vitamin D and to deliver a powerful mix of nutrients including magnesium, biotin, pantethine, calcium, and boron.* In addition, this product is ideal for a more aggressive vitamin D supplementation.

Suggested Use:
Take 1 teaspoon 1-2 times a day with a meal, or as directed by your healthcare professional. SHAKE WELL BEFORE USE.
Serving Size:
1 teaspoon (approx. 5ml)
Amount Per Serving
Calories ... 10
Calories from fat ... 10
Total Fat ... 1 g
Polyunsaturated fat ... <1 g
Cholesterol ... 5 mg
Vitamin A ... (650IU) 195mcg RAE
(from cod liver oil)
Vitamin D ... (5000IU) 125mcg
(as cholecalciferol)
Vitamin K ... 125mcg
(as menaquinone, phytonadione)
Vitamin B6 ... 1mg
(as pyridoxal 5'-phosphate)
Biotin ... 150mcg
Calcium ... 10mg
(as calcium glycinate)
Magnesium ... 5mg
(as magnesium glycinate)
EPA ... 115mg
(eicosapentaenoic acid)
DHA ... 95mg
(docosahexaenoic acid)
Genistein ... 10mg
(from Japanese Pagoda Tree Extract [Sophora japonica])
Rosemary Extract ... 7mg
(Rosmarinus officinalis) (leaf)
Pantethine ... 3mg
Boron ... 500mcg
(as boron citrate)

Other Ingredients: Filtered water, cod liver oil, vegetable glycerin, fish body oil (sardine, herring, mackerel, anchovy), citric acid, sunflower seed lecithin, sodium citrate, natural flavor (orange), xanthan gum, luo han guo fruit extract, potassium sorbate (to maintain freshness), sunflower oil, turmeric root extract (natural coloring).
Warning
: Consult your healthcare professional before use if pregnant, nursing, taking medications, or for any use by minors. Do not use if safety seal is broken or missing. KEEP OUT OF REACH OF CHILDREN. Warning: This supplement may not be appropriate for all persons, with certain medications (eg, anticoagulants), or with some diets. REFRIGERATE UPON RECEIPT TO MAINTAIN FRESHNESS. Keep this bottle tightly closed.