ProOmega®-D Xtra
Nordic Naturals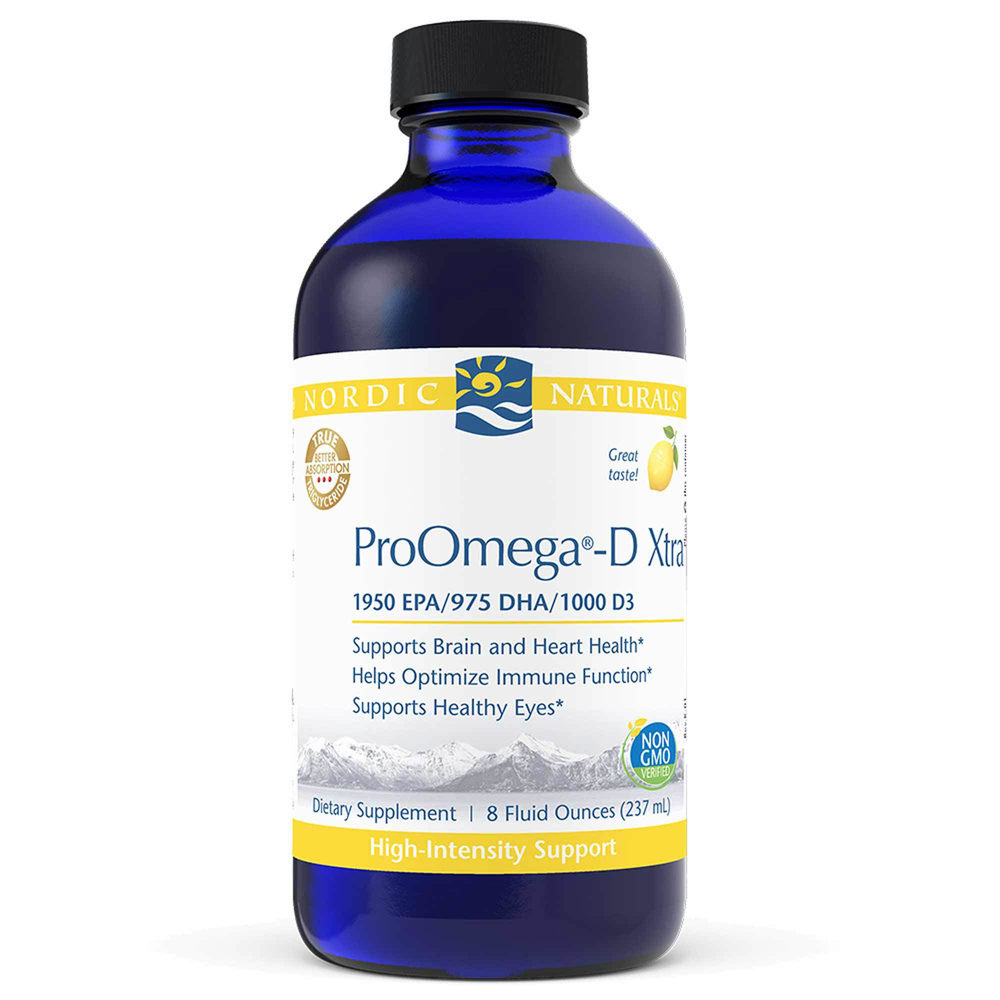 SKU: NORD-11783
Leading purity and freshness
2:1 EPA to DHA ratio
34% more EPA per serving than ProOmega®
1000 I.U. of natural vitamin D3 for single-product convenience
Highest omega-3 concentrate in true triglyceride form (90+%) for increased absorption and efficacy*
More omega-3s per serving for overall value

Nordic Naturals ProOmega®-D Xtra is the latest in synergistic omega-3 nutrition. Each serving contains enhanced levels of EPA, for a 2:1 EPA to DHA ratio in our best-selling fish oil concentrate.
Along with additional EPA, ProOmega-D Xtra contains 1000 I.U. of natural vitamin D3, long known for its important role in immunity and regulating levels of calcium and other minerals that are needed for strong, healthy bones.*
Just one serving delivers high-intensity support for even the most demanding omega-3 needs. ProOmega-D Xtra is formulated specifically to help maintain a healthy heart, brain, and bones.*
One-half to one teaspoon daily, or as directed by your health care professional or pharmacist.
Serving Size: One Teaspoon (5.0ml)
Amount Per Serving
Calories ... 45
Calories from Fat ... 45
Total Fat ... 5g
Saturated Fat ... 0.2g
Trans Fat ... 0g
Vitamin D3 ... 1000IU
(cholecalciferol)
Total Omega-3 ... 3400mg
EPA ... 1950mg
(Eicosapentaenoic Acid)
DHA ... 975mg
(Docosahexaenoic Acid)
Other Omega-3s ... 475mg
Ingredients: purified deep sea fish oil (anchovies and sardines), natural lemon flavor, d-alpha tocopherol, rosemary extract (a natural preservative), vitamin D3 (cholecalciferol in olive oil).
This product does not contain
gluten
milk derivatives
artificial colors
artificial flavors
Keep out of the reach of children. Refrigerate after opening. Do not use if tamper-evident seal is broken or missing. Best if used within 3 months after opening.
Warning: Consult with your physician before using this product if you are allergic to iodine, use blood thinners, or anticipate surgery.