OpticOne
Patient One MediNutritionals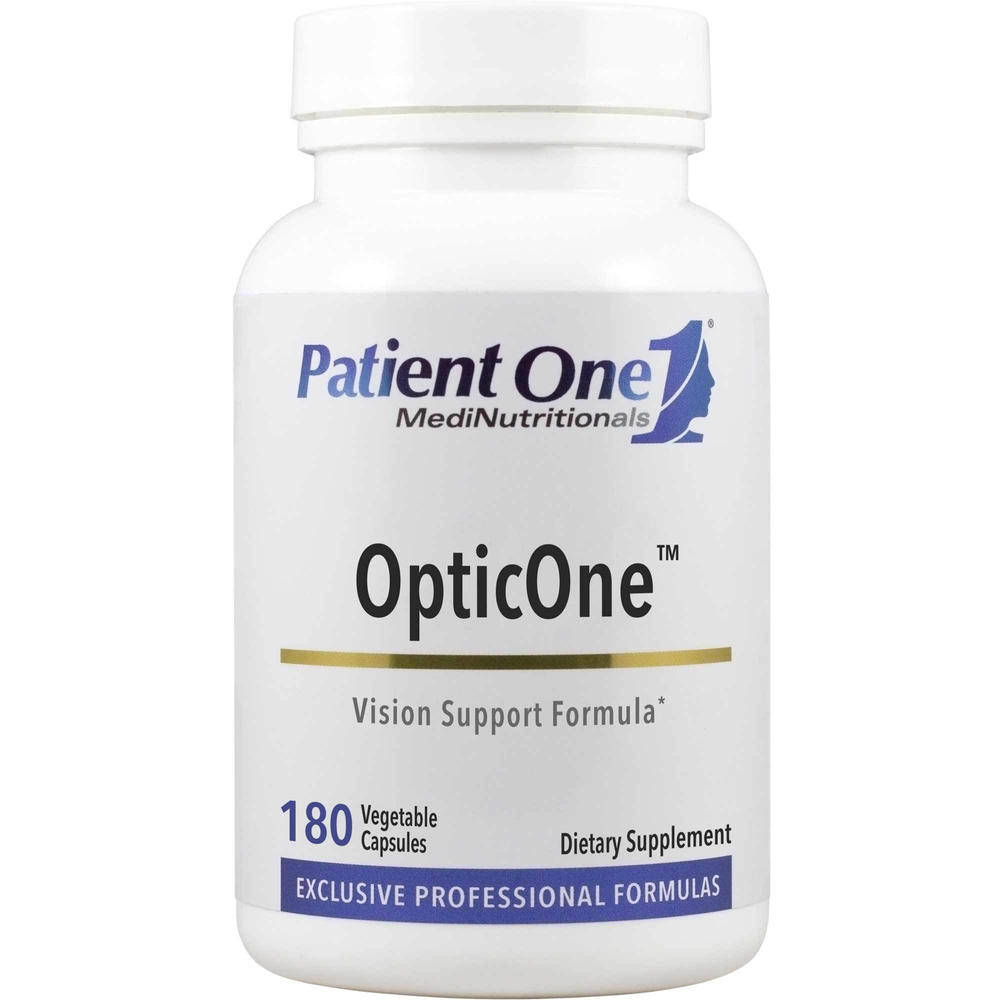 SKU: ONE631-P1047180
Nutritional support for optic nerve health and optimal eyesight function
Supports proper flow of eye fluid
Decreases intraocular pressure
Helps maintain visual acuity
Eases eye strain
Helps block damaging free radicals
Supports vascular function
UNIQUE PROPERTIES
Patient One OpticOne™ supplies a comprehensive blend of over 15 synergistic nutrients known to protect and support healthy optic nerve function. OpticOne was formulated to help regulate ocular fluid and blood flow and promote reduced intraocular pressure (IOP). Created in conjunction with ophthalmologists, this research-based formula allows for increased intake of targeted ocular antioxidants that promote a healthy retina, lens and optimal eyesight function.
Take 3 capsules daily as a dietary supplement, preferably with a meal, or as directed by a qualified healthcare professional. May take in divided doses.
Serving Size: 3 Capsules
Amount Per Serving:
Vitamin A ... 3000IU
(as beta carotene)
Vitamin C ... 250mg
(as ascorbic acid)
Vitamin E ... 30IU
(as d-alpha tocopheryl succinate)
Folate ... 400mcg
(as folic acid)
Vitamin B-12 ... 6mcg
(as methylcobalamin)
Magnesium ... 120mg
(as magnesium oxide)
Selenium ... 100mcg
(as L-selenomethionine)
Chromium ... 150mcg
(as Chromium picolinate)
Alpha lipoic acid ... 150mg
Ginkgo biloba ... 120mg
(leaf) extract [Standardized for 24% ginkgoflavonglycosides and 6% total terpene lactones)
Grapeseed extract ... 200mg
(Vitis vinifera)(inner core of fruit)(Standardized for 95% proanthocyanidins)
Bilberry extract ... 150mg
(Vaccinium myrtillus)(berry)[Standardized for 25% Anthocyanins)
Quercetin dihydrate ... 100mg
L-Taurine ... 300mg
Coenzyme Q10 ... 30mg
(as ubidicarenone)
N-Acetyl-L-Cysteine ... 150mg
Lutein ... 10mg
(from Marigold flowers (Tagates erecta) FloraGLO®)
Flaxseed bran ... 150mg
(Linum usitatissimum)(Providing a minimum 3% Lignans)
Other Ingredients: Vegetable cellulose (capsule), l-leucine, rice flour.
This product does not contain milk, egg, fish, peanuts, crustacean shellfish (lobster, crab or shrimp), tree nuts, wheat, yeast, gluten, artificial sweeteners and flavors, and ingredients derived from genetically modified organisms (GMOs).
WARNING
If you are pregnant, lactating, or taking any medications, consult your doctor before use. Use with caution if you take blood thinners, as Ginkgo biloba may affect platelet aggregation and the combination could raise the risk of increased bleeding. Discontinue use and consult doctor if any adverse reactions occur.